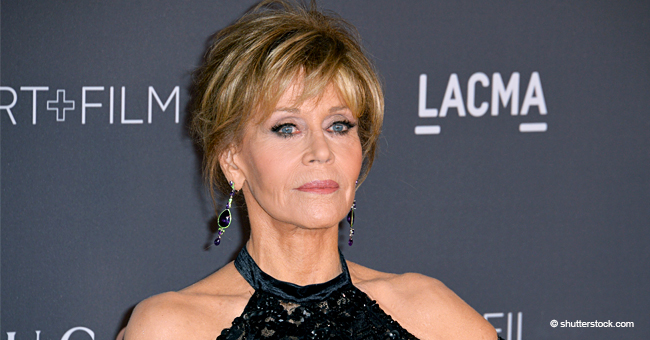 Here's Why Jane Fonda Still Blames Herself after Her Mother Committed Suicide
Jane Fonda suffered in silence for decades before the truth about her mother's death was fully revealed to her unexpectedly.
The "Monster-In-Law" actress was plagued by feelings of guilt when she found out that her mother killed herself, but eventually, she stopped blaming herself.
Fonda only recently decided to open up about the tumultuous childhood she lived. In her early stages, she grew up with parents Henry Fonda and Frances Ford Seymore.
The couple, an actor and a socialite, got divorced when Jane was 11, and things changed drastically afterward. Her mother disappeared from her life as she sought help in a mental institution for her depression.
Henry wasn't the best of fathers, remaining a small part of Jane's life when she most needed support. Eventually, Jane's mother returned home one day, but it was only for a short time.
Fond recalled that the day her mother came home, she was too angry to even go see her. She had no idea how much and for how long she would come to regret that decision.
Soon after the visit, Fonda recalled how her father told her that her mother had died of a heart attack. Henry was hoping to shield his daughter from the hard truth.
Yet Jane's feelings could only be spared for so long. A year later, while she sat in a study hall, a friend passed by and showed her the news in a movie magazine.
That's when Jane found out her mother committed suicide by cutting her own throat. A troubled Jane immediately blamed herself as she remembered her refusal to see her mother that day.
Speaking in an interview on "Oprah's Master Class," she explained:
"I thought, if I had gone downstairs and seen her that day that she came to the house, then she wouldn't have killed herself. It was my fault."
Jane realized that it was a "me, me, me," situation, but she didn't get relief until she wrote her memoir and dedicated it to her mother. Research for the book finally brought the full story of her mother's death to light.
Jane was granted access to her mother's medical records at the institute. It showed her that "if you can come to answers... you end up being able to say, 'It had nothing to do with me.' "
The 81-year-old did not receive love from her parents the way a child should have, so she always thought she "wasn't lovable." She further stated that, "As a child, you always think it was your fault...because the child can't blame the adult, because they depend on the adult for survival."
Jane found out that not only did her mother suffer from bipolarity, but she was also sexually abused. The weight was finally lifted off her shoulders as she realized that her mother's suicide was not her fault.
The effect of that hurt, of growing up with a father she always wanted to please, was seen in Jane's life. She reflected on a life of three failed marriages, saying that "up until my 60s, I was to an extent defined by the men in my life."
For now, the actress says she's "closed up shop." Men no longer bother asking her out. Meanwhile, Jane is working to strengthen her relationship with her three children.
Last year September, she released a self-focused documentary called "Jane Fonda in Five Acts." Yet the journey for the actress is not over yet. Earlier this month, she spoke on her battle with cancer.
During an interview with Vogue, she explained:
"I've had a lot of cancer. I was a sun-worshipper. When I have a day off, I frequently go to my skin doctor and have things cut off me by a surgeon."
Jane also divulged that she had a mastectomy done and was forced to wear a "strange white dress with all the ruffles" to cover her bandages. Not going into more details, she called the situation "an ongoing process."
She then went into her challenge with osteoporosis, a genetic inheritance from her dad's side of the family. Jane described the "bone on bone" situation she fixed by getting a hip and knee replacement.
The actress, who now stars in the Netflix show "Grace And Frankie," concluded by saying that as she goes up in age, she feels feel very intentional about realising that "it's up to [her] how this part of my life goes."
Please fill in your e-mail so we can share with you our top stories!