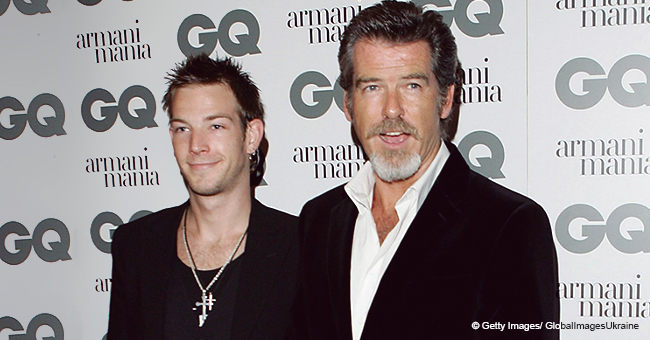 Pierce Brosnan's Son Sincerely Opens up about His Struggle with Addiction
Actor Pierce Brosnan's son Sean, who started experimenting with drugs during middle school, shared how he is steadily walking the path of sobriety.
After the tragic death of his mother Cassandra Harris, Brosnan found it hard to cope with grief which led to his addiction to drugs. His mother lost the battle with ovarian cancer when he was 8-years-old.
"I remember the day my dad told me she passed, and it was a few days after Christmas. He started to cry, but I didn't cry. I was comforting him at eight."
Brosnan recalled how the grim reality of his life hit him six months later when he was making his way to his class.
"It wasn't until maybe six months later where I was in school and realized while I was walking to class, she is never coming back. That is when it transitioned into anger."
The unbearable pain of loss led a young Brosnan to experiment with drugs as a middle school student. During that time, his father Pierce was starring in the James Bond franchise as the famous spy "007".
"I kind of went from somewhat popular in junior high to an outcast," Sean recalled of that period in his life," he shared. "I didn't make many friends to start the first couple of years. It was pretty lonely and pretty isolating."
After getting into a life-threatening accident as a 16-year-old, Brosnan had to take high doses of painkiller which eventually led to an addiction.
"I was not driving. We were partying and the driver went to prison for a year because he was 18. He had a couple of beers and was just over the limit. I broke my back and shattered my tailbone, my pelvis in five places, my left femur. I pretty much had to learn how to walk again. I tasted opioids for the first time in the hospital."
Brosnan's addiction only grew worse over time. He would go on to experiment with different kinds of drugs but never became habituated to one kind.
"Alcohol was what stayed with me," he said.
He further revealed how cocaine was easily accessible during that time and his drama school did not put a restriction on drugs and alcohol.
"I had tried to first get sober when I was about 25, maybe a little bit younger," Branson shared. "That was more of a cry for help. I had a couple of suicide attempts but that was the first half-assed suicide attempt. I wanted help and I was once again in no man's land."
Please fill in your e-mail so we can share with you our top stories!