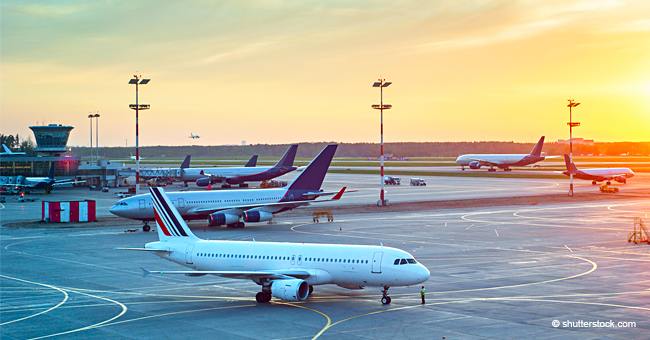 Family Sues Airline after Pilot Refused to Divert Flight When Newlywed Fell Ill and Died on Board
Transportation by air is considered the safest of all means of transportation. But that didn't hold true for a newlywed, Brittany Oswell, who fell ill and died aboard an American Airlines flight.
The African-American couple, Brittany and Cory Oswell had the time of their lives after they said their vows. They had a swell honeymoon at Honolulu, Hawaii, after which they decided to take a flight from Dallas-Fort Airport to visit the bride's parents in South Carolina.
At a point during the flight, Brittany started feeling lightheaded, then she threw up, and finally collapsed. After being attended to by a doctor on board, the pilot was notified and asked to land the plane immediately.
The doctor's request to save her life was dismissed by the pilot, as he landed 90 minutes later, without caring if she survives or not.
When they finally landed, she was rushed to a hospital, but she had suffered a pulmonary embolism and couldn't recuperate. She died three days later.
The devastated family charged the American Airlines for having a hand in their daughter's death. The family's attorney said that the airline's negligence and dysfunctional equipment, such as the defibrillator and blood pressure monitor contributed to the death of the aspiring nurse.
The case was filed in South Carolina, where both parents had something to say about their deceased child. Her mom, Tina, said:
"She was in great spirits, she was excited, she was looking forward to landing in Columbia, and starting her career, finishing up and becoming a RN. Her ultimate goal was to become a practitioner".
"A decision was made not based on human life that was on board or based on safety. Frustration doesn't really describe how disappointed and heartbroken and just immensely discombobulating it has been".
Her husband, Cory Oswell, refused to comment but her father, Chris Stark, said:
"They should have landed at the very next possible opportunity."
The airlines issued a statement that read:
"We are deeply saddened by this event, and our thoughts and prayers continue to go out to Ms. Oswell's family. We are taking a look into the details of the complaint".
The parents of the deceased started a foundation in her name, which helps to fund nursing students.
We hope that they find comfort in this troubled time. May Brittany's soul rest in perfect peace!
Please fill in your e-mail so we can share with you our top stories!