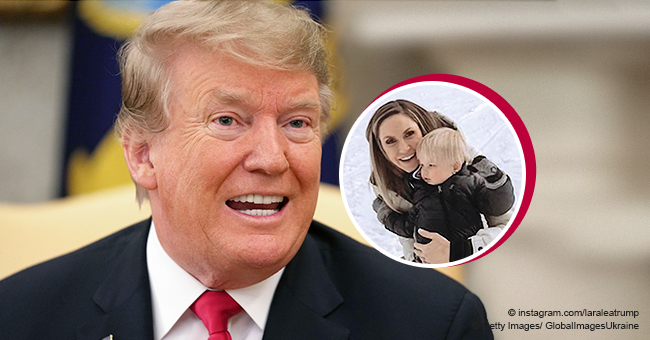 Donald Trump's Grandson Eric Luke Looks Adorable, and He Inherited His Granddad's Unruly Hair

When you catch a glimpse of President Donald Trump for the first time, one of the things you may notice first will be his unruly blonde hair, a trait that has made the President famous. His grandson, Eric Luke seems to have carried on the hair trait as recent images on Instagram have shown.
The birth of a child often comes with much joy and happiness, and it was no different for the family of President Trump after the birth of Eric Luke, his grandson. Luke was born to Eric Trump, son of the President and his wife, Lara. Luke is now 18-months-old, and the similarities he has with his famous granddad are quite distinct.
Since his birth in 2017, Luke's parents always have put up his pictures on social media, and the images always revealed how cute he is, and how much the child loves the camera. The youngest grandson of the Trump Household, apart from taking after his father's presidential swagger also inherited his blonde hair, and has more hair than most babies usually do.
Many have noticed this fact about baby Luke, and his parents agree to the fact, tagging the hair "Trump hair." Eric Trump, the proud father, revealed that the hair runs in the family as he also had the signature Trump hair when he was born.
Eric and Lara married in 2014 after dating for six years. Lara works as an associate producer for the television news programme, "Inside Edition." She has taken time to capture her son's moments from birth to growing up.
Her Instagram posts are filled with moments the two of them share and also Baby Eric's model-like poses. The parents surely are bringing up their child in the best way and making sure he is well grounded in all aspects. We can't certainly wait for more cute pictures of the sweet blonde Eric Luke.
President Donald Trump is one proud father and grandfather. The birth of Eric Luke took the number of grandchildren he has to nine. His children may be well known, but few know about his grandchildren. Here is a brief rundown of every one of them:
The oldest of the Trump grandchildren is Kai, aged eleven and daughter of Donald Trump Junior; following is Donald Trump III, aged ten and also born to Donald Trump Junior.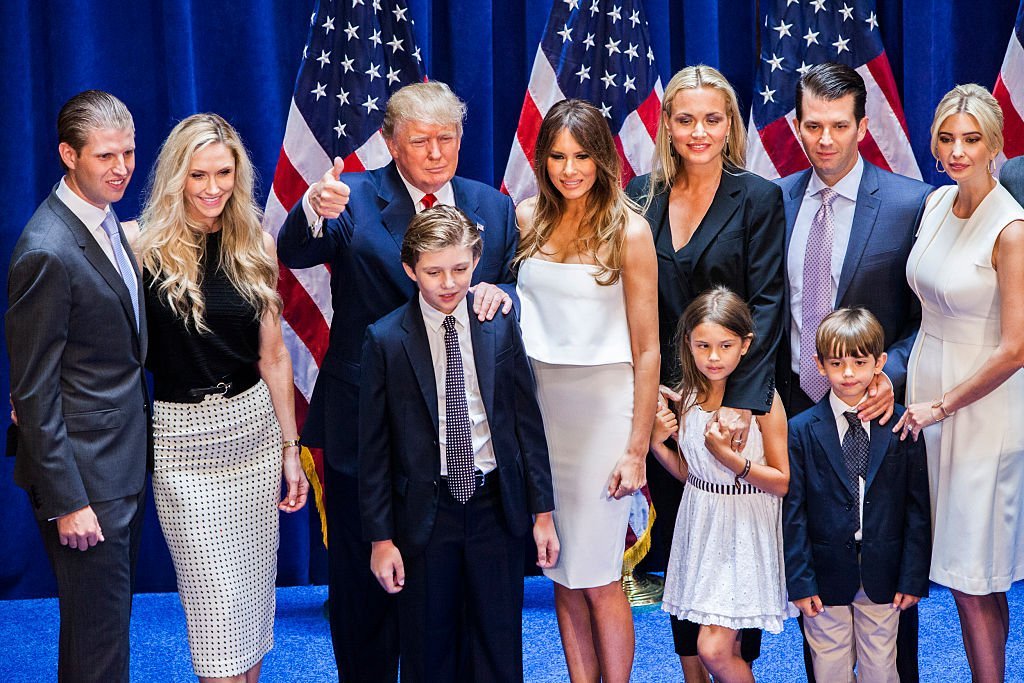 Eric Trump, Lara Yunaska Trump, Donald Trump, Barron Trump, Melania Trump, Vanessa Haydon Trump, Kai Madison Trump, Donald Trump Jr., Donald John Trump III, and Ivanka Trump pose for photos on stage after Donald Trump announced his candidacy for the U.S. presidency | Photo: Christopher Gregory/Getty Images
Next is Tristan, aged seven and second son of Donald Trump Junior; Arabella, aged six and daughter of Ivanka Trump; Spencer, aged six and youngest son of Donald Trump Junior. Joseph, aged five and son of Ivanka Trump; Chloe, four years of age, born to Donald Trump junior; Theodore, aged two; and finally, his royal blonde cuteness, Eric Luke, 18-months-old.
The Trumps do have a beautiful household by the look of things, a get-together with all of these children would make for a lovely scene.
Please fill in your e-mail so we can share with you our top stories!