Man Arrested Just 15 Minutes after Being Released from Jail
Most people take freedom for granted, and that seems to be the case for Casey Michael Lewis, a man who managed to be arrested just minutes after being released from prison.
The odd incident took place on Thursday, April 4, 2019, in Fort Pierce, Florida. Lewis had just left the St. Lucie County Detention Facility when he was caught stealing from cars in the parking lot.
It has been reported that the man, who had been detained for grand theft, didn't even wait to leave the prison grounds before heading down the criminal route yet again.
GOING BACK TO HIS OLD WAYS
Fifteen minutes after being released, the 37-year-old was caught on the surveillance footage "acting suspicious and checking vehicle doors," managing to open the door of a silver car.
According to the police report, Lewis got inside the car and sat there for about two and a half minutes, during which he rifled through the vehicle checking for valuables.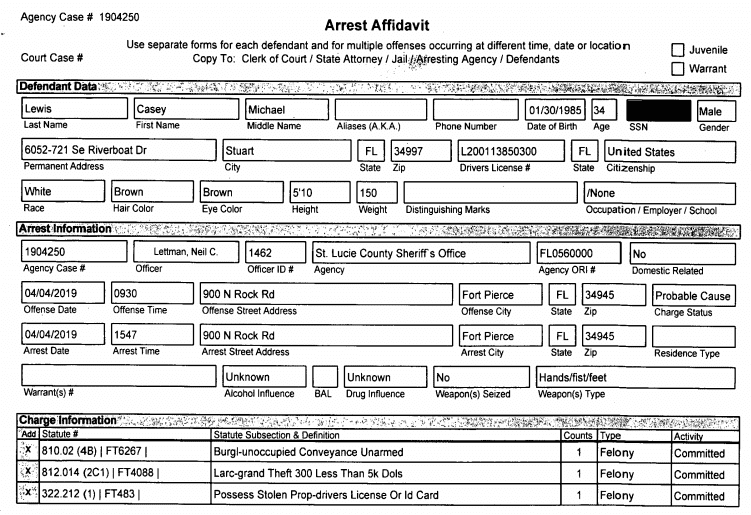 But his suspicious behavior eventually attracted attention and he was approached by an officer who questioned him. Lewis told him he was "waiting for his girlfriend."
It has been reported that the criminal handed the officer a brown paper bag with several stolen items inside, including an iPhone 7, cigarettes, a VISA bank debit card, a Florid driver's license and $547 in cash.
CHARGED BUT RELEASED
Lewis was taken back inside and charged with burglary, possession of stolen property and grand larceny, but was later released on an $11,250 bond.
Common sense goes a long way, but some people, such as Lewis, don't seem to possess it, which leads them to do things that most wouldn't even attempt.
welcome to Boone grove where we let 6th graders drive a bus with children on it. pic.twitter.com/gQRzWUrDPg

— brianna lavin (@breelavin24) September 21, 2018
RECKLESS DRIVING IN INDIANA
Joandrea McAtee, a bus driver for Boone Grove High School, in Indiana, also didn't have much common sense when she allowed children as young as 11 to drive the school bus.
The moment was captured on video by one of the students, who later reported the incident. In one of the videos, a little girl can be seen driving the vehicle as if it was completely normal.
Wheels on the bus go round and round, round and round, Boone grove bus driver let's a middle schooler drive, middle schooler drive. pic.twitter.com/IdF4zRkhRG

— casey🍄 (@_caseyweber) September 21, 2018
Porter Township School Corporation launched an investigation and McAtee was fired from First Student, the company responsible for buses in Porter Township.
The 27-year-old was also arrested and charged with felony neglect of a dependent, which, in this case, meant that McAtee put the children's lives at risk by letting then take the wheel.