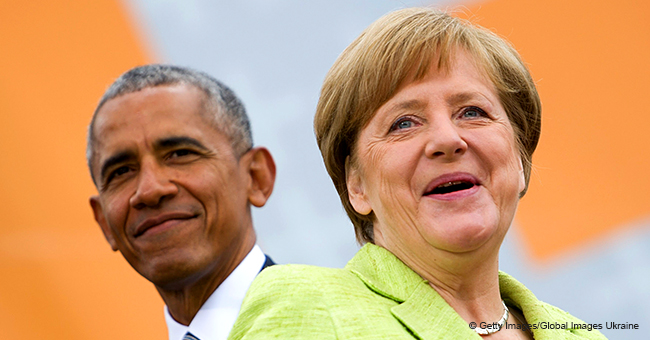 Angela Merkel Gives Barack Obama a Very Warm Welcome before Private Meeting in Berlin

While tensions are high between Angela Merkel and current US President Donald Trump, she warmly welcomed former president Barack Obama to a private closed-door meeting in Berlin.
The German Chancellor invited Barack Obama to a meeting that lasted more than an hour, with images of the two leaders embracing and smiling hitting the net. In their meeting, they were allegedly speaking about Trans-Atlantic Relations.
Steps towards better relations
Their exchange was casual and light, even ending with a hug and a kiss on the cheek, proving their close relations with one another. In fact, Obama has always been open about Merkel being one of his "favorite partners" during his time in the Oval Office.
Prior to their hour conversation, Barack's last official international trip as US president was to Germany back in November 2016.
Barack Obama may not be the President of the United States anymore, but he remains to be an influential figure in the country. In fact, he continues to involve himself in solving pressing matters in his own little ways, which is why he is still able to meet with some of the most influential world leaders today.
The Obamas' Constant Influence
Barack Obama might have walked away from holding public office positions in the US, but that didn't mean he was about to stop being the fantastic leader he is in his own ways.
When he is not meeting world leaders like Chancellor Merkel, he is taking stands about controversial topics around the world.
When tragedy hit New Zealand after a mass shooter open-fired in a mosque, he quickly condemned the horrible attack and showed his support to the country, most especially to the Muslim community which was greatly affected by the tragedy.
Likewise, Michelle Obama has also been staying active after her stint as First Lady of the United States, recently being busy with her new book "Becoming." However, this didn't stop her from also sharing a message for the people of New Zealand, which she had Barack say on their behalf.
Merkel and Trump in hot waters?
Trump and Merkel are not in good terms, especially after such a heated meeting back in June 2018. Trump lashed out on Merkel for lowering the country's military spending to below Nato targets, as he did not agree with what she did.
At the time, Trump was accusing Germany of "freeloading" on the power of the US military, which US Ambassador to Germany Richard Grennell said was a "worrisome signal" that could spark a feud between the two superpowers.
However, despite all their misunderstandings and differences, Trump assured everyone that he respects Angela Merkel as a leader.
"I have great respect for Angela and I have great respect for the country."
Please fill in your e-mail so we can share with you our top stories!