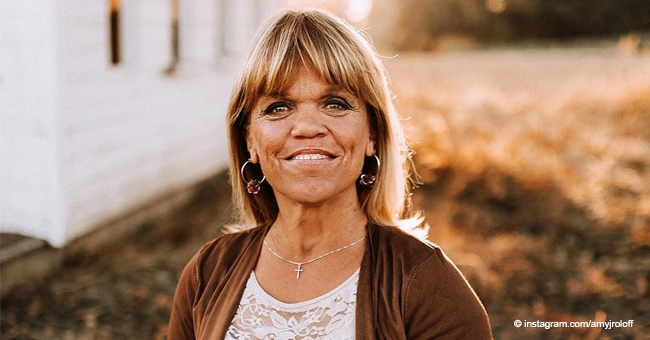 Amy Roloff Remembers Her Oldest Sister Who Died from 'Illness' in an Emotional Message

Amy Roloff lost her oldest sister unexpectedly; she pays tribute to her in an emotional message shared on Instagram.
Amy Roloff stars alongside her ex-husband, Matt Roloff, and their children on their reality TV series "Little People, Big World" which airs on the "TLC" network.
The former couple divorced in 2015, putting an end to their marriage of twenty-eight years. Soon after, the reality star began dating Chris Marek, an outdoor man. Although their relationship is a whirlwind romance, they both share an adventurous side that keeps them connected.
The lovebirds like to go around on Marek's motorcycle, taking in the countryside — their relationship began with a ride together. The duo recently rode to the Silver Fans State Park, and it brought back a lot of memories for Roloff.
Posting on her Instagram page, the mother-of-four reminisced on what she called "A fantastic ride." The television star wrote on her love for riding and Marek, whom she loves spending time with.
This led the 54-year-old to remember her deceased older sister, Cyndi, who died in 2014 after a brief illness. In an emotional tribute, Roloff shares her fondest memories of her sister — riding motorcycles.
Describing how it made her feel, the "TLC" star painted a picture of the countryside with farm fields and roads less traveled; small towns and local restaurants that offer the best view of mother nature.
The Oregon resident then added that she can't wait to go on the next ride with Chris, and expressed her gratitude for the opportunity to enjoy "Life little moments." Roloff ended the write-up by asking her followers how they enjoy life, and responses ranged from stories about outdoor camping to complimenting the couple on how good they looked together.
Beyond motorcycles, the Michigan native loves her four children — Molly, Jacob, Jeremy, and Zachary. The last two are twins, and the latter inherited his parents' dwarfism and his mother's achondroplasia.
The siblings in their younger years starred on their parents' show but left when they became adults. Jacob — the youngest, left first, due to issues with the production crew, while Molly — the eldest, left in 2017 after getting married; she moved to Spokane, Washington.
Jeremy, together with his wife Audrey, left at the end of season thirteen to focus on their daughter, Ember. Zachary and his family are the only ones left on the show.
Despite Roloff's children quitting, they still come home for holidays and special occasions and get along with the gu' re 7man in their mother's life.
Marek is a 55-year-old real estate agent with Knipe Realty, who is proud to offer the best service to his clients. He is a great communicator, pays attention to details, and his two decades worth of experience makes him a great professional.
Please fill in your e-mail so we can share with you our top stories!