Regis Philbin Bids Emotional Farewell to Kathie Lee Gifford on Her Last Day at 'Today'
Kathie Lee Gifford's time on the "Today" show is over, and to bid her farewell, Regis Philbin sent her an emotional message.
Every good thing comes to an end, and for "NBC" host of the "Today" show, Kathie Lee Gifford, the curtain closed on her eleven years run on Friday.
❤️💔 pic.twitter.com/0ACNDkLokS

— Hoda Kotb (@hodakotb) April 5, 2019
Co-host, Hoda Kotb, and the show's crew put together a beautiful goodbye segment for Gifford, starting with a performance by Flo Rida, which ushered in the lady of the moment.
The award-winning host got a standing ovation from the studio audience, among whom is her son, Cody, 29. Gifford said she felt great, adding that she didn't expect anything in the past two weeks.
On Friday, we said goodbye to @KathieLGifford during her final episode on TODAY after 11 years. To close, her TODAY colleagues joined her on set for a final farewell. #CheersToKLG pic.twitter.com/CpiMO3DjhI

— TODAY (@TODAYshow) April 6, 2019
The 65-year-old added that she chose to honor the Lord with her deeds, and "Today" worked because everyone involved had a real friendship, love, and respect for the audience.
Things then went up a notch with a surprise appearance from John Cena, Dean Cain, Ryan Eggold, and Barry Manilow who performed "Can't Smile Without You."
It didn't end there, as Kotb said the farewell would be incomplete without hearing from a certain someone, who turned out to be Regis Philbin, Gifford's longtime co-host and friend.
We couldn't have a farewell celebration for @kathielgifford without hearing from @regis! #CheersToKLG pic.twitter.com/ZVtTRy3Lp1

— TODAY with Hoda & Jenna (@HodaAndJenna) April 5, 2019
Switching to a video of Philbin, the 87-year-old said his former co-host gave him the best part of his life on television, indicating the fifteen years — 1985 to 2000 — they spent together.
The "Emmy Award" winning TV host then added that they stayed friends during that period. He encouraged Gifford on the next step she is taking, informing her that he saw the first movie she made.
The Bronx native said he knows the iconic host will be a great success, ending with "I know you are going to be a great success, I mean it. Love you."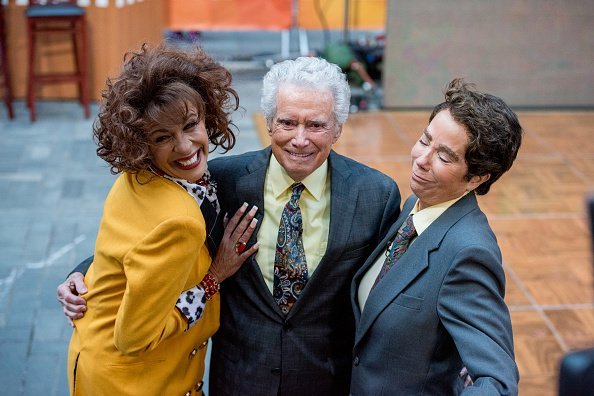 Gifford replying to the emotional video said he called her the day before, and when he visits Greenwich for the summer, they'll spend some time together.
The "NBC" star's replacement is Jenna Bush Hager, whom she vouched for. Hager joined the network in 2009 as a special correspondent, but it was not until the Olympics in Vancouver that the former first daughter got to shine.
At the time, the mother-of-two joined her predecessor for the popular "4th Hour" segment, and after flawlessly handling an interruption from her children, Poppy and Mila, it became clear she'll be the perfect fit.
I adore @KathieLGifford! My kids adore her. She has taught me about the power of humor, and steadfast faith. I'll miss her laugh—and her making me laugh...again...and again and again. Love you, KLG. pic.twitter.com/FLTazAEXP6

— Jenna Bush Hager (@JennaBushHager) April 5, 2019
Speaking about the 37-year-old's competence, the host turned filmmaker, said Hager blossomed in her eyes, trusting her instincts, and stopped factoring in people's thought. According to the celebrated host, when the latter happened, it became "Magic Television."
Gifford didn't leave out her audience, giving out a four-days all expense paid cruise for two on behalf of Carnival Cruise Line.