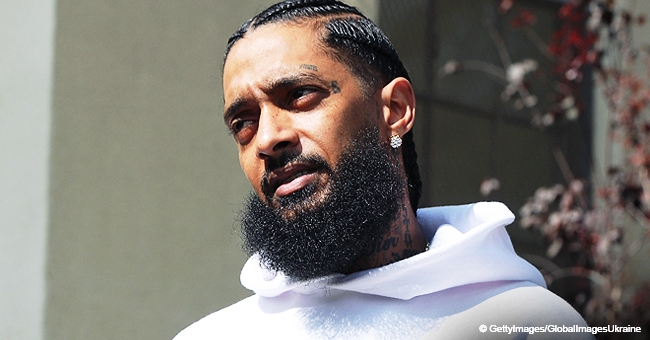 Revealed: Nipsey Hussle Was Reportedly Shot Again after He Talked Back to His Killer
Nipsey Hussle's killer was infuriated when his first shots didn't kill the rapper and fired on him again for talking back.
Fresh details about the killing of L.A. rapper Nipsey Hussle have been revealed after the Police viewed footage from a surveillance camera that captured the incident which took place on March 31, 2019, outside the rappers L.A. clothes store.
In the video, every second of the interaction between killer and victims were recorded, including what may have been Nipsey's last words.
NIPSEY HUSSLE'S LAST MOMENTS
The clip of the incident shows the killer, Eric Holder, shooting Nipsey twice, and turning to walk away from his victim.
It was at this fatal moment that Nipsey talked back to his victim, saying:
"You shot me, you got me, I'm good."
KILLER ENRAGED BY NIPSEY'S LAST WORDS
At that point, Holder turned back and walked to the rapper, and fired the fatal shots that eyewitnesses say killed him. Holder opened fire a third time before kicking the rapper and running away.
Holder is being held in solitary confinement since authorities fear that other inmates might kill him.
Nipsey was shot five times in the torso, and once in the head. Holder also wounded two bystanders at the scene, but both victims are recovering.
THE KILLER'S GETAWAY
Holder is said to have fled the scene in a car driven by an unidentified woman. Police launched a manhunt for Holder, calling on the public to help by divulging his whereabouts.
The unidentified driver was subsequently questioned by the LAPD and released.
POLICE ARREST NIPSEY HUSSEL'S KILLER
Holder was arrested in Los Angeles on April 2, and charged with murder, two counts of attempted murder. and illegal possession of a firearm.
Holder is being held in solitary confinement since authorities fear that other inmates might kill him. His next hearing is scheduled for May 10.
Nipsey Hussle's funeral is expected to take place on April 11, at the Staples Center in Los Angeles.
There is some anxiety over the arrangements since an impromptu memorial for the rapper ended in a stampede that left 19 people seriously injured when a fight allegedly broke out among the crowd.
NIPSEY HUSSEL'S LONGTIME LOVE SPEAKS OUT
Actress Lauren London, Nipsey Hussle's longtime love, and the mother of his two-year-old son Kross Asghedom, shared her grief over the rapper's untimely death.
London posted a heargbreaking slideshow filled with photos of herself, Hussle and their son on Instagram and captioned it:
"I am completely lost. I've lost my best friend. My sanctuary. My protector. My soul....I'm lost without you. We are lost without you babe. I have no words."
The couple were rumored to be engaged but kept their romance low-key. Nispey Hussle had an older child, Emani, 7, from a previous relationship.
Hussle, whose real name was Ermias Joseph Asghedom, was shot to death in front of his clothing store, Marathon Clothing, on Sunday in Los Angeles. Two other men were shot as well, however their wounds were not life-threatening.
Please fill in your e-mail so we can share with you our top stories!