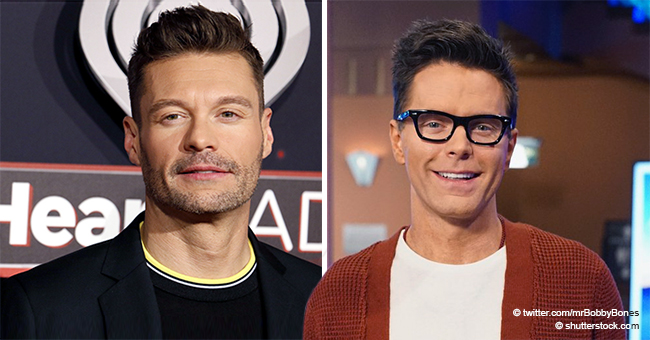 Longtime 'American Idol' Host Ryan Seacrest Is Handing over His Hosting Duties, but Not for Long
"American Idol's" Ryan Seacrest, has been absent on the screen for a while due to his illness. However, the show must go on, hence, an on-air personality stepped in for Ryan until he is fit and stable to continue hosting the show.
Recently, "People Magazine" revealed a video that featured Bobby Jones as the anchor of the "American Idol." In the episode, Bobby reaches out to Ryan and wishes him a speedy recovery, after he introduces himself as the new TV show host.
He also thought he presented as good as Ryan, even though he is more of a radio guy. He said:
"Welcome to American Idol; now I am not Ryan Seacrest, I am Bobby Jones. Sadly, Ryan is sick, and I look most like him, so they asked me to fill in his shoes for tonight. Ryan, love you buddy, hope you get better."
It appears that both men have a history of friendship, as Ryan gifted the "Dancing with the Stars" star, Bobby, a pair of Jordan sneakers on his birthday. Ryan signed the birthday/appreciation present a few days after he was substituted.
According to details obtained from a clip on Bobby's post, the gift card bore Ryan's signature and writings. He was thankful to the radio presenter for "filling his shoes" for him.
Ryan's illness required he stayed away during the filming of Tuesday's episode of "Live with Kelly and Ryan." While Kelly retained her spot on the show, Ryan was nowhere to be found, but Mark Consuelos who happens to be Kelly's husband represented him.
He was warmly received when he came on screen to co-anchor the show with his wife. The audience were excited to see the two lovebirds side by side, even Kelly who invited her husband to join her in presenting could not hide her joy, and she described him as her "sidepiece" in the course of the show.
Fans were overwhelmed at how good the pair were on screen. Some fans even compared Mark to Ryan and concluded that the former was not as boring as the latter.
Both Kelly and her man seem to share an invaluable bond on and off screen. The duo has three kids and has managed to keep their private life tidy. After two decades of being with each other, they seem to be head-over-heels for each other still.
In the meantime, we hope Ryan is doing well recuperating.
Please fill in your e-mail so we can share with you our top stories!