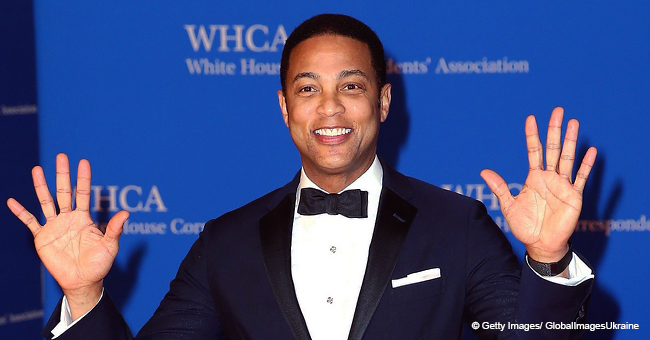 CNN Anchor Don Lemon Gets Engaged to His Boyfriend
Don Lemon's boyfriend Tim Malone proposed to him in the sweetest of ways, using the couple's pets to ask his hand in marriage.
The 53-year-old shared a photo of the two dog collars that Malone used to ask if he would marry him on Saturday. The post is found below.
Malone, 35, found it fit to pop the big question on his own birthday, giving the spotlight to his CNN anchor partner.
Each of the dog collars around their pet Boomer and Barkley's necks read:
"Daddy Will You Marry Papa?"
In the caption, Lemon wrote:
"He gave me a present on his birthday. How could I say no?"
To be fair, Malone celebrated his birthday in Manhattan the day before, so all his shine wasn't completely stolen.
The handsome real estate agent began dating Lemon in summer 2017. However, the couple received lots of attention for a kiss they shared live on-air on CNN in the New Year of 2018.
Malone also shared the picture of the dog collars to his Instagram account with the caption: "He said yes!"
On Monday, his fiance Lemon spoke to the media, saying:
"I grew up thinking that I would never be able to be public with my relationships, let alone ever get legally married."
He added:
"So for me, this is doubly thrilling and just a wee bit terrifying. Guess I have to start thinking about children. Talk about a late bloomer. "
Lemon's boyfriend Malone went to Boston College where he earned a degree in history and journalism in 2006. He has at least three siblings based on his Instagram.
Also on his Instagram is the couple's first online presence together where they jumped off a boat. Lemon expressed hesitation at first but Malone was not having it. "No, we're going on three," he said before they jumped.
Aside from water, Malone is also interested in journalism, which is helpful considering his partner's job. He used to work for NBC News, even working as a production assistant for the TODAY show.
He now sells multi-million dollar homes in New York City as part of the Corcoran Group. In 2018, he was listed among the top salespersons in Manhattan by the company.
Despite the push for inclusivity these days, Lemon has had to respond to questions regarding his selection of a white man to date. In February, he spoke about his experience during the Red Table Talk with Jada Pinkett-Smith.
One of the most hard-hitting things he said was:
"Sometimes, some of us say, we're too Black to be gay and some of us say, we're too gay to be Black…So, you got it from your own folks or from the larger community…and then you get it from your sisters who are like, 'Well, why not me?' And it's like, 'I love you but I don't love you.'"
The CNN host also spoke about the time he came out to his mother at 30, following a breakup with his then-boyfriend. He also explained that with black men, "most of 'em aren't out."
According to Lemon, the black men he dated "didn't want people to know," and it's not how he personally wants to live his life. In contrast, he wants to be out and free and, apparently, getting married. We congratulate him and Malone on their engagement.
Please fill in your e-mail so we can share with you our top stories!