Trump Mocks Muslim Congresswoman Ilhan Omar Hours after She Received Death Threats
The President of the United States has recently delivered a speech to the Republican Jewish Coalition but took advantage of the spotlight to make a joke at Rep. Ilhan Omar's expense.
On Saturday, April 6, 2019, the 72-year-old addressed the audience and highlighted all the work his administration has done in the Middle East, as well as the policies benefiting Israel.
It has been reported that, during the Las Vegas speech, Donald Trump mocked Omar by saying that she didn't like Israel, just a day after she received a death threat.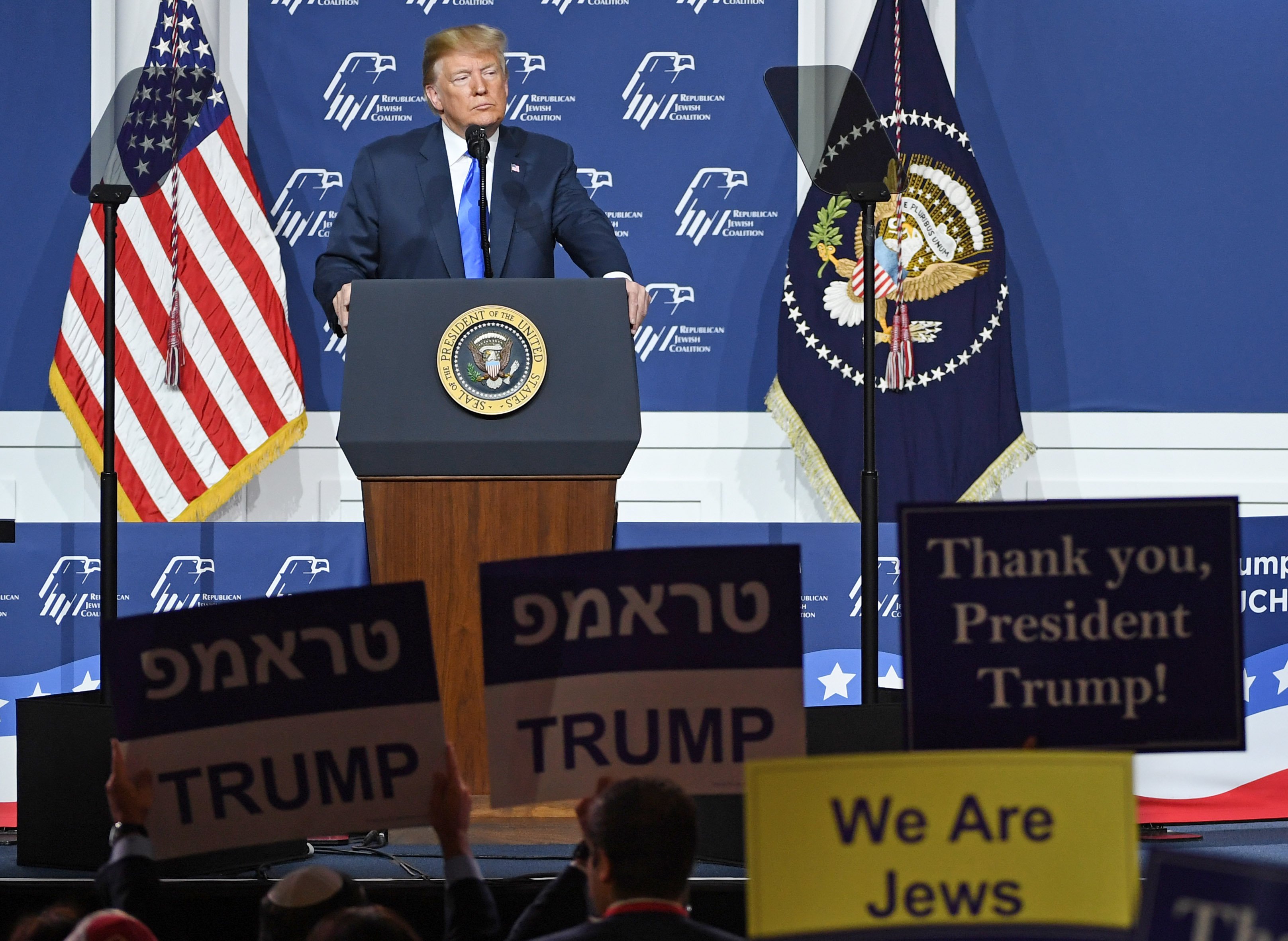 Donald Trump delivering a speech at the resident Donald Trump speaks during the Republican Jewish Coalition's annual meeting at The Venetian Las Vegas | Photo: Getty Images
PICKING ON OMAR
While thanking lawmakers and other public officials present at the event, the Head of State took the opportunity to sarcastically thank the Rep. from Minnesota.
With a noticeable mocking tone, the President said:
"Special thanks to Rep. Omar of Minnesota. Oh, I forgot. She doesn't like Israel. I forgot. I'm so sorry."
Trump's words were a reference to the controversy sparked by Omar when she criticized the way Israel was treating Palestinians, as well as Israeli lobbying efforts.
However, the President's joke might have come in the worst time considering that Omar was threatened by a New York man who accused her of being a terrorist.
MURDEROUS INTENTIONS
The New Yorker, who has since been identified as Patrick W. Carlineo, allegedly called Omar's office and threatened to kill her by shooting her in the head.
The 55-year-old didn't speak directly to the Rep., as the call was answered by a member of her staff, who was asked by Carlineo if he or she worked for the Muslim Brotherhood.
The phone call was forwarded to the Federal Bureau Investigation, along with the U.S. Police, and the situation was properly investigated.
ACCUSED OF BEING ANTI-AMERICAN
The FBI managed to track Carlineo down and questioned him at his home, where he claimed to be a patriot who loves the U.S. President and "hates radical Muslims on our government." He ended up being arrested and charged with threatening to assault and murder.
Jeanine Pirro, from Fox News, is also guilty of attacking Omar. In fact, her show, "Justice with Judge Jeanine," was temporarily taken off the after the host questioned the Rep.'s allegiance to the U.S. for wearing a hijab.
Please fill in your e-mail so we can share with you our top stories!