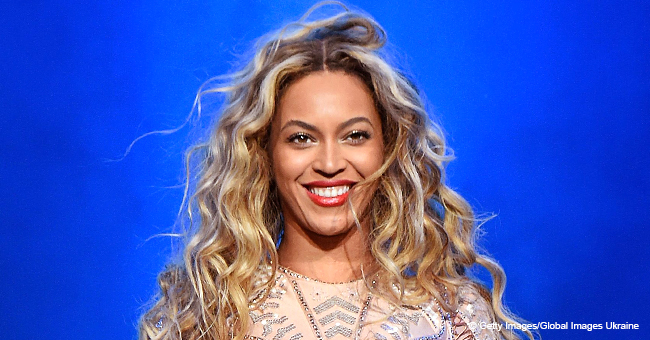 Beyoncé Cuddles with Her Twins and Dances with Blue Ivy in Trailer for Netflix Doc 'Homecoming'
Never-before-seen footages of Beyonce's children were released in a new trailer for the singer's upcoming Netflix documentary. See Blue Ivy dancing and twins Rumi and Sir in a tender moment with their mother.
A brand new trailer for Beyonce's Netflix documentary is gaining attention for its bonus clips of her children who she hardly features on her feeds.
As the film, "Homecoming" documents the singer's journey to her epic Coachella gig, it also gives brief glimpses of her daughter Blue Ivy and twins Rumi and Sir. In never-before-seen rehearsal footage leading to 2018's Coachella, Blue Ivy showcases her dancing skills and Beyonce at one point plays with her twins.
The powerful trailer begins with Maya Angelou's familiar voice speaking in the background as footage of Beyonce in rehearsals are flashed on the screen.
"I want to be representative of my race-the human race. I have a chance to show how kind we can be, how intelligent and generous we can be," the famous poet begins.
"I have a chance to teach and to love and to laugh. I know that when I finish doing what I'm sent here to do, I will be called home and I will go home without any fear, trepidations, wondering what's going to happen."
Somewhere in the one-minute-forty-three-second clip, Beyonce's kids appear. Blue Ivy is caught participating in dance rehearsals, imitating chair choreography her mother tries to perfect. Quick close-ups of her adorable siblings also flicker on the screen revealing tender moments with their mother.
Beyonce's record-breaking Coachella performance drew 41 million live viewers as she paid tribute to black colleges and universities. According to a press release, the film features candid footage and interviews "detailing the preparation and powerful intent behind her [Beyonce] vision." It also "traces the emotional road from creative concept to cultural movement."
No doubt the trailer will draw even more viewers to watch the documentary, especially after witnessing a rare appearance of her children.
Beyonce and her husband Jay-Z have tried to keep a low profile when it comes to their family. This is why a recent controversy surrounding the unauthorized release of their children's photo caused a stir.
Last week, a framed image of Blue, Rumi, and Sir appeared to be taken in their home surfaced on social media. In the pic, the siblings were sitting in front of a bed of flowers. Hollywood Unlocked was first blamed for its release and explained it received the photo from an anonymous source. It was taken down shortly after a rep for Beyonce called to say it had no permission.
The documentary's latest trailer is proof that Beyonce and Jay-Z are open to sharing their family to the world but in their own terms. If only people would learn to respect that, then maybe they'd consider posting more images of their children.
Please fill in your e-mail so we can share with you our top stories!