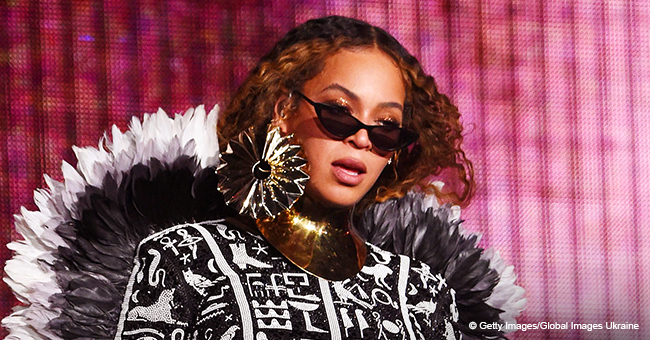 Private Photo of Blue Ivy with Twins Sir and Rumi Leaks Online and the Beyhive Is Freaking Out

A photo of Beyonce and Jay-Z's children which appeared to have been taken from their home has been leaked on the internet. Fans of the Queen Bee are coming to her defense as the publication accused of leaking the photo provides an explanation.
Beyonce's bees are buzzing over a leaked photo of her children.
THE CONTROVERSIAL PHOTO
We all know that Beyonce and Jay-Z are so protective of their children that photos of them are scarce on social media. This is why it came as a surprise when Hollywood Unlocked shared an unauthorized image of Blue Ivy and twins Rumi and Sir.
The pic which seemed to have been taken in the Carters' home or office was posted by the publication on April 3. It featured a framed black and white photo of the siblings sitting in front of a bed of flowers.
HOW THE PHOTO WAS LEAKED
Shortly after, Jason Lee, the owner of Hollywood Unlock received a call from Beyonce's rep telling him the photo was unauthorized. He immediately took it down and explained in a statement to Buzzfeed that the photo was sent to his publication anonymously.
"We received a photo of Beyoncé's children via an anonymous source and posted the image believing that it had already been posted by the Carters."
He also confirmed that as soon as he got word from Beyonce's camp, he took it down "out of respect for their privacy."
It's unclear why Lee said the source for the photo was anonymous when Freeish Media was credited when the image was published on HU's Instagram. The original post of Freeish Media which has now been taken down also credited a twitter user with the handle @713yonce.
IN DEFENCE OF BEYONCE
Twitter was soon abuzz over the leaked photo slamming the perpetrator. A user who goes by the handle @bluesNanny wrote, "@713yonce are you Beyonce."
"Y'all need to leave Beyonce and her kids alone," Matthew Cherry advised.
"I am not sharing that illegal pic of Beyonce's children. I don't need that karma in my life," according to George M. Johnson.
"Beyoncé looking at yall spread that picture around of her kids that she didn't post on her own page..!! I know she's livid right now..!!" @DustinWill29 guessed while Jeremy Bearimy warned, "Beyonce gon run the tapes back and figure out exactly which one of yall snapped that photo and if you die, you die."
HOW RARE THE TWINS' PHOTOS ARE
We've only seen a handful of Beyonce's kids' photos, especially of her twins. First was shortly after their birth in June 2017. Then a year later, she posted a lovely image of them sitting on her lap.
More recently, she shared snaps of them from their trip to India. The new black and white photo that circulated the net recently hasn't been shared on her social media nor her mother's so it's curious how it even got into the hands of its, alleged leaker @713yonce. Some suspect someone's bound to get fired soon.
Please fill in your e-mail so we can share with you our top stories!