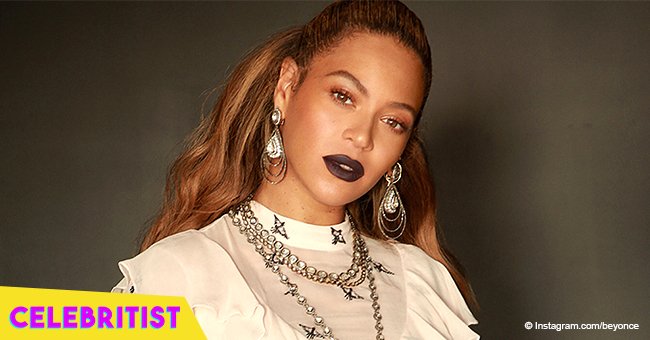 Beyoncé shares picture holding her adorable twins, Sir and Rumi, on her lap
After keeping them out of the spotlight since they were born, Beyonce has finally given the world a sneak peek of her twins, Rumi and Sir, while out on vacation in Europe during her joint tour with husband Jay-Z.
During the quick show-free days of the "On the Run II" tour, the Carters have been spending some quality time together. Last Wednesday, the "Love on Top" singer shared a photo of herself carrying her 13-month-old twins on her lap while on a family trip in a European city.
In the photo, Beyonce appears to be speaking to someone whom she smiles at, while her daughter Rumi follow her gaze and giggles. Meanwhile, her son Sir seems to be a bit more serious than his sister, glancing down without a smile on his face.
The Carters are known to be extremely private when it comes to their children, but People shares that back in January, Jay-Z couldn't help but joke around about the lovely time he has been having with their twins.
"We are in a beautiful time now because they are seven months and they can't move. They can just coo … they just coo and you don't have to, 'Wait, wait, wait, wait.' You know, they're not running anywhere yet. We are going to enjoy these couple of months until they start running, and then it's over."
Beyonce and Jay-Z both decided to bring their children with them on tour so as not to miss any milestones in their life. They have been present in every city that their parents have performed in, which kicked off in Cardiff, U.K. last June 6.
As for how the family feels about bringing along their three children, a source told People:
"They are incredibly excited. It took a lot of work to make this happen. It's the best choice for their family."
Please fill in your e-mail so we can share with you our top stories!