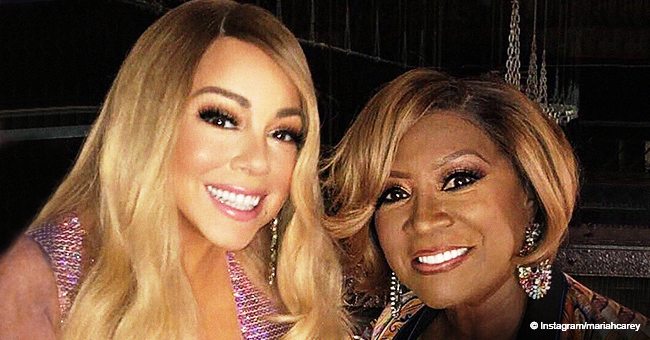 Mariah Carey & Patti LaBelle Sip Wine as They Casually Sing Duet to 'With You' in Hilarious Video
Mariah Carey and her godmother, Patti LaBelle, had a bit of fun backstage after Carey's concert in Philadelphia. As the divas broke out in an impromptu duet, LaBelle was caught off guard by one of Mariah's lyrics, which included a curse word.
When two divas of Mariah Carey and Patti LaBelle's caliber get together, there's only love and fun in the air.
The pair, who also happens to be godmother and goddaughter, recently reunited backstage at Mariah's "Caution World Tour" stop in Philadelphia to sip some wine and sing along to the 2018 hit, "With You," and Mariah shared a clip of the special moment on Instagram.
Hanging out on the balcony of the venue, Carey, who was wearing a plunging sequined purple dress, lead the song. "Shots of Remy, playing 'Confessions' and our bodies blendin'," the two icons sang, perfectly harmonizing without much effort.
However, things took a fun turn on the next verse, as Mariah sang "Ooh, I'm in love it's true. Yeah, damn, I f***s with you,'" causing LaBelle to gasp out loud and ask "Oh, you say F with you?" while looking scandalized.
Joking, Carey said straight to the camera, "See, she didn't know I said that! Cut it out!"
But without missing a beat, she continued singing, moving through the next lines of the song with Patti before ending the duet with a high note from both divas.
"A fun moment with @mspattilabelle singing #WithYou #CautionWorldTour," Carey captioned the post.
Fans of both singers filled the comment section gushing about the pair, their lovely relationship, and Ms. LaBelle hilarious reaction in the clip.
"So cool! Wish she re-recorded it adding Patti. Now THAT would be a Collab," wrote one user.
Another added, "Omg the look on Ms. Patti's face when you cussed. That's a no-no!"
And a third one pointed out, "Mariah and Patti, just casually being legends while sipping wine. The Power."
LaBelle also shared a gorgeous pic from the encounter, adding in her caption:
"Love you @MariahCarey! You are the best Goddaughter anyone could ask for, and you were absolutely wonderful the other night! Friends make sure you check out the #CautionWorldTour!"
Talking to Busy Philipps on the show "Busy Tonight" last January, LaBelle was asked what advice she would give to the new generation of female singers. And the 74-year-old had only one:
"I hate saying this but...keep your clothes on. That's all. You know, that talent will show if it's in, you don't have to do this and do that to show that."
"I talk to a lot of young girls too. I've been a mentor to so many," LaBelle continued. "Beyoncé, Mary J [Blige], God so many." Among them, one stood out: "Mariah is my goddaughter. I had to slap her every now and then," LaBella revealed.
"She's so phenomenal and so good, she doesn't need to be slapped anymore. That's my baby."
Meanwhile, Carey will continue her tour in May, with dates in the U.K and Europe.
Please fill in your e-mail so we can share with you our top stories!