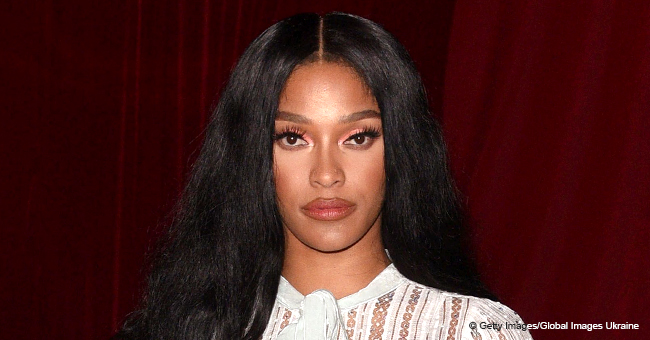 Joseline Hernandez Calls Her New Man 'Husband' after Slamming Stevie J Amid 'Deadbeat Dad' Claims
Less than a month after clapping back at her ex amid "deadbeat dad" speculations, Joseline Hernandez is calling a new man "husband," and no, it's not the same man she showed off a while back.
Joseline, 32, may not be on "Love & Hip Hop: Atlanta" anymore, but there's no end to the drama she attracts. The latest has to do with a new man she debuted on social media and promptly referred to as her spouse.
NEW MAN ON THE BLOCK
The reality star took to Instagram recently with a short clip of herself cuddling and kissing a man's head. She did not tag the man, who looked happy to be getting a kiss from Joseline, but simply captioned it: "He knows I love him."
That was enough to raise eyebrows and get the gossip mill running, but Joseline gave fans more to talk about after The Shade Room posted the same video on their page and she showed up in the comment section with the word: "Husband."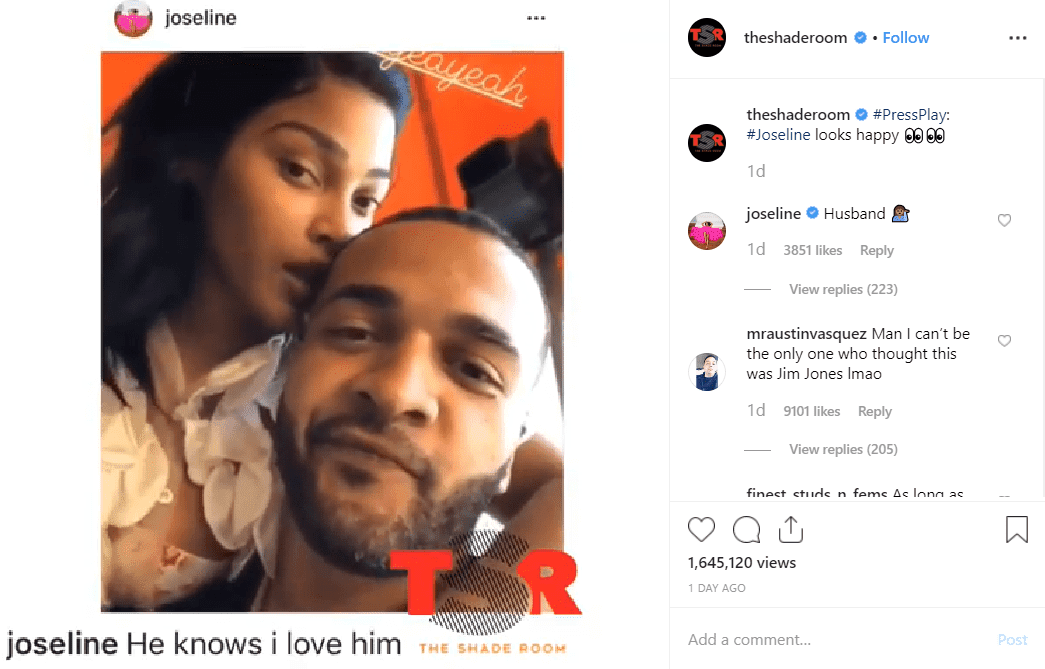 Screenshot of Joseline Hernandez calling the new man "Husband." | Photo: Instagram/The Shade Room
THE PREVIOUS CONTROVERSIAL NEW MAN
Although the self-acclaimed Puerto Rican princess is yet to elaborate on her shocking comment, the timing would seem kind of awkward if she did tie the knot with this new man.
Less than three months ago, Joseline was slammed after showing off a new man on social media. It wasn't the fact that she got herself a beau that had people talking, but the new man's name.
Social media users could not wrap their heads around how Joseline managed to get together with a man called DJ Stevie J when her music producer ex/baby daddy goes by the same name.
TROUBLE WITH THE EX
If there's one thing Joseline and Stevie J are known for, it's their turbulent relationship that played out on "Love & Hip Hop." The former couple also had an acrimonious breakup that degenerated into a nasty custody battle over their only daughter, two-year-old Bonnie Bella.
ACCUSING HER BABY DADDY
Last year, Joseline claimed Stevie – who has five other children with four different women – had not seen their daughter in months. She came at him again about a week ago after Stevie made a post seemingly in response to recent accusations that he's a deadbeat dad.
Stevie (birth name Steven Aaron Jordan), shared several pictures of a fun outing with three of his daughters and included in the caption that they'll be seeing Bonnie Bella in two weeks.
CLAPBACK QUEEN
When The Shade Room reposted the same picture, Joseline, who previously claimed Stevie's wife, Faith Evans, pays his child support, retorted:
"Bonnie'bella don't know who you are."
Now that there's a new "husband" in Joseline's life, we'll have to wait and see if she really has moved on or if the reality star is messing with fans.
Please fill in your e-mail so we can share with you our top stories!