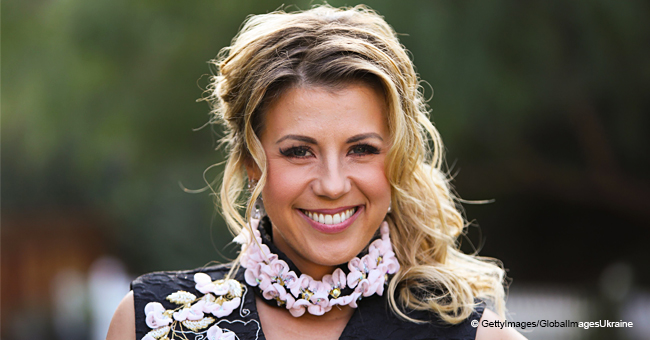 'Fuller House' Star Jodie Sweetin Shares Rare Photos with Daughter Zoie
Jodie Sweetin just posted rare photos of her daughter, Zoie, on Instagram and her followers are loving it.
She wrote, "Enjoying a FABULOUS spring Sunday with my girl! Next week, she turns 11, so she decided what she wanted for her birthday was a shopping and lunch day with her mama! I was more than happy to spend a whole afternoon with my favorite pal."
One user said, "[Both] so gorgeous!! [Hope] you enjoyed [your] day and happy early birthday [Zoie]."
Another showed support by saying, "Just finished reading your book, and now when I see your posts with your daughter, I think about how she saved your life. Special girl, special mom."
A curious follower asked, "[Do] you get stopped a lot by people when [you're] out shopping?!"
HOW SHE PROTECTS HER DAUGHTERS FROM SOCIAL MEDIA
As a child actor who began her career as Stephanie Tanner in "Full House" more than 30 years ago when she was just five years old, this mother of two understands the pressure of being in the spotlight. She tries to shield her daughters, Zoie, 10 and Beatrix, 8, from being misled or disillusioned by the internet.
The 36-year-old mother says, I have honest conversations with them about what social media really is—that it's not real. The things you see, that you wish you looked like, or you wish you were, are not the real people. It's edited."
She adds, "I tell my kids 'Don't put anything on the internet that you don't want to see for the rest of your life.'"
HOW SHE KEEPS IT REAL AND HONEST WITH HER KIDS
Sweetin has talked honestly with her kids about her past, the years she struggled with alcohol, and drug addiction after the end of "Full House" in 1995. In her 2009 memoir "UnSweetined" she shares, "My kids know that I'm sober. They know that I don't drink. And they know … that I used to a lot, and I don't want to anymore because I don't do it well. Some people can have a couple of drinks, and I'm just not one of those people."
The Fuller House star was married three times, first when she was only 20 years old, to LAPD officer Shaun Holguin, in 2002. They were divorced in 2006 and the following year, she started dating Cody Herpin. They wed in July 2007 but separated only seven months after giving birth to their daughter Zoie Laurel May Herpin. In 2009, Jodie and Morty Coyle began dating and their daughter, Beatrix, was born in 2010, before they were engaged. They were married in 2012, but only a year after, they were separated and by 2016, the divorce was final. In January 2016, Jodie and Justin Hodak were engaged but by March 2017 she broke off the engagement when Hodak was arrested three times.
As of February 2018, Sweetin posted a photo with boyfriend Mescal Wasilewski on Valentine's Day and part of her caption reads:
"Find someone who you can share this kind of love with ... Someone who doesn't just show you they love you one day a year. Who isn't afraid to look silly when they tell you they love you. Who doesn't judge you for past mistakes, but who wants to build a better future together."
It is nothing new to see how the pressure of being a child star can wreak havoc in one's life. Judy Garland, who played Dorothy in the 1939 hit "The Wizard of Oz" became hooked on sleeping pills and barbiturates while struggling to manage her weight and energy level. She was already married twice by 1950 and MGM terminated her contract due to her increasing drug use and tardiness on set. Sadly, she died from a barbiturates overdose in 1969.
Please fill in your e-mail so we can share with you our top stories!