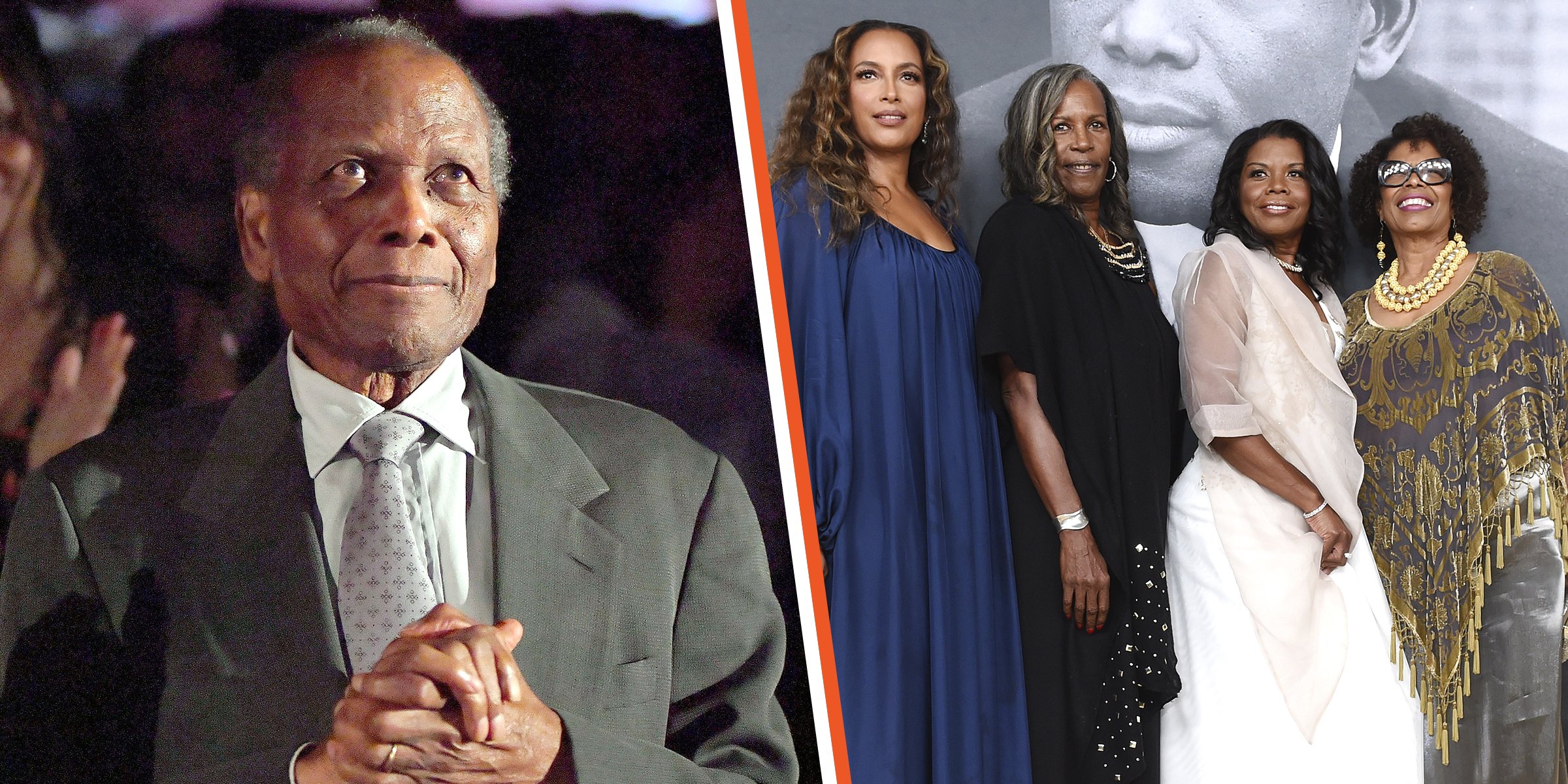 Sidney Poitier | (L-R) Anika Poitier, Pamela Poitier, Sherri Poitier, and Beverly Poitier-Henderson | Source: Getty Images
Sidney Poitier Shared 6 Children with 2 Different Women - Meet His 'Quite Intelligent' Look-Alike Daughters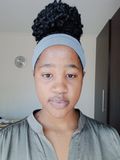 Cat Island native Sidney Poitier led a remarkable life and an excellent career in the entertainment industry. He gained critical acclaim for tackling contentious issues through his craft; however, his best achievement and legacy is that of his six beautiful daughters.
Bahamian-American actor, film director, and diplomat Sidney Poiter was well-known for being the first black man to receive an Academy Award. He received a nomination for Best Actor for the 1958 film "The Defiant Ones" and later bagged the award, in 1964, for his role in 1963's "Lilies of the Field."
Poitier also gained recognition for his regular features in films that tackled racial injustice. Among such productions are "To Sir, With Love," "Guess Who's Coming To Dinner," and "In the Heat of the Night," all of which came out in 1967.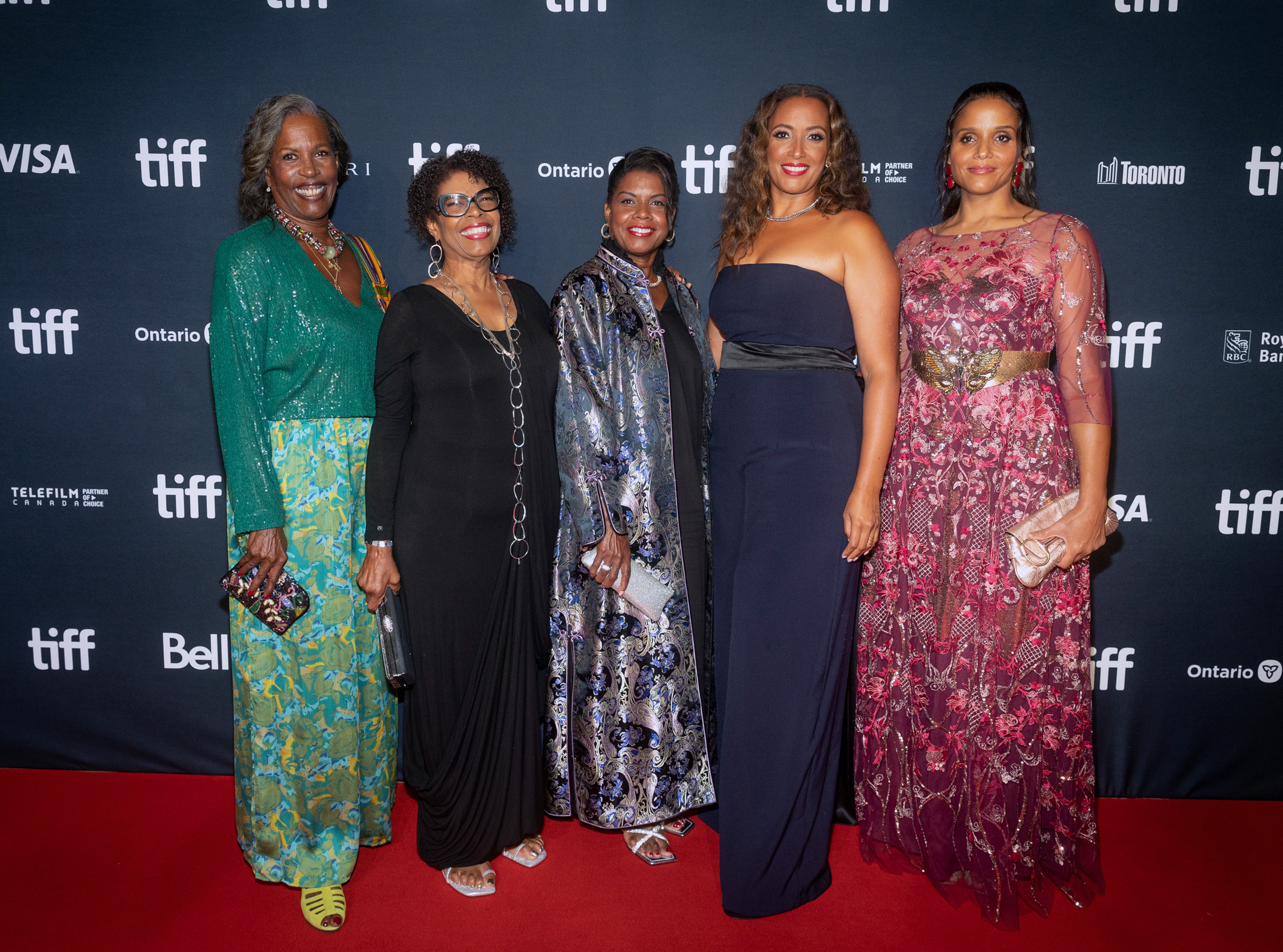 (L-R) Pamela Poitier, Beverly Poitier-Henderson, Sherri Poitier, Anika Poitier and Sydney Tamiia Poitier pose on the red carpet at the "Sidney" Premiere during the 2022 Toronto International Film Festival on September 10, 2022, in Toronto | Source: Getty Images
After inspiring his children to follow in his footsteps, the icon sadly passed on at the beginning of this year, on January 6, 2022. Poitier died in his home in Beverly Hills, California, after suffering from cardiopulmonary failure, prostate cancer, and Alzheimer's at age 94.
His wife, five daughters, eight grandchildren, and three great-grandchildren survived him. A few days after his demise, Poitier's children spoke about the actor's impact and how much of a light he was. In a powerful joint statement, his daughters affectionately described his hugs as their refuge, saying his smile was "infectious."
Sidney Poitier's 4 Children from His First Marriage
The late Sidney Poitier first married Juanita Hardy in 1950. Two years into their marriage, the late icon and his former wife welcomed Beverly Poitier-Henderson on July 4, 1952. According to Kazuri West, Beverly is a video producer, writer, and published author.
In 2002, she released a novel titled "Nana," a few days shy of her birthday. In terms of her film credits, Beverly worked in the casting department in the 1991 TV Mini-series "Separate But Equal," which stars her dad. However, she didn't stay affiliated with Hollywood for long and focused on a primary passion: jewelry.
Beverly enjoyed collecting rocks as a child. It wasn't until she attended a local jewelry show in Atlanta that she learned she could turn her interest in rocks into a craft. So she started reading jewelry design texts and attending workshops and classes to learn the trade tricks.
Today, she's the owner of the jewelry brand and Etsy shop, PoitierHenderson, a name inspired by both her dad and husband. According to the outlet, Sidney was proud of his daughter's venture. However, she struggled to get him to wear her gorgeous feminine designs.
The late actor welcomed Beverly's younger sister, Pamela Michelle Poitier, on April 4, 1954. Pamela led a short acting career in Hollywood before relocating to her father's home country in the Bahamas, becoming an environmental enthusiast.
Before choosing to relocate in 2012, Pamela Michelle first appeared in the 1980 film, "Stir Crazy," directed by her dad. She then landed roles in a string of films before her final big screen appearance in the 1997 movie "The Jackal."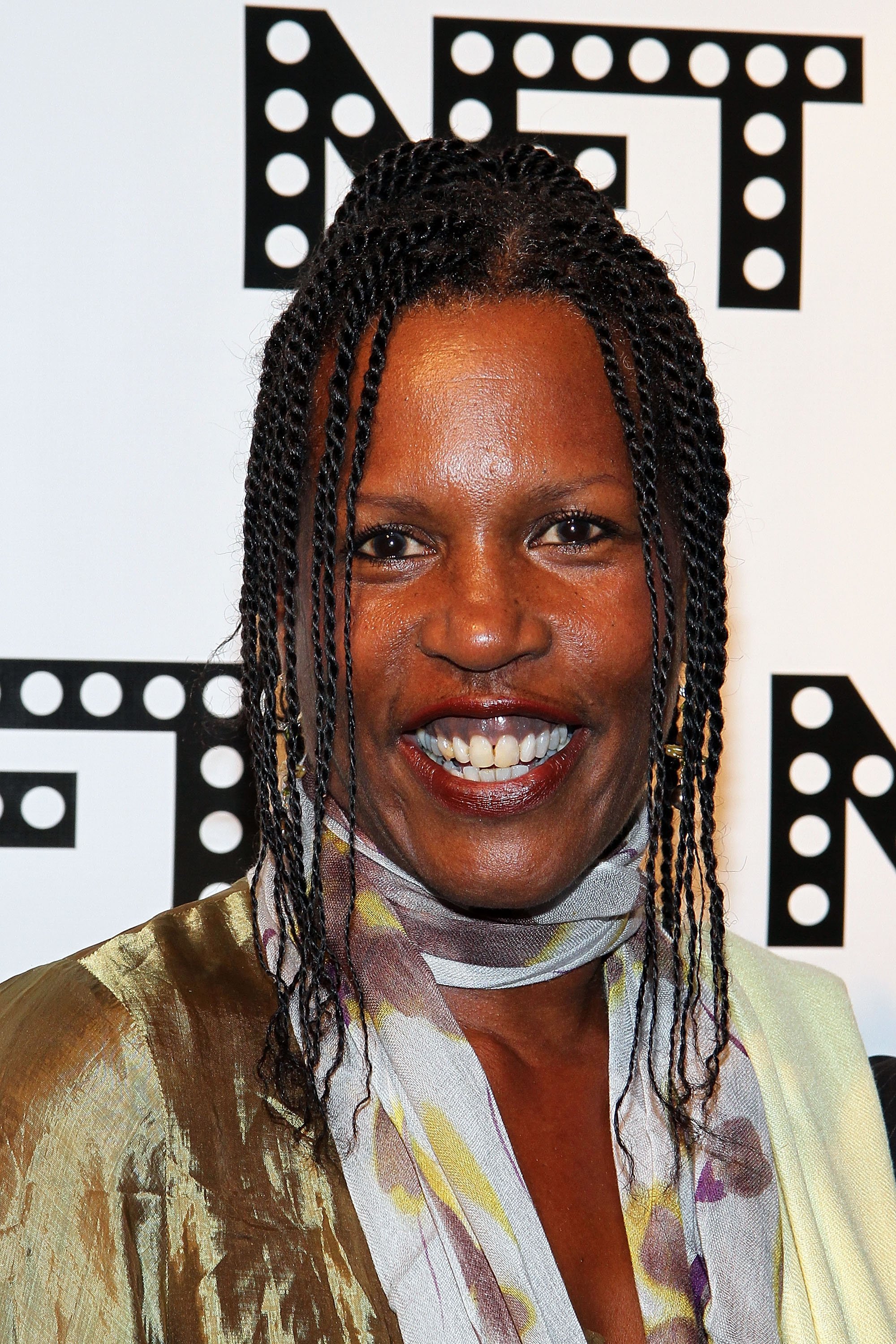 Pamela Poitier poses at the Woodie King, Jr. New Federal Theatre 40th Anniversary Gala on May 22, 2011, in New York City | Source: Getty Images
According to The List, Pamela was born in New York City but felt the need to reconnect with her Bahamian roots. She adapted to a new and green lifestyle, where she lived primarily off of natural resources. Per the outlet, Pamela Michelle described her living experience, saying:
"I live off the grid. I get my electrical power from the sun, I catch rainwater on my roof, and I use composting toilets. [...] We don't own any part of this planet, that we're just passing through. And we're obligated to leave it better than it was when we go."
Pamela Michelle also released a documentary titled "Islands of Life" alongside Bo Boudart. It was screened at the St. Augustine's Film Festival and later shown to HB Hunt Elementary School students. Alongside her mission to preserve the Earth, she offers acting classes to the children on Cat Island.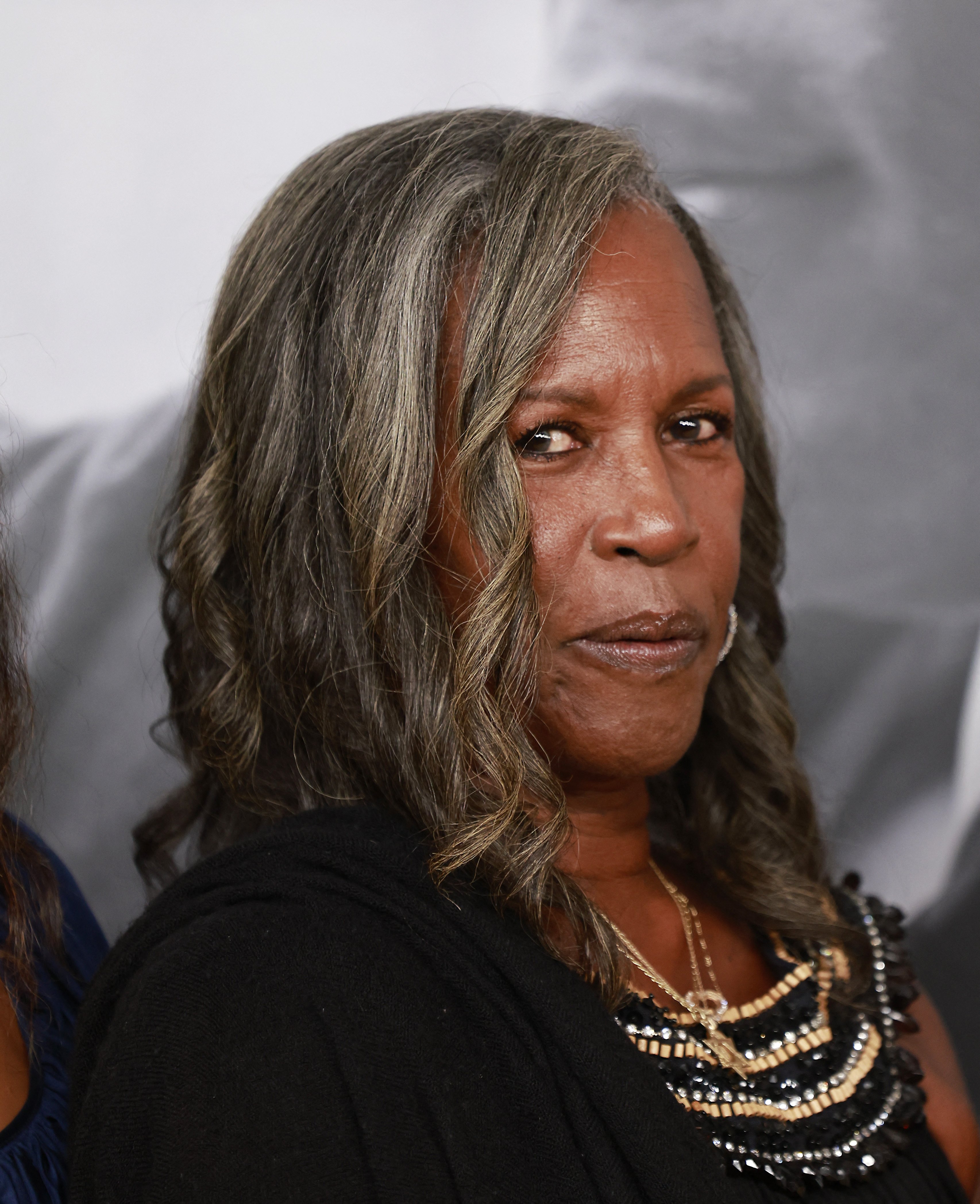 Pamela Poitier poses at the premiere of "Sidney" at the Academy Museum of Motion Pictures on September 21, 2022, in Los Angeles | Source: Getty Images
Sidney's third daughter is Sherri Poiter, born on July 12, 1956. Sherri had a short stint in the acting industry like her older sisters. She debuted in the 1977 movie "A Piece of the Action," directed by her dad. Sidney also starred in the film alongside the controversial figure Bill Cosby.
She then landed a role in 2003's "Fighting Temptations." Although Sherri is reportedly working as a cook, she appeared once more on the big screen in her father's documentary this year. Titled "Sidney," it also features Denzel Washington, Halle Berry, and Morgan Freeman.
The last daughter that Sidney and Juanita shared was Gina Portier, on May 1, 1961. Gina had no known history with Hollywood. She grew up in Pleasantville, New York, before relocating to Stuyvesant when she was 7 with her family.
She then met "the love of her life," Gaiten Gouraige, while in high school, and the pair married in 1988. They welcomed four children, one of which sadly passed. Gina attended Rutgers University in New Jersey before transferring to the Albany State University of New York.
There, she was closer to her lover. After attaining a Fine Arts degree, Gina pursued another in Fashion Merchandise at the American College of Applied Arts. She became a designer and co-established the brand Bejai Arts, which was geared toward plus-size women.
In 2017, Gina reportedly worked as an Administrative Assistant. Unfortunately, she became the first of the Portier sisters to pass on the following year. Her family didn't disclose the cause of her death, but they did release her obituary.
(L-R) Beverly Poitier-Henderson, Anika Poitier, Sydney Tamiia Poitier, Gina Poitier, Sherri Poitier and Pamela Poitier pose at The Film Society of Lincoln Center's presentation of the 38th Annual Chaplin Award on May 2, 2011, in New York City | Source: Getty Images
Sidney Poitier's 2 Children from His Second Marriage
Sidney Poitier married a second time in 1976 to Joana Shikmus, over a decade after his first marriage. The couple tied the knot on January 23 that year and were only separated by Sidney's death a few weeks shy of their 46th anniversary.
Sidney and Joanna had two daughters, first welcoming Anika Portier in Manhattan, New York, on February 29, 1979. Anika works as an actress and director who pursued the profession from age 18. She's known for 2001's "Swordfish," directing 2004's "Devil Cats," and 2010's "Yard Sale."
In 2012, Anika earned the Adrienne Filmmaking Grant for another of her productions, "Black Irish." She is also a mother of two to her daughter Palona and her unnamed sibling. Anika's younger sister is Sydney Tamiia Portier in Los Angeles, California, on November 15, 1973.
Sydney Tamiia is a New York University Tisch School of the Arts alumna who attained a Bachelor's degree in acting. She pursued another qualification at Stella Adler Studio of Acting. Her career began with a few short stints on TV shows that kept getting canceled during their first seasons in the late '90s.
However, she never lost her groove and remains active in acting. Sydney Tamiia had primarily focused on TV shows. One of her most recent roles was in the Canadian series "Carter," between 2018 and 2019.
Inside Poitier's First Controversial Marriage
Former lovebirds Sidney Portier and Juanita Hardy tied the knot on April 29, 1950, and divorced in 1965. While they trudged through many challenges together, the couple faced overwhelming poverty during the early stages of their marriage.
Sidney opened up about an incident where he couldn't afford the $75 medical bill for their first child's birth. The actor told the doctors that getting the money meant he would've had to take a loan against their furniture.
Ironically, before he was aware of the medical bill, he had turned down a role that would've paid him enough to lift him and his wife from that debt. During his interview with well-known host Oprah Winfrey, he explained that it went against his values.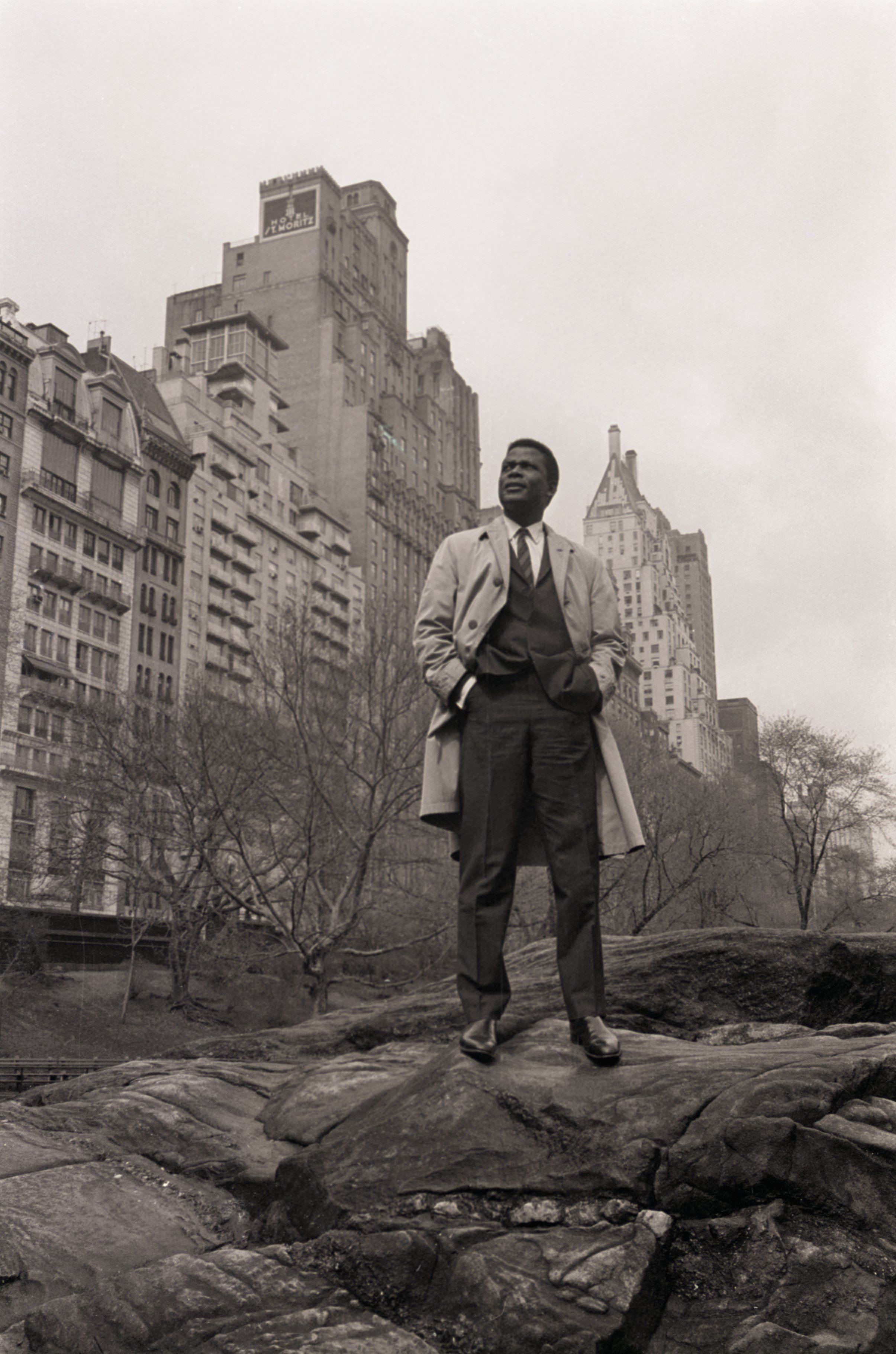 Sidney Poitier poses against a background of New York apartment buildings on April 29, 1964, in New York City| Source: Getty Images
Although the actor's decision led to an inconvenience, Juanita still supported him and was understanding. Later on, Sidney became involved with another woman named Diahann Carroll. They'd met on the set of the 1959 movie "Porgy and Bess."
Sidney and Diahann were married then but couldn't help falling for each other. They dated secretly and promised to leave each other's spouses. Diahann fulfilled her promise.
Sidney eventually confessed to his wife that he had feelings for another woman a few years before their divorce was finalized. Following that separation, he and Diahann continued dating, but they didn't last much longer either.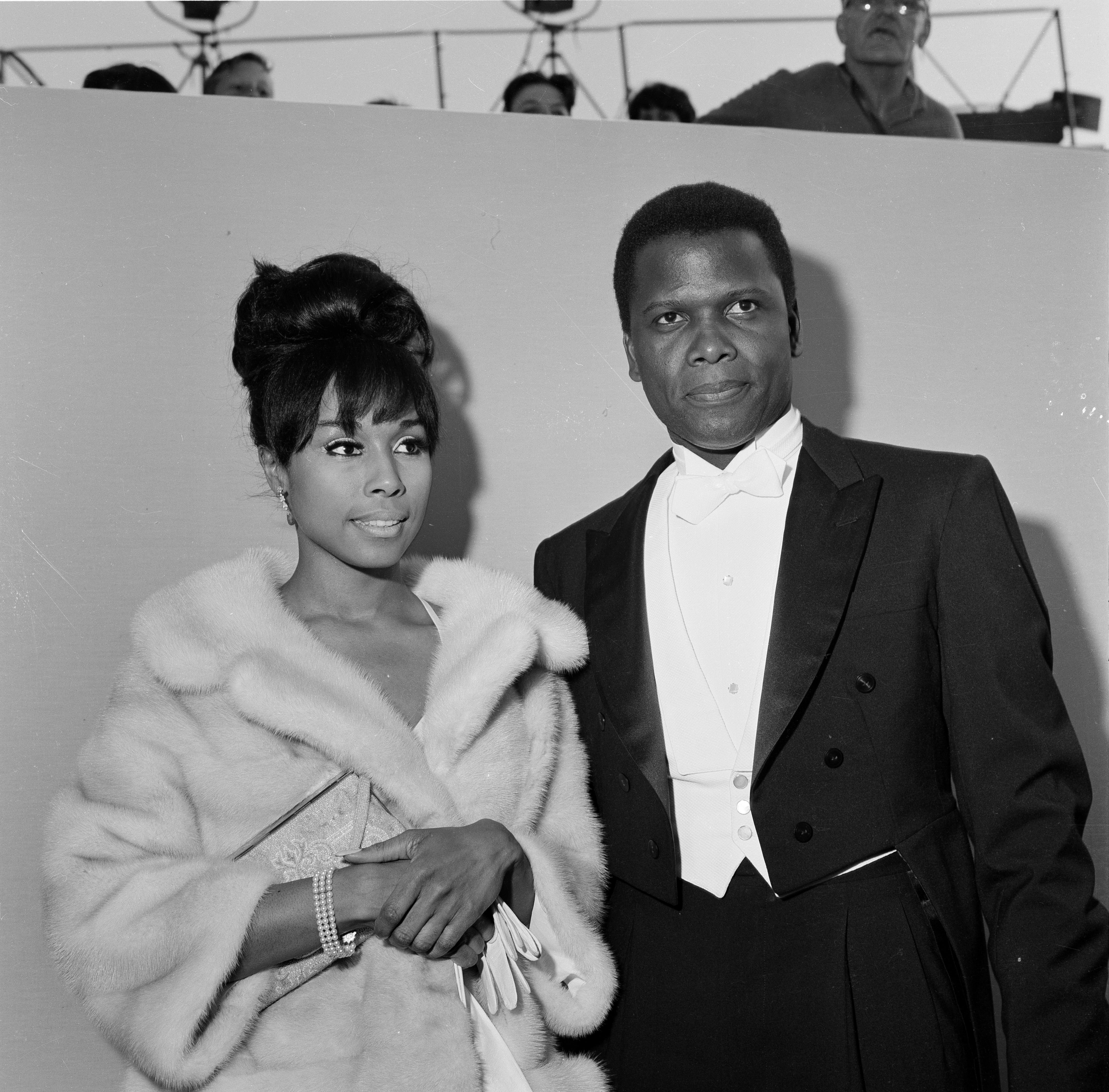 Sidney Poitier and Diahann Carroll during The 36th Academy Awards in Santa Monica,CA. | Source: Getty Images
Details of Poitier's Second Marriage
In 1976, Sidney Poitier exchanged wedding vows for the second time with former Canadian Actress Joanna Shimkus. The lovebirds enjoyed marital bliss for over four decades until the film director's demise.
Throughout their marriage, Sidney and Joanna were open about their love and how they were perfect for each other. The former actress once mentioned that she and Poitier were destined to be together.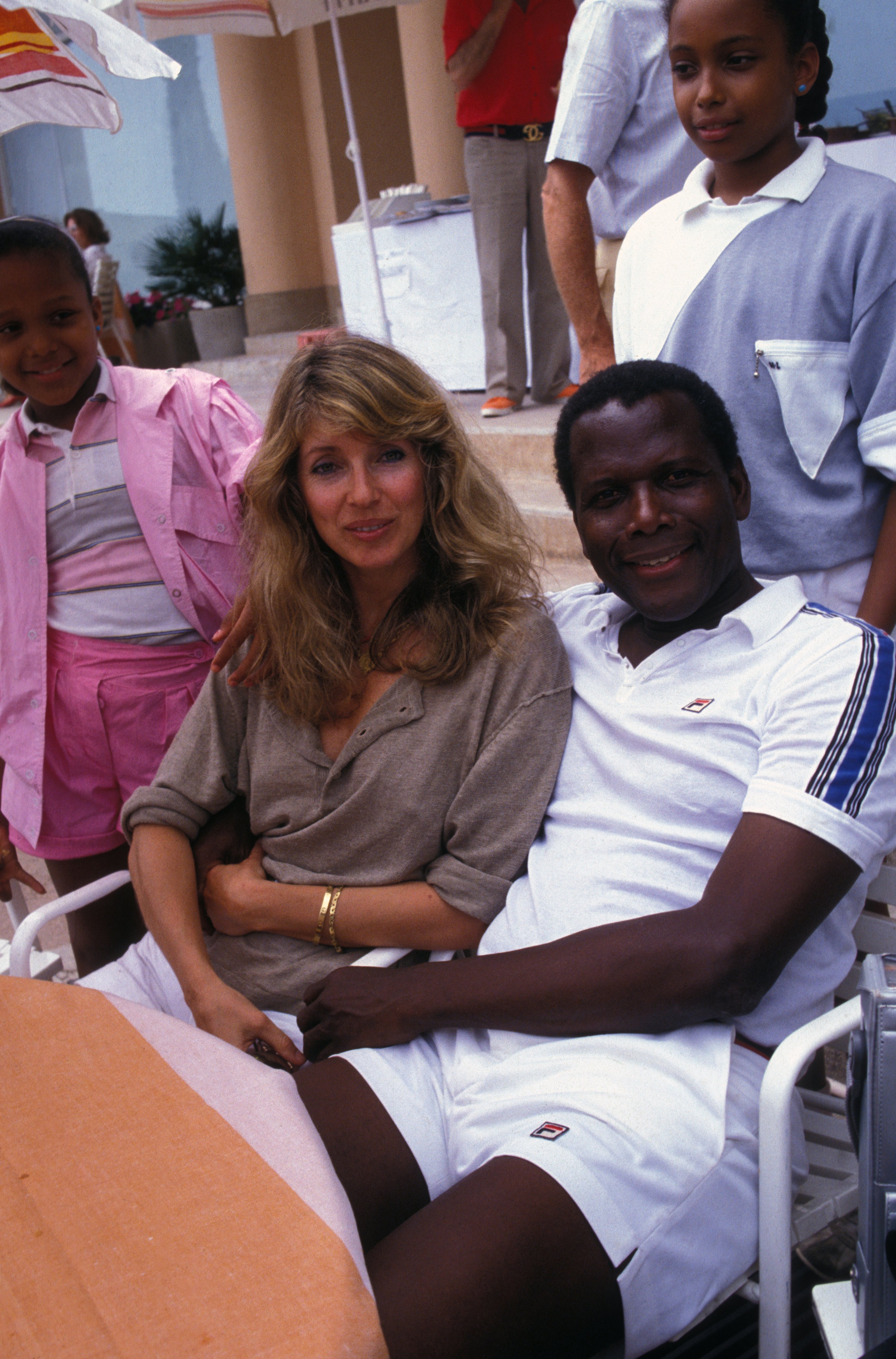 Sidney Poitier with his wife Joanna Shimkus and their children in 1983, in Monte Carlo, Monaco | Source: Getty Images
Furthermore, Joanna also revealed what attracted her to the actor. For her, it was Sidney's integrity, honesty, and unbridled loyalty to his family that drew her to the actor. She described him as "an amazing human being" who was good three times over!
She added that her husband was "very, very, cute" when he was young, but she still found him attractive. Besides her former shared profession with the late icon, she also worked as an interior designer.
Please fill in your e-mail so we can share with you our top stories!
The information in this article is not intended or implied to be a substitute for professional medical advice, diagnosis or treatment. All content, including text, and images contained on news.AmoMama.com, or available through news.AmoMama.com is for general information purposes only. news.AmoMama.com does not take responsibility for any action taken as a result of reading this article. Before undertaking any course of treatment please consult with your healthcare provider.