Sidney Poitier Has 6 Beautiful Daughters from 2 Different Women - Meet All of Them
Sidney Poitier is a Bahamian-American actor who's also a film director and an author. The famous star was married twice to two different women, and with them, he shared six beautiful kids.
Sidney Poitier is best known for appearing in the 1955 film, "Blackboard Jungle," the 1958 movie, "The Defiant Ones," and the 1963 film, "Lilies of the Field."
Although the actor has made a name for himself in Hollywood, that's not the only feat he is proud of; being the happy father of six adorable children comes first.
Sidney Poitier, who was the first Black man to win an academy award for Best Actor in a Lead Role, married his first wife, Juanita Marie Hardy, in 1950. The couple, however, went their separate ways in 1965. In 1976, the legendary actor married former Canadian actress Joanna Shimkus.
Happy Birthday to this monumental human I get to call Dad. 90 years young, and the wisest, gentlest person I know. Love you with all my soul pic.twitter.com/zSl7TCRJJQ

— Sydney Poitier (@sydneytpoitier) February 21, 2017
Sidney Poitier's Children
Poitier and his first wife, Juanita Hardy, had four daughters, and with his second wife, the actor bore two girls. They are Beverly, Pamela, Sherri, the late Gina, Anika, and Sydney.
Sydney Tamiia Poitier-Heartsong is the child of Poitier and his second wife, Canadian actress Joanna Shimkus. Sydney, however, chose to follow in her father's footsteps by choosing an acting career.
Sydney, the youngest of the actor's children, has wanted to be an actress since she was little. In 1998, she made her debut into the acting scene. She's appeared on shows like "Grey's Anatomy," "Hawaii Five-0," "Chicago P.D.," and "Carter."
Her determination to become an actor and continue with her dad's legacy made the youngest Poitier take acting classes. Sydney registered at NYU's Tisch School of the Arts and got her bachelor's degree in acting.
He is a survivor of prostate cancer, and due to this, he regularly donates large amounts of money to cancer research.
She is, however, married to her husband, Dorian Heartsong, and together they share a child. One thing to note about Sydney is her love for her dad, which she makes sure to share on her social media pages.
Gina Poitier-Gouraige, who worked as an administrative assistant, unfortunately, died suddenly on May 27, 2018.
 Pamela Poitier, just like her sister and father, also became an actress. She worked on movies such as "Liberty & Bash," "Savannah" and "The Jackal," but she also works as a teacher.
Beverly Poitier-Henderson is the designer for Poitier Henderson Jewelry, and Sherri Poitier is a chef. Anika Poitier is also in the movie industry but as a filmmaker.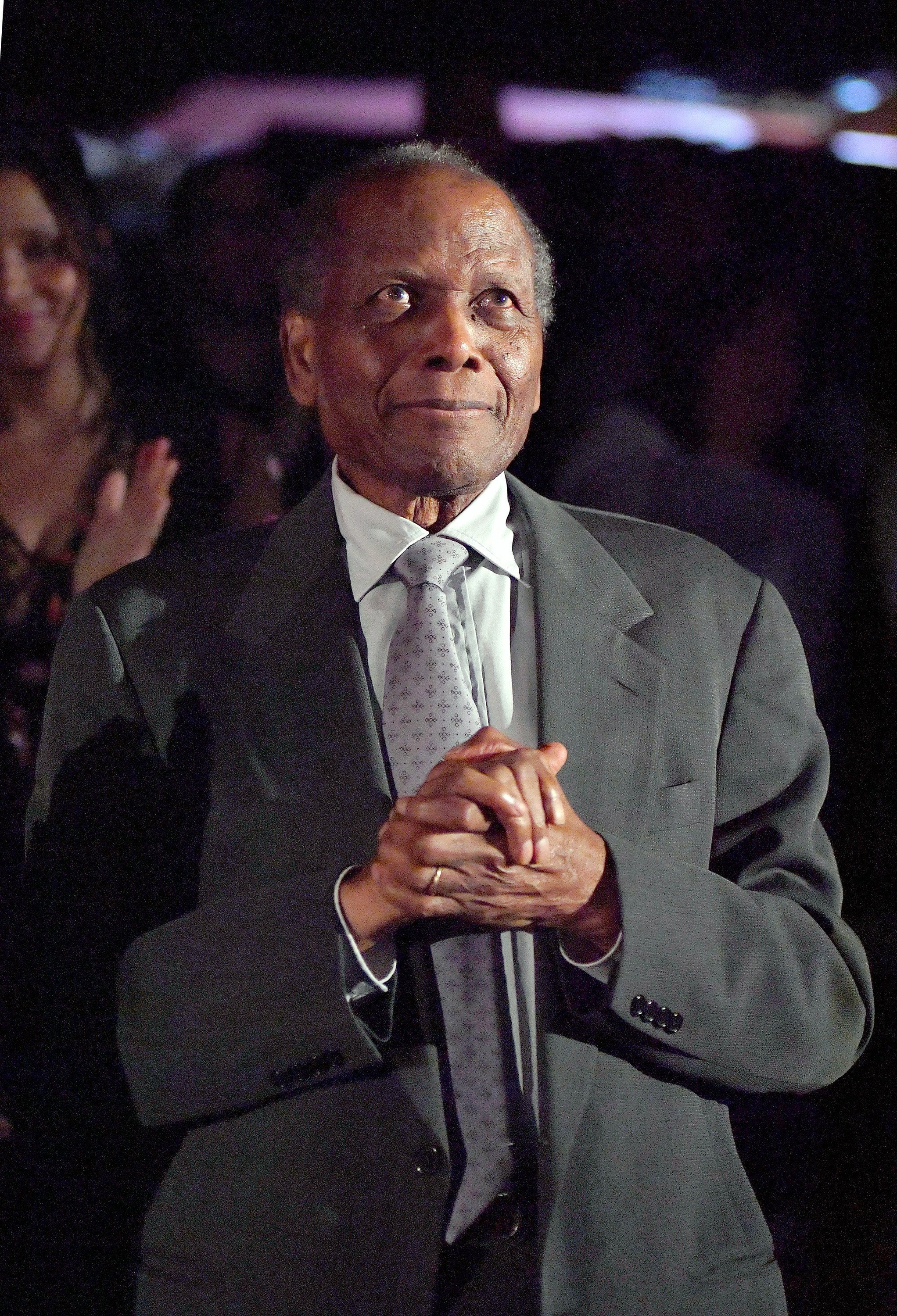 Celebrating His 90th Birthday Together
The famous actor also has a number of grandchildren and great-grandchildren. In 2017, his whole family came together to celebrate his 90th birthday.
His wife of more than 40 years, Joanna, was also present. The interior designer shared about her husband, saying, "He is the most wonderful, generous, kind, honest man with the most integrity that I've ever known in my life."
Celebrating His 92nd Birthday
On February 20, 2019, the actor turned 92, and he celebrated the magnificent milestone with his family once again. One of his daughters, Anika, took to Instagram to share an image of the family together.
Like everybody else, Poitier has had his fair share of ups and downs. He is a survivor of prostate cancer, and due to this, he regularly donates large amounts of money to cancer research. In 1974, Poitier was appointed a Knight Commander of the Order of the British Empire.