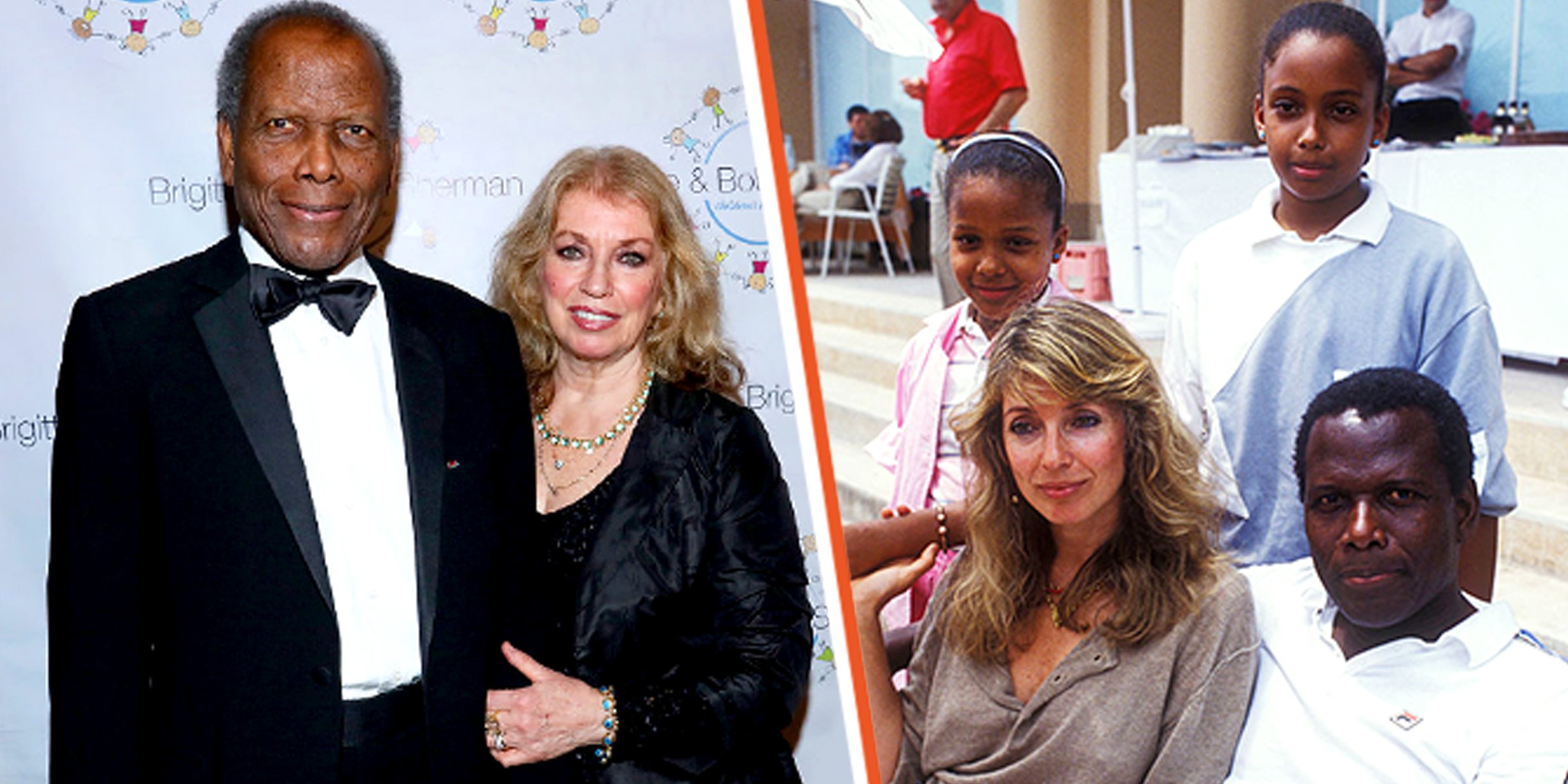 Getty Images
Sidney Poitier Took Years to Propose to Mom of His 2 Kids after 'Great Dissatisfaction' in His 1st Marriage
Sidney Poitier's first marriage ended a few years after having an affair with Diahann Carroll. He didn't think he would marry again until he met Joanna Shimkus, with whom he now shares two children.
Sidney Poitier had a colorful Hollywood career starring in films such as "A Raisin Sun" and "The Lilies of the Field," which won him an Oscar Award. Unfortunately, his love life wasn't as successful in the past. At a young age, the actor wed model Juanita Hardy in 1950.
Known as the founder of Tiger Management Consulting Group, she and Poitier welcomed four children, Gina, Sherri, Pamela, and Beverly. However, their marriage was filled with struggles, leading to their divorce after 15 years in 1965.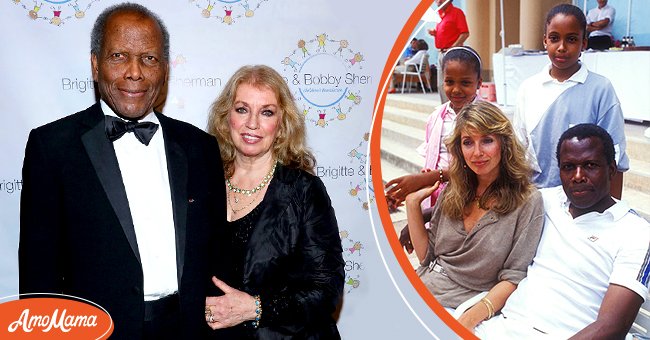 Sidney Poitier, Joanna Shimkus ,and their daughters during the Monte-Carlo ATP Masters Series Tournament tennis match. | Source: Getty Images
During their marriage, "The Defiant Ones" star had an affair with fellow actress Diahann Carroll, whom he fell in love with. The pair starred in the 1959 movie "Porgy and Bess" when Carroll captivated Poitier's heart. He said:
"She had fantastic cheekbones, perfect teeth, and dark, mysterious eyes. She was confident, inviting, sensuous, and she moved with a rhythm that absolutely tantalized me."
Both were married, so they talked about their spouses over dinner. For weeks, Poitier was nothing more than a gentleman to Carroll, but they fell for each other halfway through the project. "As I got to know her, I realized she was one of the brightest women I had ever known," he said.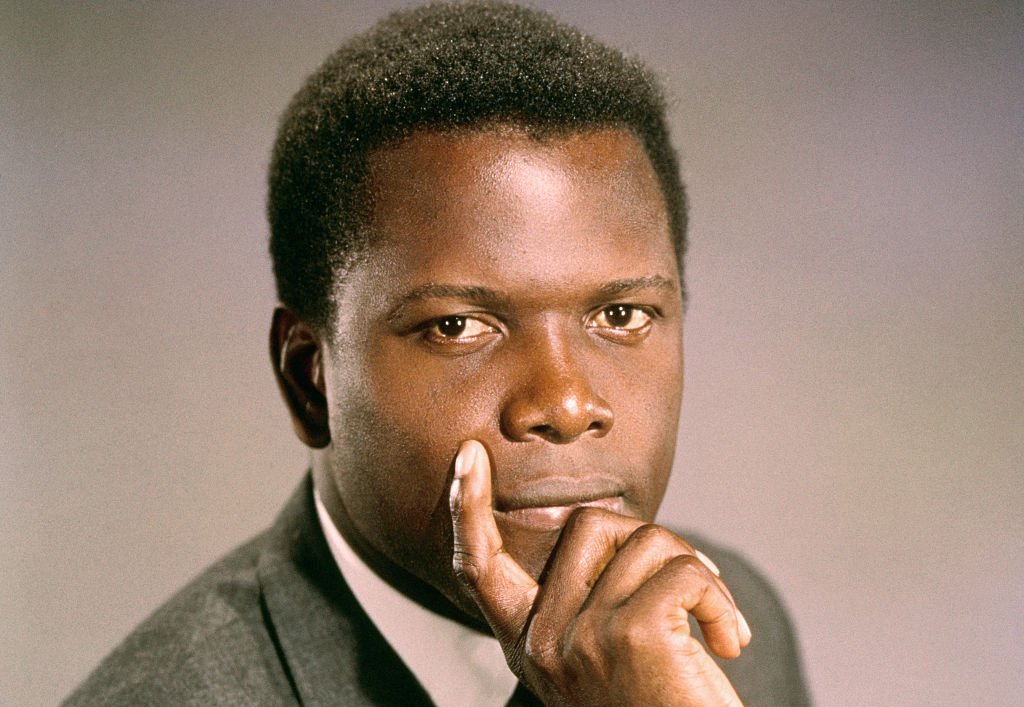 A close-up photo of actor Sidney Poitier. | Source: Getty Images
CHOOSING BETWEEN HARDY AND CARROLL
Although their relationship progressed, Carroll did not want to engage in intimacy, knowing it meant future implications. Carroll was ready to commit, but Poitier could not leave his family.
The couple chose to conceal their daughter's arrival and refused to answer questions surrounding the topic.
However, Hardy knew of his feelings towards another woman. One day, Poitier came home to his wife making breakfast before their kids woke up and told the truth – he was in love with Carroll. Hardy's world crumbled as she heard those painful words in shock.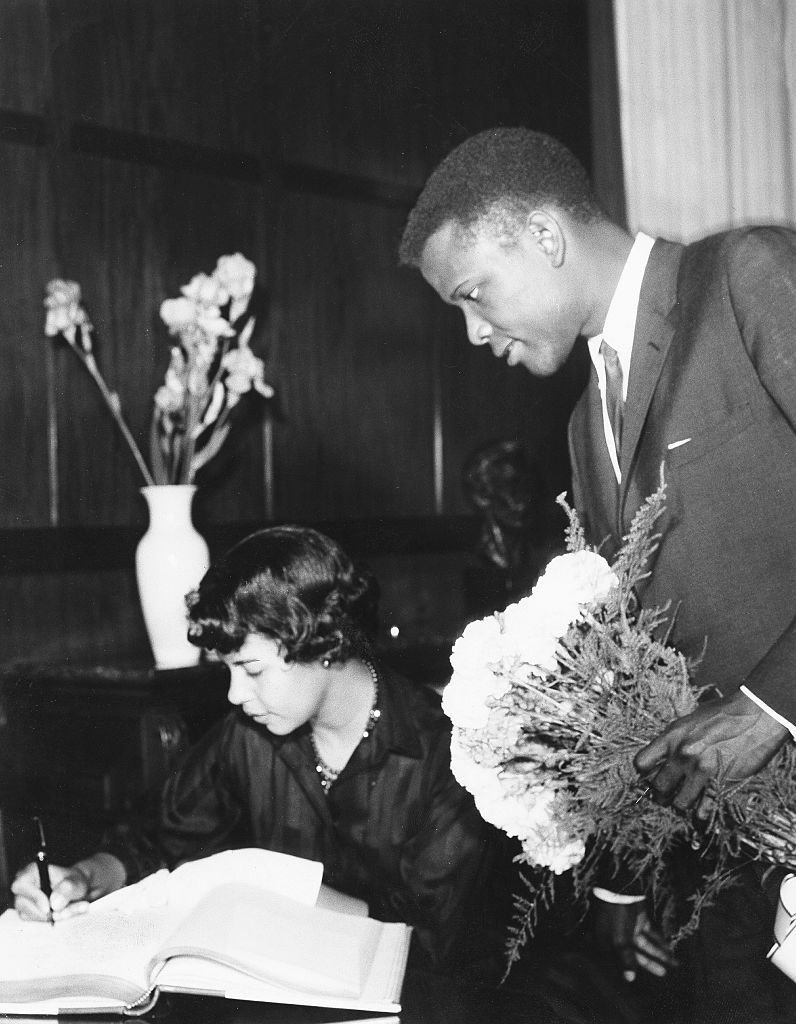 Juanita Hardy and Sidney Poitier, circa 1960. | Source: Getty Images
Although her husband claimed he was to blame, Hardy could not help but point her finger at the actress. As their marriage slowly fell apart, the couple did not do anything to resolve the issue.
Poitier loved Carroll but did not want to leave his family. He had to choose, but he knew he could not. He thought at that time:
"Why couldn't she develop a meaningful interest in my work so I could have someone with whom I could intelligently discuss all my never-ending problems?"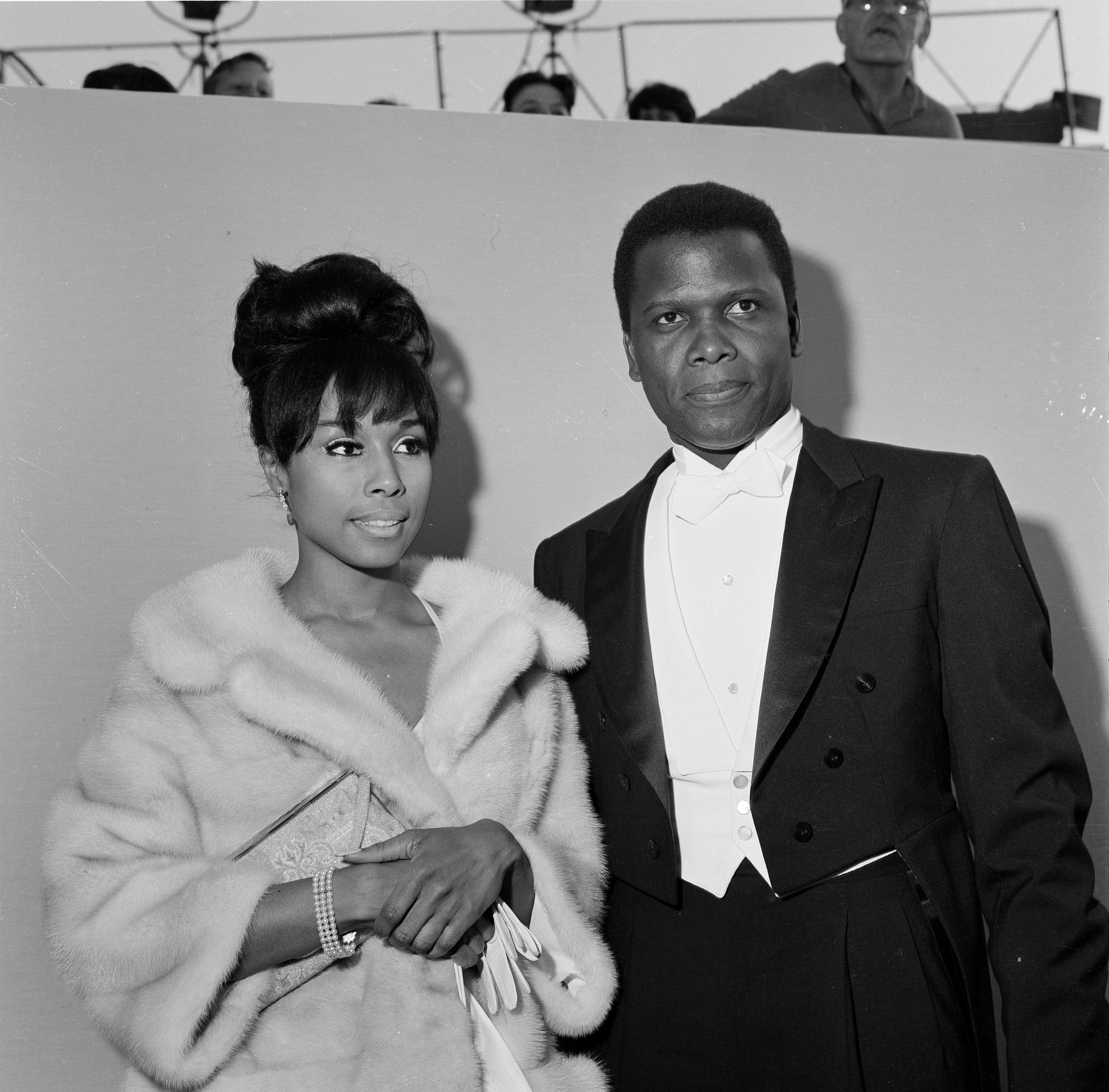 Sidney Poitier and Diahann Carroll during The 36th Academy Awards in Santa Monica,CA. | Source: Getty Images
It took six years for Poitier to end his marriage. "I felt trapped by my four daughters," he said. "They were young, and I loved them, and my father thoroughly indoctrinated me when I was young that, as a law of life, a parent should take care of his children, even if it means not putting food in his own mouth."
Eventually, Hardy asked her husband to move out and file for divorce. On the other hand, he tried to avoid the financial penalty of divorce. In 1967, his relationship with Carroll withered, and the pair began dating other people. Their relationship grew toxic until being apart was better than being together.
Meanwhile, his relationship with his children also strained as he dodged conversations about his broken marriage. "I think there was a time when they were mad as hell at me because of the threat to their own security," he said.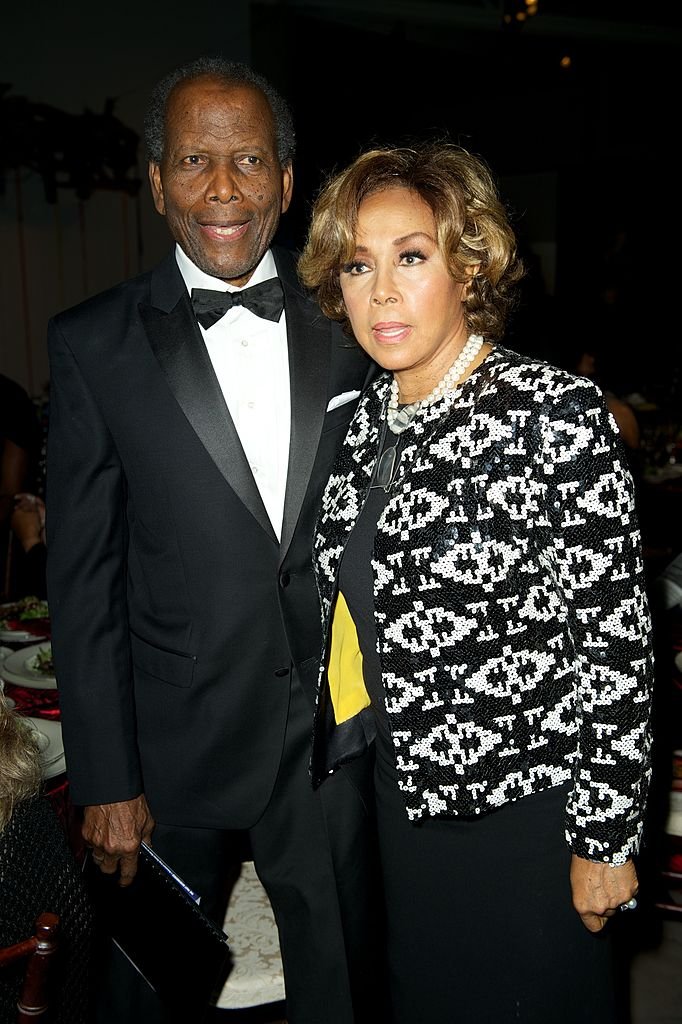 Sidney Poitier and Diahann Carroll during 'An Artful Evening At CAAM' at California African American Museum on October 6, 2012 in Los Angeles, California. | Source: Getty Images
POITIER'S RELATIONSHIP WITH HIS SECOND WIFE
Following his divorce, Poitier had no plans to remarry and instead had several affairs, but when Joanna Shimkus walked into his life, everything changed. Poitier met Shimkus on the set of "The Lost Man." While working on the project together, the pair had long dinners to discuss their script.
Without noticing it, they began to connect on a deeper level as Shimkus grew fond of his passion and depth while he liked her unadorned refinement. However, the actress was still in a complicated relationship with John Heyman, who was, at that time, married.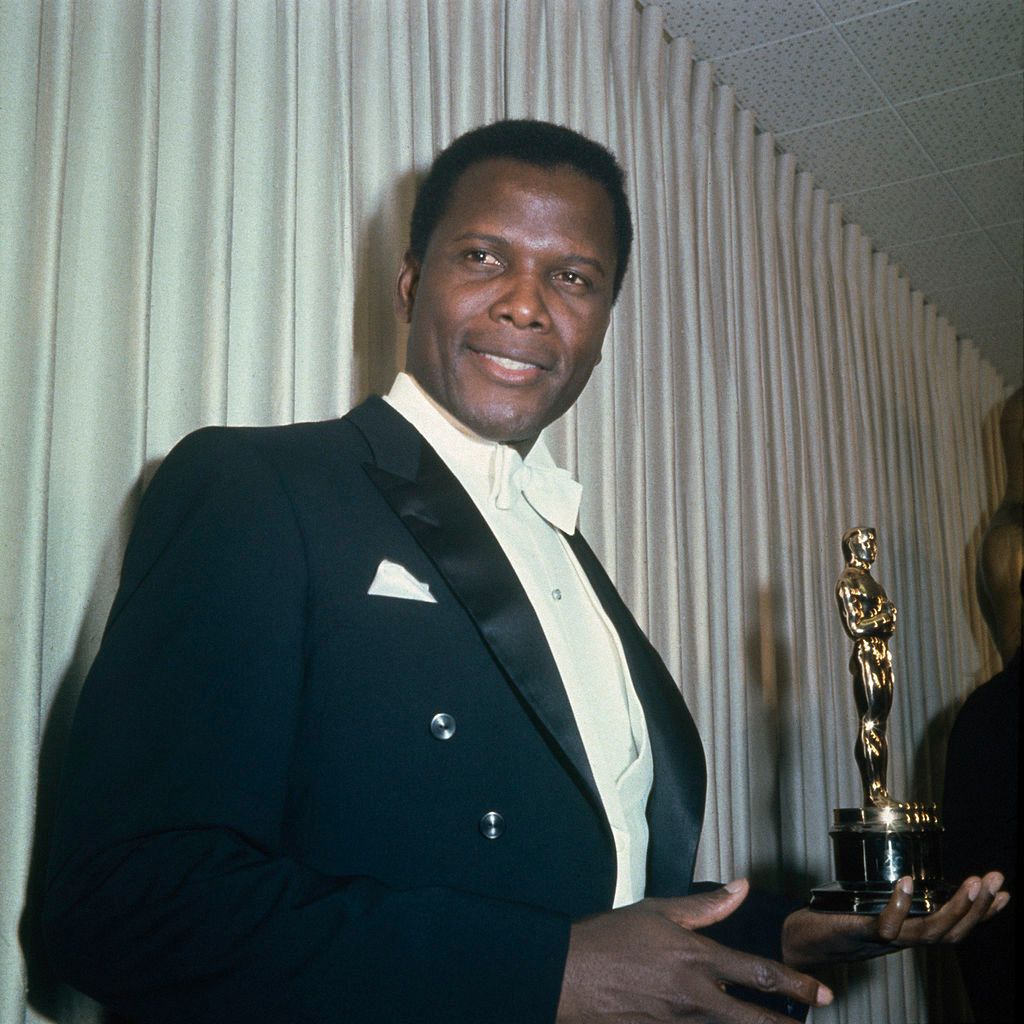 Sidney Poitier during the 39th Academy Awards in Santa Monica, Los Angeles, 10th April 1967. He is presenting the award for Best Supporting Actress. | Source: Getty Images
Poitier knew Shimkus' dilemma being one who experienced it himself. He suggested that they separate to sort out their feelings. Poitier was on his own for a while, embarking on short intimate relationships with many women, but when Shimkus called on Christmas Day, their relationship was back on track.
Poitier invited her to a vacation in the Caribbean, and while in Puerto Rico, they spent every second enjoying each other's company. They went to an uninhabited island where they walked on the shoreline, snorkeled, and swam.
They then toured Barbados, Antigua, Saint Vincent, and Grenada. When they flew home, while holding Shimkus' hand, Poitier realized that this was the life he wanted to live. However, their interracial relationship had consequences at that time.
Sidney Poitier and Joanna Shimkus during the Andrew Young Campaign Fundraiser on June 10, 1970 at the Pierre Hotel in New York City. | Source: Getty Images
When a black man and a white woman became a couple at that time, it was an issue amongst both communities, but none mattered. "For the first time in my life, I was with a woman whose presence seemed to calm the turbulence in me rather than challenge it to battle," Poitier said.
She gave him the stability Hardy once provided and the glamor he once endeared from Carroll. On the other hand, Poitier was intelligent and complex yet kept her grounded.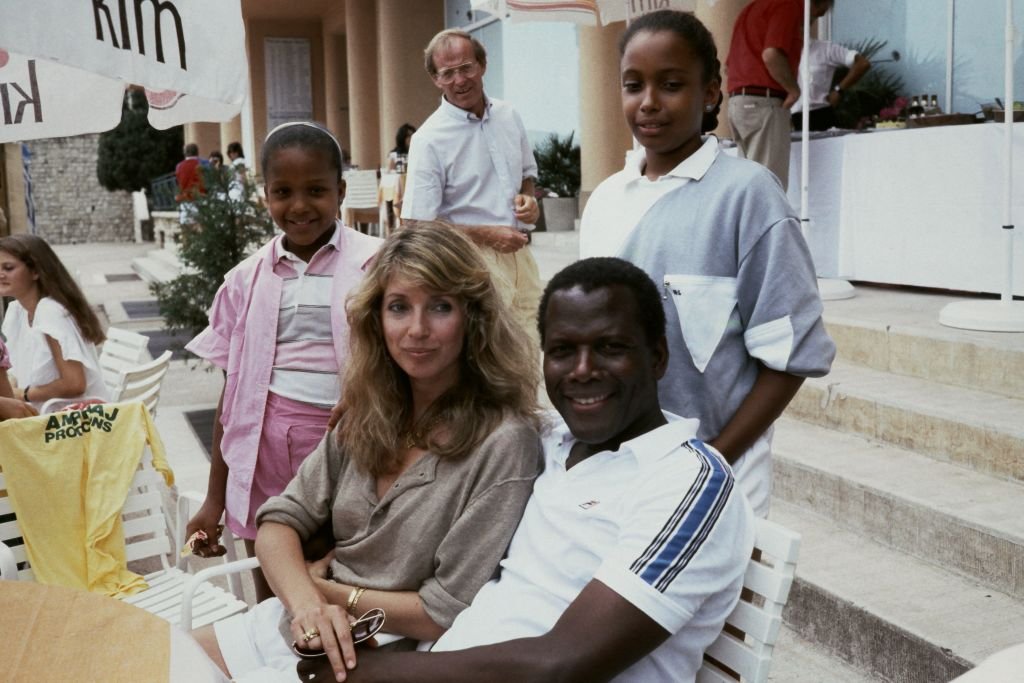 Sidney Poitier, Joanna Shimkus ,and their daughters during the Monte-Carlo ATP Masters Series Tournament tennis match. | Source: Getty Images
In 1972, the couple had their first child, Anika. The couple chose to conceal their daughter's arrival and refused to answer questions surrounding the topic. Instead, they maintained a low profile in Hollywood.
Two years later, rumors regarding their plans to get married circulated. One source claimed that Poitier would only marry Shimkus if she gave birth to a boy. Meanwhile, another said that Shimkus had cold feet when she was quite the traditional woman in reality.
On January 23, 1976, Poitier married Shimkus in his Beverly Hills mansion. Julie Belafonte was the matron of honor, while Harry Belafonte stood as the best man. Although issues still surrounded them, Shimkus believed they were "just destined to be [together]."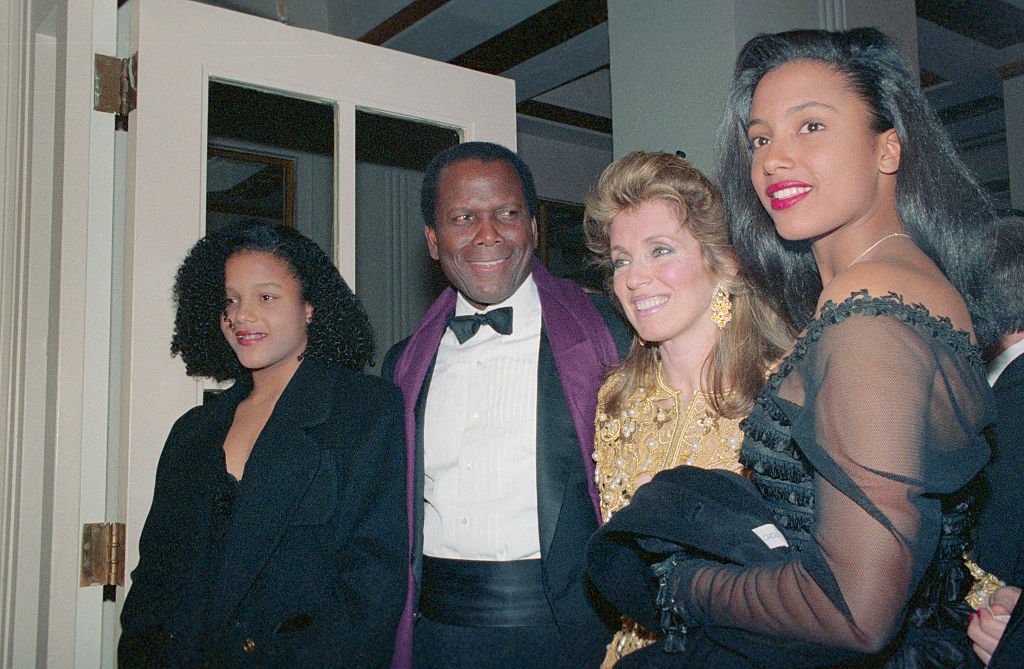 Sidney Poitier, Joanna Shimkus, and daughters Sidney and Anika as Poitier is honored by the American Museum of the Moving Image. | Source: Getty Images
Poitier was 49 at that time and already had a remarkable career. More so, he had a beautiful and intelligent wife by his side. Poitier said:
"There is one key ingredient my wife has helped me to recognize over the years, and that is the importance of articulating love for one another on a daily basis."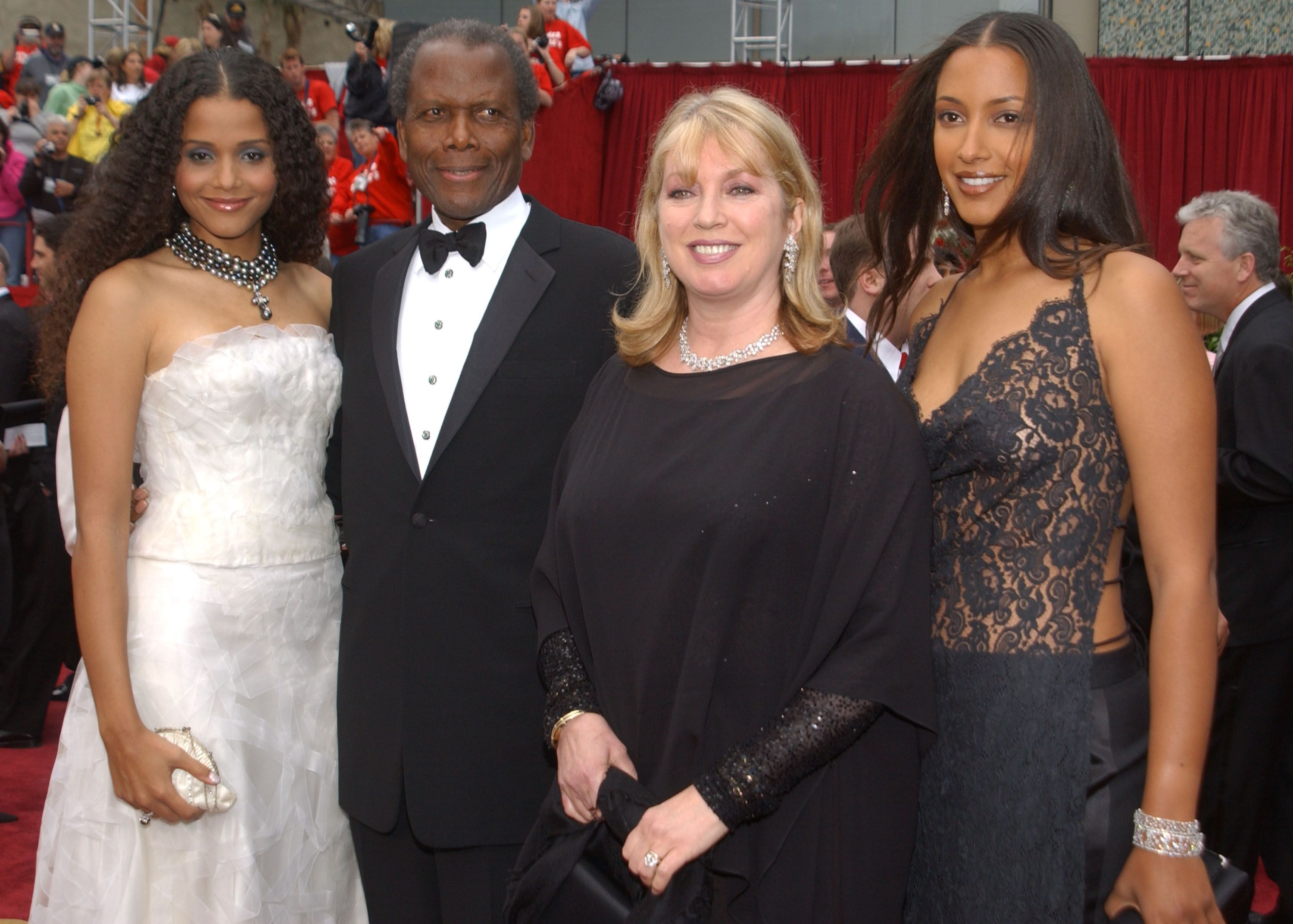 Sidney Poitier, Joanna Shimkus, and daughters Sidney and Anika during a red carpet event | Source: Getty Images
They had another daughter, Sydney, who became an actress like her father. After attending NYU's Tisch School of the Arts, Sydney appeared on shows such as "Hawaii Five-0," "Grey's Anatomy," "Chicago P.D.," and "Carter."
Admittedly, Poitier was not lenient while raising his children. "My wife would say that, on occasion, I'm a little tough on the children," he said. "My children respect my values, and I can see some of those values in them. That pleases me because my values are not constricting."
Please fill in your e-mail so we can share with you our top stories!