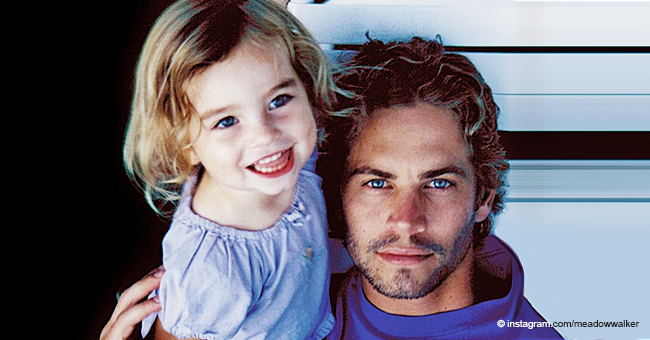 Paul Walker's Little Girl Is All Grown up and Trying Her Hand at Modeling
Meadow Walker is eyeing a career in fashion and has recently signed with an agency in New York. Her portfolio photos are nothing less than gorgeous.
The 20-year-old lost her father, Paul Walker in a car accident in Santa Clarita, California when she was only 14 years old. She had just moved to California to live with her dad a year before the fatal crash, but they had become very close.
Just months before he died, Paul said, "She's the best partner I've ever had. I've never had anything like this in my life. I've been so transient, I've been on my own since I was 16. There's a part of me who feels like I'm making up for lost time."
Inspired by her dad's philanthropic efforts and passion for helping people, animals, and the environment, Meadow announced the launch of the Paul Walker Foundation on what would have been his 42nd birthday.
She was 16 years old when she posted on the foundation's website: "I love so much about him. I wanted to start this foundation because I want to share that piece of him with others. I want to share that piece of him with the world. I am tremendously proud to be launching the Paul Walker Foundation on this birthday. I can't think of a better way to celebrate my father."
The foundation focuses on environmental issues by "helping ocean leaders of tomorrow become beacons in fighting to protect the oceans, wildlife and ourselves." The foundation will also provide grants as well as scholarships to both marine science students and researchers so that they become "better educated and better equipped to deal with the challenges of tomorrow."
She also said on Instagram, "I found myself reflecting on his passions. His passion for the ocean, his passion for rescuing animals, his passion for helping people and his passion for spontaneous goodwill."
There are other celebrities who have also been involved in serious car accidents but fortunately, some of them have lived to tell.
In 1973, Stevie Wonder almost died in a car wreck when the vehicle he was riding hit another truck, causing him to lose his sense of smell and temporarily, his sense of taste.
A four-car accident in 2007 involving Brandy Norwood resulted in the death of the driver in the car that the singer and actress rear-ended when it was hit by an oncoming vehicle.
Matthew Broderick and then-girlfriend Jennifer Grey were in Ireland in 1987, when Matthew and another car were involved in a head-on collision. Matthew suffered a broken leg, cuts, and bruises, while Jennifer had a few bruises. The two passengers in the other vehicle were not so lucky, and sadly, both had died.
Please fill in your e-mail so we can share with you our top stories!