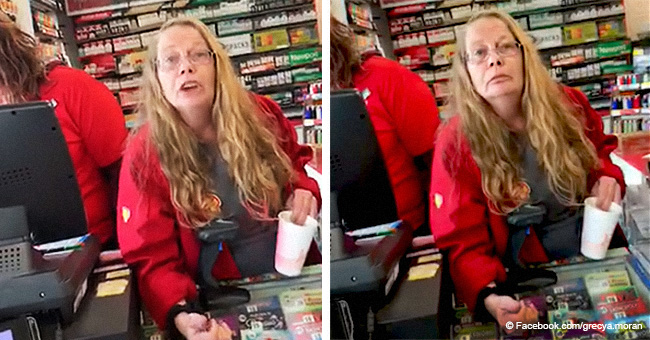 California Gas Station Clerk Fired after Racist Rant at Spanish-Speaking Mom Who Was Holding Baby

A customer who filled her tank at a Shell gas station in South San Jose was subjected to the invective of a racist employee.
Yet another rabid racist tirade was captured on camera, this time in San Jose, California, where a customer paying for gas at a Shell station ran afoul of one of the employees.
The video was posted on Facebook where it has gone viral. with over 1 million views and thousands of shares.
"I even went up to her and I apologized. I said, 'Excuse me, I'm sorry. All she was saying is, she was greeting me in Spanish. How my day's going.' And she said, 'I don't care, you talk in English because this is America.'"
RACIST RANT OVER SPANISH GREETING
On April 4, 2019, Grecya Moran walked into the gas station with her baby and was greeted by one of the employees in Spanish, whereupon the second employee demanded she speak English "because this is America."
The second employee, a middle-aged white woman, was visibly enraged, and Moran reached for her cellphone and started recording the incident as it occurred.
The manager of the Shell gas station later announced that the woman had been fired from her post.
INSULTED WITH HER BABY IN HER ARMS
Moran, who withstood the tirade with her 18-month-old baby in her arms, revealed that she decided to record the incident when the woman grew more and more enraged and offensive when she apologized:
"She started saying something about, 'Trump needs to hurry up and build the wall.' That's when I was like, oh my God, she's being serious. I just got my phone, started videotaping her."
WOMAN DEMANDED GRECYA MORAN PROVE HER CITIZENSHIP
The Shell employee accused Moran of being an illegal immigrant, and Moren explained that she had been born in the US, whereupon the woman demanded proof:
"Then prove it to me, mother--!"
WOMAN FIRED BY SHELL GAS STATION MANAGER
Towards the end of the encounter, the woman Moran asked the woman for her name, to which the woman responded that she was quitting her job anyway.
The disgruntled cashier started walking away, then made an obscene gesture, and return to hurl profanity at Moran.
The manager of the Shell gas station later announced that the woman had been fired from her post.
Moran reported the incident as a hate crime to the San Jose Police, who are processing the occurrence before initiating the investigation.
The number of discriminatory encounters in the US is growing at an alarming rate, with reports being registered throughout the country on a daily basis.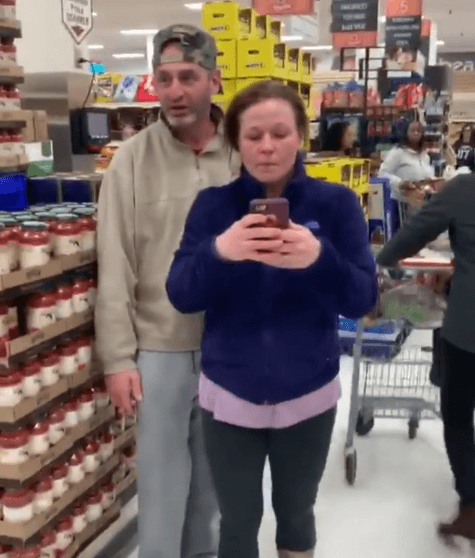 Corrine Terrone trying to record the male victim with her phone | Photo: Instagram/ki_clutch
MOTHER-OF-TWO CAUGHT IN RACIST RANT
On March 15, 2019A Connecticut woman was captured on camera insulting and spitting on an African American couple in front of her children at a ShopRite supermarket in East Haven.
40-year-old Corinne Terrone was shopping with her two children when she apparently launched into a racist tirade, which was recorded by another shopper, Tatiana Winn, on Facebook where it went viral.
Terrone, who went so far as to actually spit on the unidentified couple and scream the n-word several times, was forced to tender her resignation from her post at the central office of the Hamden Public School district.
Please fill in your e-mail so we can share with you our top stories!