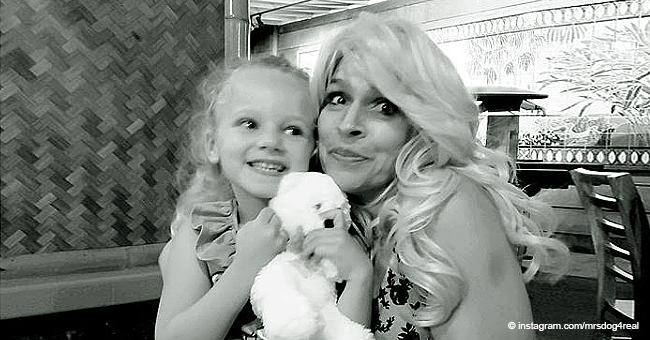 Beth Chapman Is Full of 'Joy' in First Photo after Hospitalization, Calls Herself 'Aunty Beff'
Irrespective of her cancer diagnosis, Beth Chapman seems to be living to the fullest and has even showed her fans a sneak peek of her joyous life, in a picture, after hospitalization.
The 51-year-old who happens to be a grandmother shows off her affectionate moments with Mary Needham Carey's daughter. The little girl is pictured sitting on her leg, as they both share a fun time being chatty.
The "Dog and the Bounty Hunter" star was quite excited as the little charmer sparked up her day. After having dinner with family and friends in Haleiwa Joe's in Hawaii, the duo retired to making each other laugh as they dialogued without being interrupted. The picture she posted, captioned:
" I just love this lil lady she brings me so much joy, she was a creeper in my dinner date last night and bounced up and surprised me with her beautiful smile and just unconditional love for her aunty BEFF. I can never say how much I needed her sweet smile her infectious laugh. I don't get to see my grandkids very often, so she fills a big void in my heart. Thank you @Mary Needham Carey and Kim Needham Von horn for sharing this amazing beast with me she truly lights up my life."
While her post was flooded with likes, several fans commented, some prayed for her, and some are happy she is doing better following her health struggles, others were mesmerized at the emotional moment shared.
It was not just Beth who expressed herself; the girl's mom also spoke about her fondness for Beth. She wrote:
" she so loves to laugh and spend time with you, to tell you all her stories and get the best tickles in town. You are family to us; she said you are her best friend."
Shortly before this incidence, Beth was hospitalized because her body had accrued so many fluids. She continues to weather the storm, as she tries to live a step at a time. The tv star was diagnosed with throat cancer in 2017 and has been in and out of the medical facility ever since.
She has had generous support from family as well, her husband Duane is always there to provide all the care she needs. In an interview with Fox News, he
praised
his wife's courage and strength for carrying on, and he claimed that faith is the cursor of their lives.
The TV personality sure possesses super strength; she revealed she was not so bothered when her hair started to fall out as a result of her illness.
Being a grandmother and a great grandmother, she appears to be waxing stronger in her quest for a fulfilled life regardless.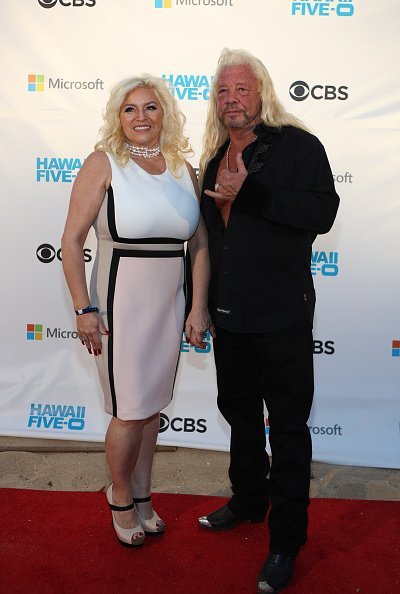 Beth Chapman and Duane Chapman attend the Sunset on the Beach | Photo: Getty Images
She also has a healthy relationship with her husband, even though the duo has been through a lot together.
We hope nothing blows out her candle of joy!
Please fill in your e-mail so we can share with you our top stories!