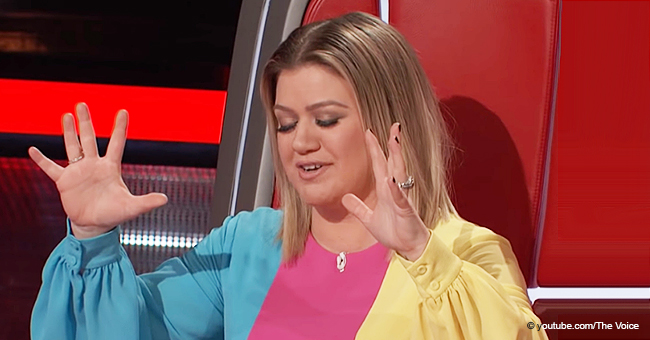 'The Voice' Fans Want Kelly Clarkson to 'Show Respect to the Creators' after Her Huge Mistake
Kelly Clarkson, musical genius, was corrected by her fans over the erroneous statement she made on a recent episode of "The Voice" about the song, "Unchained Melody." She was asked to show respect to the creators of the song.
The 36-year-old judge on "The Voice" is one of everybody's favorite as a judge and a seasoned singer. She even won a season of the "Amerian Idol," so with her experience she is expected to deliver topnotch.
However, she missed a step when she gave credibility to the wrong artist for the song "Unchained Melody." She tagged LeAnn Rimes, instead of The Righteous Brothers who made it famous years before the former.
The song has enjoyed several covers by different artists, and it is no surprise Kelly wanted two of her contestants — David Owens and Rebecca Howell to hop on it.
A pool of comments dropped by viewers and fans signified that she made a mistake in pegging LeAnn Rimes as the original singer of the song. One of the tweets read:
" Please show some respect to the creators."
Irrespective of the minute mistake, Kelly's team contestants were extraordinary; she commended Owen especially for making an impressive delivery after practicing with celebrity advisors such as Charlie Puth, Brooks & Dunn, Khalid, Kelsea Ballerini.
Other judges ensured that their team contestants displayed outstanding performances, as it was the knock out stage. The first battle was between John Legend's team, Betsy Ade, and Lisa Ramey, then Anthony Ortiz and Mari Jones from team Adam Levine, then Hannah Kay and Andrew Sevener from Blake Shelton.
Apart from being serious on the job as a judge, they also joke with themselves to ease up the stress. Recently, Adam Levine and John Legend sang few lyrics to Kelly Clarkson's song "A Moment Like This."
Kelly blushed in her seat when he started singing her winning song, alongside John Legend. Their audience wasted no time cheering them on.
Asides Kelly's blunder on the show, she appears to be an inspiring judge who supports her team and does not mind a few jokes from her colleagues.
Please fill in your e-mail so we can share with you our top stories!