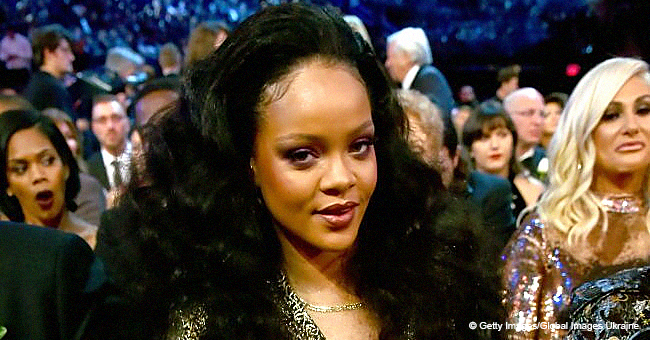 Rihanna Shares Unseen Nipsey Hussle Messages Suggesting a Collab & It's Making Everyone Emotional
Rihanna just spread the word that she and Nipsey Hussle could have potentially collaborated if not for the untimely death of the beloved rapper.
Fans joined the singer in shedding tears when they learned that Hussle was interested in doing a collaboration with her. She shared a snapshot of some text messages between Yung Berg and Hussle on Tuesday
In the post, which is found below, Yung Berg shares an audio clip presumably of a song demo he prepared. Hussle excitedly says he needs it. That's when Yung Berg suggests that if Rihanna was on the track, it'd reach number one on the charts.
"We gotta get Rihanna then. Ima [sic] work on this one. This is a go!"
In the caption, Rihanna put a crying emoji and a broken heart emoji. People in the comment section expressed their grief at what could have been. Some suggested to Rihanna to finish the project if by any chance Hussle had already recorded his part.
In a later post, the Barbadian native shared a video montage of Hussle and his girlfriend Lauren London with Nao's soundtrack "Another Lifetime" playing over it. In the caption, she wrote: "I'm so sorry @laurenlondon."
Rihanna previously shared a clip from the rapper's breakout song in 2008, "Hussle In The House" along with the caption: "still can't think about anything else...can't believe someone would rob us of you."
And before that, she shared a few pictures of Hussle including one with his daughter and another where he is hugging Lauren.
Reflecting the sentiments of many who knew him, she wrote:
"This doesn't make any sense! My spirit is shaken by this! Dear God may His spirit Rest In Peace and May You grant divine comfort to all his loved ones! I'm so sorry this happened to you."
Hussle died on Sunday, March 31 as the result of multiple shots he received as he was parked outside his store in Hyde Park, Los Angeles. Two other people were wounded in the attack.
The rapper was 33 when he passed, and though he had ties to the Crips gang, he worked with persons from all affiliations. He was known for his many contributions to his community.
His suspected killer, Eric Holder, was arrested last week and is currently in custody. Surveillance footage which captured the incident helped police identify the shooter.
Locals also assisted the police in finding him. Authorities believe that the two men had a personal dispute which led to Hussle's death. Holder will reportedly be represented by OJ Simpson's former prosecutor, Chris Darden.
A memorial service for the rapper is set for Thursday, April 11. According to the family, tickets for "Nipsey Hussle's Celebration of Life" will be free and each family can get a maximum of four. The event will have security to avoid any problems.
The decision came after a stampede erupted at a vigil held for Hussle just outside The Marathon Store, where he was killed. At least 19 people were injured when a fight broke out in the crowd.
As a result, the family is restricting the number of attendees to the memorial service which will be held at the Staples Center in Los Angeles California. Our condolences go out to all those who knew him or were touched by the life of Nipsey Hussle.
Please fill in your e-mail so we can share with you our top stories!