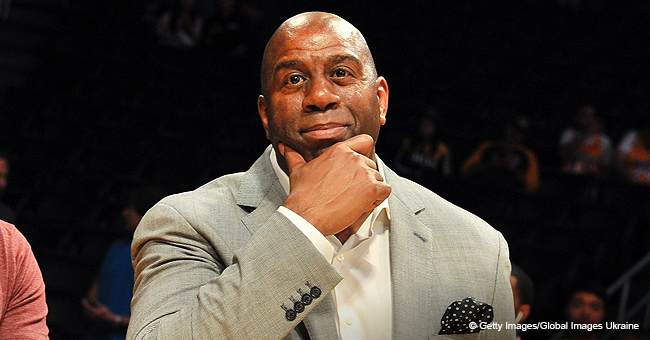 Magic Johnson Leaves Lakers Job on National TV Making us Miss and Remember the Best Times
Basketball fans are stunned as NBA legend Magic Johnson announced he is stepping down as president of operations for the Los Angeles Lakers.
Former NBA star Magic Johnson stunned the basketball world by unexpectedly resigning from his position as head of basketball operations for the Los Angeles Lakers.
Johnson, whose entire career as a coach and a player was linked to the Lakers, seems to have cut the ties that bind him to the team.
MAGIC JOHNSON SPRINGS RESIGNATION ON TEAM OWNER
Johnson made his announcement at a press conference, before informing the L.A. Lakers' owner Jeanie Buss
Johnson stated that he was stepping down because the Lakers are moving in the "right direction":
"If we were not, I'd probably be staying."
MAGIC JOHNSON PRAYED OVER DECISION
Johnson revealed that his decision was well-thought out and not spur of the moment.
He declared that he had prayed over the decision to resign from the Lakers, and believed that it was the best for his family and the team.
The NBA legend, who recently turned 59, has not revealed his future plans
THE LAKERS RESPOND TO MAGIC'S RESIGNATION
The team that has been Johnson's home since 1979, shared a touching tribute in which it is stated:
"There is no greater Los Angeles Laker than Earvin Johnson. We are deeply grateful to Magic for all that he has done for our franchise – as a player, an ambassador and an executive. We thank him for his work these past two years as our President of Basketball Operations and wish him, Cookie, Andre, EJ and Elisa all the best with their next steps. He will always be not only a Lakers icon, but our family.".
JEANIE BUSS' FAREWELL TO MAGIC JOHNSON
The owner of the Lakers posted a farewell message to Johnson on her Twitter account:
"Earvin, I loved working side by side with you. You've brought us a long way. We will continue the journey. We love you."
The NBA legend, who recently turned 59, has not revealed his future plans, or whether he will continue to be involved with his beloved Lakers at some level.
The L.A. Lakers have yet to announce Magic Johnson's replacement as president of operations.
MAGIC JOHNSON - DOTING GRANDDAD
Magic Johnson will now have more time to dedicate to his family, since his announced resignation from the administration of the L.A. Lakers.
Johnson, who is the father of three children, has two growing grandchildren to whom he is devoted.
Gigi and Avery Johnson are the children of the basketball legend's eldest son, Andre Johnson, and his wife Lisa.
Johnson shares son Earvin III with his wife Cookie and the couple adopted a daughter, Elisa, in 1995.
Andre, 38 is the result of Magic's relationship with ex-girlfriend Melissa Mitchell, and father and son are very close, even taking family vacations together in Hawaii.
Please fill in your e-mail so we can share with you our top stories!