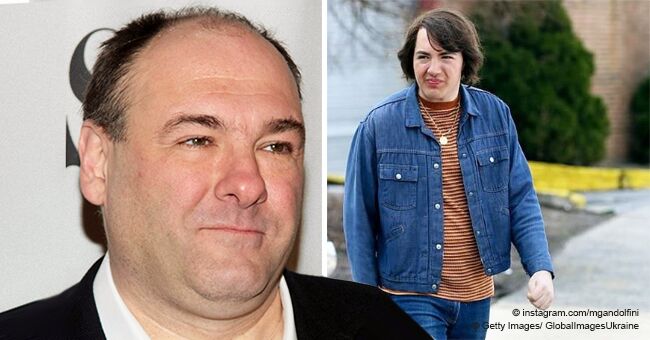 James Gandolfini's Son Portrays a Young Tony Soprano and He Looks so Similar to Dad
Michael Gandolfini is the spitting image of his father, award-winning actor James Gandolfini, and is portraying young Tony Soprano, his father's most famous role.
History repeats itself as legendary actor, James Gandolfini's son, Michael, plays young Tony Soprano in the prequel of "The Sopranos," entitled, "The Many Saints of Newark." Michael, 19, was seen on the set of the show, looking exactly like his late father - from his poses to his expressions.
He told TMZ earlier this year that it is an honor for him to play the role that his father did and is excited about it.
The teen sported a denim jacket and flared jeans as he filmed with "The Walking Dead" star, Jon Bernthal. Michael smiled as he entered a vintage car with Bernthal, looking like a '60s boss in a leather coat and high-waisted pants.
The film is set in the '60s where Newark riots were prominent due to the feud of African-Americans and Italians in New Jersey. The film's cast includes Vera Farmiga, John Magaro, Ray Liotta, Billy Magnussen, and Corey Stroll.
Michael also stars in HBO's "The Deuce" which he is most famously known for. He was chosen to play young Tony after an extensive audition was done and saw he had the same mannerisms as Tony.
Sadly, James died in 2013 at the age of 51, due to a heart attack. He was supposed to attent the Taormina Film Festival to receive a special prize and join in a round-table discussion regarding Italian-American cinema. However, he was never able to make it. Michael was the one who found him unconscious when it happened.
"The family had a marvelous day together, and when he returned to the hotel Jimmy [Gandolfini] went to the bathroom and that is when something happened," said his assistant, Tom Richardson.
James is a well-known actor who garnered many awards in his acting career, including 21 Emmy Awards and five Golden Globe awards for his role as Tony.
Please fill in your e-mail so we can share with you our top stories!