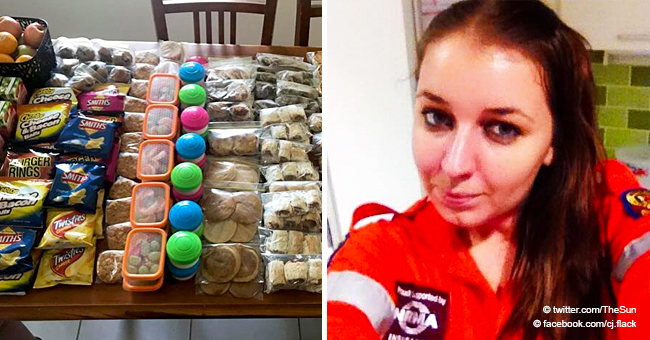 Mom Reveals How She Feeds Her Family for Just $15 a Week - It Only Takes Her 4 Hours a Month

In only four hours, CJ Flack prepared a whole month of breakfast and lunch for herself and her children — and she does it for just $60 in total or $15 for every week.
The 32-year-old, from Brisbane, Queensland, spent the first Sunday of each month preparing a great deal of cooked food in her kitchen at her home.
"I just got tired of putting their lunches together each night. It became such a chore."
Flack revealed that she initially started food prepping in 2016 when she became ill of rushing around to set up the breakfast and lunches of her children — daughter Kitty and stepson Cooper — every single day from scratch.
Every month, the innovative mother switched it up with various recipes for breakfast, lunches, and snacks, including mini pizzas, sausage rolls, veggie meatballs, and fruit jelly cups.
"It used to be such a stress trying to figure out what the kids were going to have for lunch every single day," she said. "I just got tired of putting their lunches together each night. It became such a chore."
To save time and effort, she decided to make lunches seven days ahead of time. Bringing small containers, she went to the supermarket, and while preparing the Sunday roast, she made a week's worth of lunches.
At some point, she had this idea that she could spare much additional time on the off chance that she made a month's worth of lunches in advance.
"Then I realized that breakfast could be prepared in advance too, which is great because I'm not a morning person and the kids get bored of cereal and toast," she said.
To keep all the pre-prepared meals in, she decided to buy a second-hand refrigerator.
Flack, who works from home selling party supplies, cooked up batches of homemade breakfast, lunches, and snacks every Sunday. She then sealed them in containers before freezing three-quarters of them.
According to her, not only are her children happy with her thrifty meal prep ideas, but she also received positive feedback from the online community.
Please fill in your e-mail so we can share with you our top stories!