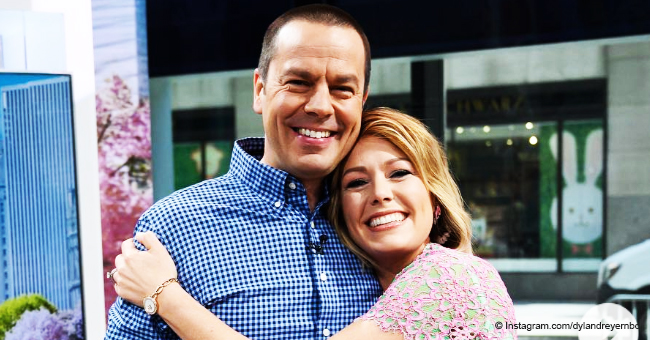 Dylan Dreyer Bursts into Tears after Her Brother Surprises Her on Air
Dylan Dreyer received one of the biggest surprises during a segment of the TODAY show on Wednesday in honor of the National Siblings Day.
Dylan's brother, James, surprised his little sister by visiting TODAY's studio to prepare the hamburgers his father taught them to make. The hostess never imagined that James would fly from Oregon just to give her this surprise.
Dylan had traveled on her vacations to Oregon to surprise her family, but when she appeared this time it was she who was pleasantly surprised by the unexpected visit. The presenter was so moved that even some tears escaped her.
Dylan's reaction to seeing his brother let him see clearly the strong connection they both have with each other. The brothers shared a big hug in front of the whole team and almost instantaneously Dylan began to cry of emotion.
"I can't believe you're here," she said. "Oh, this is so exciting, I'm so happy!" Exclaimed Dylan, who has another brother, Mike.
After they shared the hamburger recipe with all the fans, James stayed to talk about what his little sister was like when she was a little girl. "She was the baby, so everything my brother and I got she always had to have," James revealed.
James told anecdotes about when they were playing as children and said that the family is amazed at all that Dylan has achieved so far throughout her career as a TV show hostess.
Dylan's coworkers and his own brother were all shocked by the tears she shed. In fact, James joked that he had never seen her cry before. "We do not cry a lot," Dreyer explained. "I want to say that it is not like a very emotional family in which we live".
This reminds us of the time when Today anchorwomen Jenna Bush Hager, Sheinelle Jones, Savannah Guthrie, and Dylan Dreyer, along with Siri, the wife of host Carson Daly, gave their children a special treat to celebrate the beginning of the summer.
Please fill in your e-mail so we can share with you our top stories!