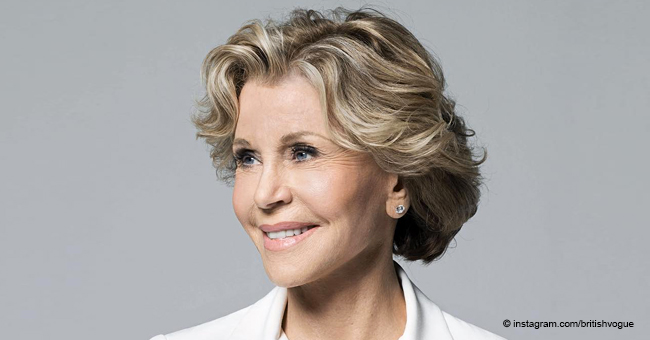 Jane Fonda Revealed She Is 'Glad I've Lived This Long' and Finally Feeling 'Whole' at Her Age
The May "Non-Issue" of "British Vogue" had legendary actress Jane Fonda on its cover. This was a special edition magazine produced with L'Oréal Paris targeting women who are age 50 and up.
In the issue, Fonda addressed aging and having "lived this long."
Jane Fonda turned 81-years-old last December and in the May issue of "British Vogue", she tackled many issues that face women her age. She revealed that having her mother commit suicide had conditioned her "to identify with men in every possible way."
When she was still married to her first husband, Roger Vadim, one of his friends exclaimed that she was so much like them and she took it as a compliment. The actress confessed that "up until my seventies, I spent my life like a double image, like a double exposure."
When she was an adolescent she fought to "fit in," and made sure that boys and men never saw her for who she really was. Fonda suppressed her anger, strived to always be pretty, and showed them she "could be tough."
Only when she and her third husband, Ted Turner divorced in 2001, did she start living her authentic life. Speaking about aging the actress revealed that she felt beautiful in her 80s.
Fonda is finally truly happy and positive. She said, "I didn't think I'd ever ever live this long – or feel that I'm whole or getting whole. I feel very intentional about realising that it's up to me how this last part of my life goes."
Sharing her pride in her age the star added, "I like being over the hill because I've discovered there's a whole new landscape. I'm fond of age. I'm glad I've lived this long."
Speaking about her activism about feminism and aging for a "Net-a-Porter" cover story in 2017, Fonda said:
"Female sexuality was confusing for me. I went to auditions where they wanted a sassy, smart, sexy girl. I would arrive in sneakers and they'd say, 'Come back in a mini-skirt and heels.' I would come back and blow the audition. I felt more in my body when I wasn't dressing as a fantasy for the male gaze."
"British Vogue's" "The Non-Issue" was out on newsstands on April 5.
Please fill in your e-mail so we can share with you our top stories!