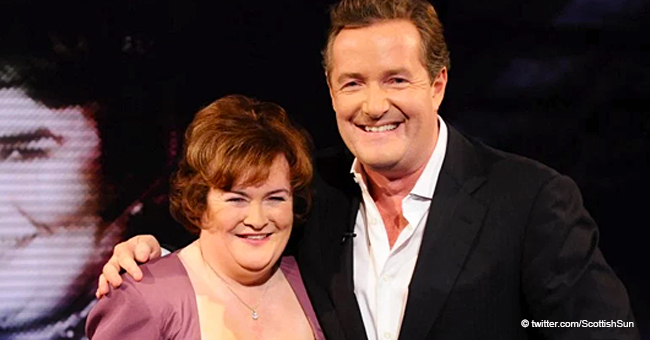 'Piersy Baby': Susan Boyle Opens up About Her Crush on TV Host Piers Morgan
Susan Boyle returned to Britain's Got Talent stage that changed her life ten years ago to perform while she, not so secretly, gushed over Piers Morgan.
Since Susan's first audition on the talent show in 2009, she racked up 23 million album sales, several worldwide hits and added a few Guinness World Records to the mix.
She accomplished all of that while she remained the same Susan judges Simon Cowell, Amanda Holden, and Piers Morgan, not to mention the rest of the world, fell in love with all those years ago.
The 58-year-old singing sensation is currently promoting her new and aptly named album "TEN," and didn't hesitate with sweet words towards Piers Morgan when his name came up.
"Now who wouldn't like Piers Morgan? I took one look at him on Britain's Got Talent and said, 'I want you mate. I want you - come this way, Piersy Baby,'" Susan enthused.
"He's a good laugh - he joins in. And he's very clever too. And gorgeous? You took the words right out of my mouth!" the Scottish singer added.
Another man in the industry recently caught Susan's attention as she mused, "I met Rod Stewart at a Celtic match. He's quite a guy. A gentleman, and a character with an outrageous sense of humor. I'd love to record a Celtic anthem with him."
With her new album a celebration of a decade long career along with four new tracks, she can't talk about it without mention of her manager and mentor and said, "Simon Cowell is the biggest inspiration in my career. I strive to make him proud. He inspires me to continue and aim for perfection. And I have a great team."
Now having the means to spend money on her appearance, Susan's frizzy gray curls and bushy eyebrows made way to rich brown colored glossy hair and the benefits of salon grooming as she said:
"I thought, 'if I don't do myself up, no-one will like me. I have to be the whole package. I can't look like a dolly bird because of my age, obviously. So I just have to do the best with the looks I have. If I crack a mirror, it's not my fault."
For her celebration performance back on Britain's Got Talent stage Susan will be performing the song that changed her life. "You'll have to watch Britain's Got Talent this Saturday, 13 April," Susan added. "It was wonderful. Like going home to be with the family. It was great to see my boss Simon, Ant and Dec and of course Amanda."
Ever since Susan's rise to stardom, she's seldom seen spending any of cash that came along with it. Besides an $850,000 house she bought in Blackburn, West Lothian, Susan has not splurged much.
Please fill in your e-mail so we can share with you our top stories!