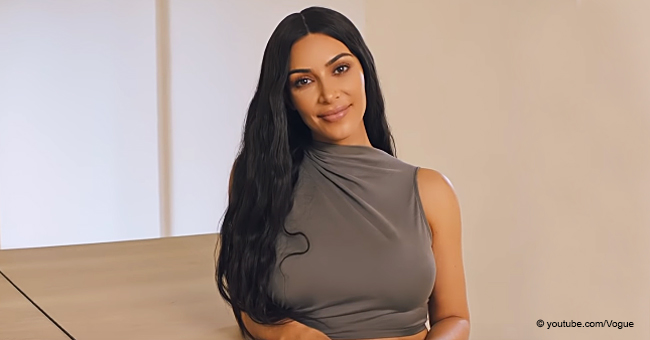 Kim Kardashian Reveals How She Successfully Parents Her 3 Kids
In an exclusive interview, entertainment mogul, Kim Kardashian West excellently answered 73 intriguing questions. One of the questions was about how she successfully parents her 3 kids.
The reality star looked stunning in a gray two-piece fitted sleeveless top and ankle-length skirt as she made her way to the door after her husband opened it. The fashion icon had her hair in a free fall style while her make up was classy and subtle.
When asked about her morning routine, Kim answered that she wakes up at 5:45, brushes her teeth and makes for the gym. Referring to her home as a "minimum monastery," the mainstream star mentioned that there was no lazy day in the sprawling mansion.
The interview moved on to questions about the kids as Kim made her way to what appears to be the kids' bedroom. Here, Kanye was having a fun time with the children as he held little Chicago in his arms.
The mother-of-three appeared natural as she tried to concentrate on the interview as well as attend to her kids. She mentioned that the best part of parenting is when: " the kids say they love you."
When asked the best part of being a dad, Kanye simply replied "the kids." Kim answered the question concerning what she learned from her mother on parenting by saying
"Family is everything. You just have to wing it"
The celebrity mom replied while she was asked about her "secret to good parenting." She goes on to include that she and her sisters have a group chat where they share advice on motherhood. At this point, Kanye joked about not being invited to the group, he siad:
"They don't get advice from me."
The reality tv mogul mentioned that the most important thing she wants her kids to learn is kindness and impartiality:
"I want my kids to be kind and treat everyone the same."
She continued talking about them while also mentioning that the kids have taught her how to be patient. Not leaving the fourth baby out, Kim talked about how stressful the preparation has been, as well as stating that the new baby's room isn't ready yet. The expectant mother said as she ruled out the option for baby names:
"He will definitely not have another direction, that is all for North,"
One time while discussing her parenting style, the trendsetter mentioned that she is a strict one with regards to her child's routine. While discussing about North she said:
"I'm really fun and playful, but I'm really strict on nap time, and sleeping in her own crib."
Centering on herself, Kim said, as she answered the question on what she wished people focused on more about her:
"I wish people did not focus on my ass"
She talked briefly about studying law making it known that she wouldn't have envisioned going to law school in a million years. After saying that she disliked describing herself, Kardashian West mentioned that she loved it when people describe her as kind, smart and sweet.
Please fill in your e-mail so we can share with you our top stories!