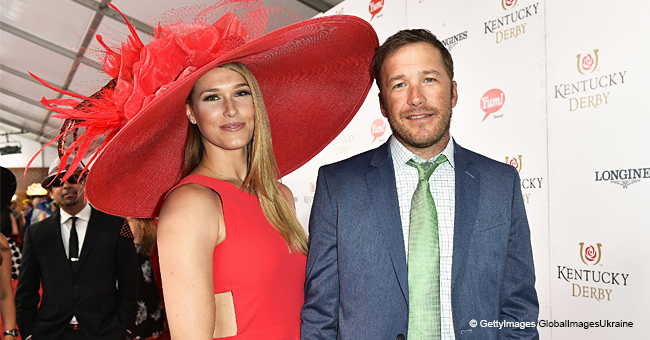 Bode and Morgan Miller's Friend Shared an Emotional Photo from their Daughter's Funeral
In memory of Bode and Morgan Miller's daughter Emiline, a family friend shared a heartbreaking picture of the toddlers funeral and to remind others of water safety.
It's been almost a year since 19-month-old "Emmy" died after she drowned in a neighbor's pool, and the Miller's close friend and midwife shared a touching photo taken during Emiline's funeral last June, along with her eulogy.
The post showed Lindsey Meehleis standing next to a picture of Emiline, while a video of the toddler streamed on a screen nearby.
"We are two short months away from almost a year of the loss of our dear Emmy. Every day still feels like a dream." Lindsey began the post.
Lindsey appealed to everyone who reads the post to share it with those they know so they can reach as many people as possible in doing "better for our children and get them water safe."
The American Academy of Pediatrics updated their water safety guidelines last month and "should be shouted from the rooftops."
She asked for people's help in getting the information out as Lindsey doesn't want other parents to go through what Morgan and Bode, along with so many other parents have gone through.
"I never want to stand up with my knees trembling looking my dear friends in the eyes as I give a eulogy for their daughter. Comment below, tag a friend, share my stories, print it out and post at your neighborhood pool," Lindsey wrote.
Bode and Morgan's midwife further spoke of the couple's strength, during both Emiline's birth, and after her death, but added that the toddler was different than others as she ended the post.
"There is something special about every newborn baby, but there was something extra special about Emmy.... her eyes told us a story. She was fearless, determined & fierce," she added.
Sadly drowning is the leading cause of unintentional death among children aged between one to four years old as a Fellow in the American Academy of Pediatrics, Sarah Denny, MD, added:
"Many of these deaths occur when children are not expected to be swimming or when they have unanticipated access to water. Toddlers are naturally curious; that's why we must implement other strategies, such as pool fencing and door locks."
The AAP outlined strategies applicable to different ages of children. For newborns, they advised parents to be extra careful at bath time and to make sure all water buckets and wading pools are emptied right after use.
Once the child is one year old, parents can ensure they learn how to swim. Older children should wear life jackets at all times when close to open bodies of water and once they reach their teenage years, learning CPR and other safety skills are highly recommended.
On HealthyChildren.org recommendations on learn-to-swim programs are available as well as advice on water safety based on children's different developmental stages can be found.
We often look at these situations and the thought comes to mind that it won't happen to us, but one woman told her own story of how wearing life jackets could have saved nine of her family members from drowning.
Please fill in your e-mail so we can share with you our top stories!