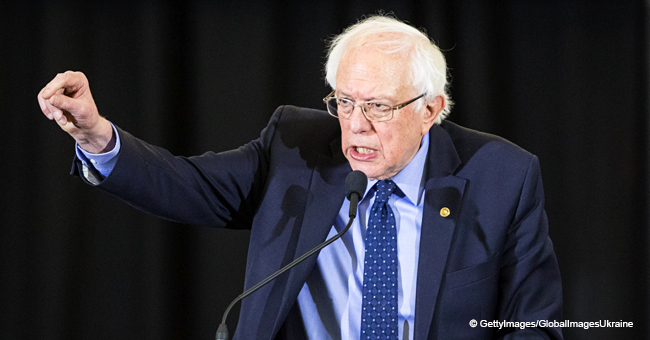 Bernie Sanders 'Medicare-for-All' Applies to 'Every Person' in the US - Even Illegal Immigrants
Last Wednesday, Senator Bernie Sanders was back in Congress to share updates of his signature proposal "Medicare-for-All." His proposal offers medical aid to all residents.
What makes the bill slightly different is that it would also apply to illegal immigrants in the US.
Senator and 2020 Democratic candidate, Bernie Sanders has launched a medical aid proposal called "Medicare-for-All." Last week, the senator explained that the medical aid plan "guarantees, like every other major country on Earth, health care to every man, woman and child in this country."
He further explained that his proposal wasn't socialism stating: "No. Actually it is not. It's similar to what the Canadians have." The plan would cover all necessary health care at a cost.
It's expected it would cost the government around $25 to $32 trillion over the next decade. Defending the potential cost Sanders said: "What's expensive and what's unsustainable is the current health care system."
He elaborated, "We are spending twice as much per capita as any other nation." His plan would also "get rid of insurance companies and drug companies making billions of dollars in profit every single year."
The senator added:
"Under Medicare-for-All, we cover all basic health care needs, so they're [insurance companies] not going to be there to do that. I suppose if you want to make yourself look a bit more beautiful, you want to work on that nose, your ears. They can do that."
The legislation was signed onto by Senators Kirsten Gillibrand, N.Y., Kamala Harris, D-Calif., Cory Booker, D-N.J., and Elizabeth Warren, D-Mass. Its wording didn't directly reference immigrants but stated that coverage would include US "residents" instead.
The House bill also prohibits the government from denying benefits because of "citizenship status." Sanders clearly stated: "My plan would cover every U.S. resident."
The new bill is different from the Affordable Care Act or Obamacare because it doesn't limit its benefits to citizens, nationals, and "lawfully present" immigrants.
In a summary of the bill, distributed ahead of a news conference on Capitol Hill, Sanders' team wrote:
"The Medicare for All Act will provide comprehensive health care to every man, woman and child in our country without out of pocket expenses. No more insurance premiums, deductibles or co-payments. Further, this bill improves Medicare coverage to include dental, hearing and vision care."
Please fill in your e-mail so we can share with you our top stories!