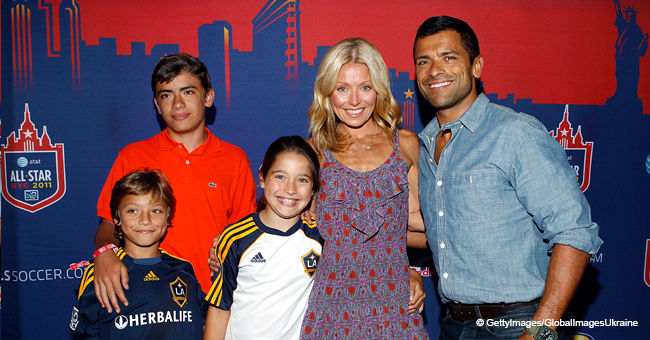 Kelly Ripa Admits She Was 'Putting It out There' to Husband about Wanting Baby #4
On Monday's episode of "Live with Kelly and Ryan," Kelly Ripa hosted alongside new father Andy Cohen. The co-host revealed that she, her husband, and oldest son got to meet Cohen's baby.
However, she confessed that the baby boy had her feeling the desire to have a fourth child.
Andy Cohen, 50, was on hand this week to help Kelly Ripa, 48, to host the morning show in the place of Ryan Seacrest. At one point, the pair started talking about Cohen's new baby boy, Benjamin Allen, 2-months-old.
The little boy was born earlier this year and on Sunday he was visited by Ripa's family. On the show, Ripa confessed that being around Benjamin made her want to have a fourth child.
She and her husband, Mark Consuelos, 48, are already parents to Michael, 21, Lola, 19, and Joaquin, 16. Ripa joked: "I was putting it out there for [Mark] last night. He was like, 'It's alright. Let's be grateful for what we have.'"
The co-host added: "And then he put on 'Game of Thrones' and fell asleep, which was the anti-aphrodisiac." Cohen, in turn, confessed to her that his son appeared to be having the brooding effect on all women.
The "Watch What Happens Live" host joked: "He is causing women all over my life to start re-ovulating." Sharing about Ripa's family visit he said: "Kelly came over, her body was responding in ways — I was like, 'Whoa!' … I do have to calm the ladies down a little bit."
Ripa responded: "He really does make me want to have another baby. He's confused me into thinking [I want another]." With Cohen admitting: "I can tell."
Little Benjamin was welcomed into the world on February 4 at 6:35 p.m. via surrogate. At the time he weighed 9 lbs., 2 oz., and measured 20 inches long.
During an interview, Cohen revealed how he met his son for the first time saying: "I was in the delivery room." The television host joked, "I had been hoping that he would have a full head of hair, and he really overdelivered [sic]."
He admitted, "That was the first thing you see, the head of hair coming out. And I was amazed." Cohen got to "cut the umbilical cord" himself before doctors cleaned little Benjamin up.
The newborn baby boy then had his first skin-to-skin with his father.
Before discussing Cohen's new baby Ripa confessed to the audience that she accidentally grabbed something that was not Cohen's hand. She said: "I'm sorry! When we came out, I was not expecting the car to be there and I went to grab Andy's hand, and I grabbed your crotch by accident."
The co-host further stated: "I apologize. Nothing says Tax Day like that." Cohen, who appeared amused joked: "I love to be touched and I'll take it any way I can get it!"
Please fill in your e-mail so we can share with you our top stories!