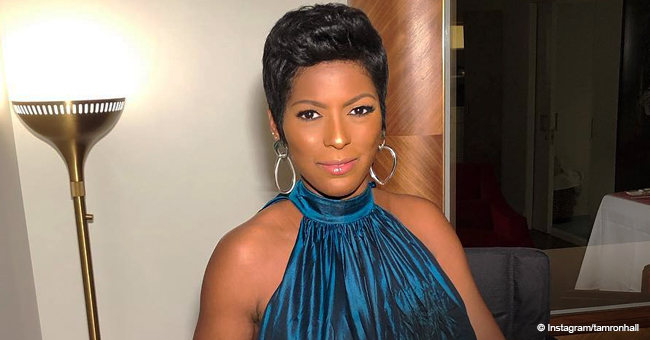 Tamron Hall Melts Hearts with Photos from Her Lavish Baby Shower after Revealing She's Married

Former "Today" show anchor Tamron Hall shared gorgeous photos of her baby shower.
The beautiful and talented journalist and former anchor Tameron Hall is in the final stages of her pregnancy and glowing.
The 48-year-old celebrity wowed fans by posting stunning photos of her baby shower where she celebrated her happiness with friends and family.
"I've wanted to share this news for many months and now finally my doctor has said I am in a safe place, at 32 weeks, to share my joy with y'all."
TAMRON HALL'S FIRST BABY
Tameron, who is now 32 weeks along, glowed in a striking dress in pale yellow print that gave peek-a-boo glimpses of her baby bump.
The baby shower was intimate and cozy and gathered a small group of the anchor's closest friends.
TAMRON HALL'S SURPRISE MARRIAGE
Tamron delivered a double whammy when she announced her pregnancy and her marriage at the same time in March 2019.
Tamron admitted that she and husband Steven Greener were anxious over the pregnancy, and constantly prayed for the baby's wellbeing.
Tameron has been dedicated to fighting domestic abuse, since the death of her sister Renate in 2004.
TAMERON HALL'S MYSTERY MAN
Very little is known about Tameron's husband, other than his name, and that he is a music executive who used to manage Will Smith. Tameron has only posted one photo with Greener, and it shows the couple happily toasting on a boat in a romantic island setting.
TAMERON HALL "SHINES A LIGHT"
Tameron has been dedicated to fighting domestic abuse, since the death of her sister Renate in 2004.
Through the "Shine A Light" campaign, Tameron advocates against domestic abuse and supports causes including homelessness, and hunger. She has used her fame and influence to raise awareness in the community, and funds to help the vulnerable.
Tameron is glowing, and just weeks away from welcoming her baby, and is keeping fans in suspense as to her child's gender.
NEW BABY, NEW SHOW
Tamron Hall is going to be juggling two new roles in September.
She will not only be a brand new mom, but she will also be back on TV in her very own show.
The Disney/ABC syndicated daily talk show will focus on sharing stories about extraordinary people, and building community.
The show's structure will be similar to the "Oprah Winfrey Show" and the "Phil Donahue Show", but the schedule has yet to be announced.
Tune in on September 9, 2019. for Tamron Hall's new and exciting show, which she promises will open a window into America's real life, and tackle sensitive issues.
Please fill in your e-mail so we can share with you our top stories!