Kim Kardashian's Daughter North, 5, Wears Mom's Very High Heels at Cousin True's Birthday Party
Kim Kardashian's daughter North wore her mom's high heels to her little cousin True's lavish birthday party.
There's nothing little girls love more than dressing up for parties, and North West is no exception.
Kim Kardashian's 5-year-old daughter raided her mom's closet for her little cousin True's first birthday party, and stepped out in style.
"Peep North's shoes, she would not walk out of the house without my shoes."
STEPPING INTO MOM'S SHOES
North seems to have a passion for her reality star mom's footwear and tottered around in Kim's designer stilettos like a little fashion diva.
Kim posted an adorable video of the budding fashionista in a pale yellow dress, trimmed with yellow and orange feathers on the hem and sleeves, and strappy tan high heels.
LOOKING COOL AT TRUE'S LAVISH PARTY
Who can blame North for wanting to look her best? She was a guest at what was certainly the best party of the year, where her aunt Khloé pulled out all the stops to celebrate her daughter True Thompson's first birthday.
The 5-year-old North seems set to follow in her famous mom's footsteps, especially where a passion for fashion is concerned.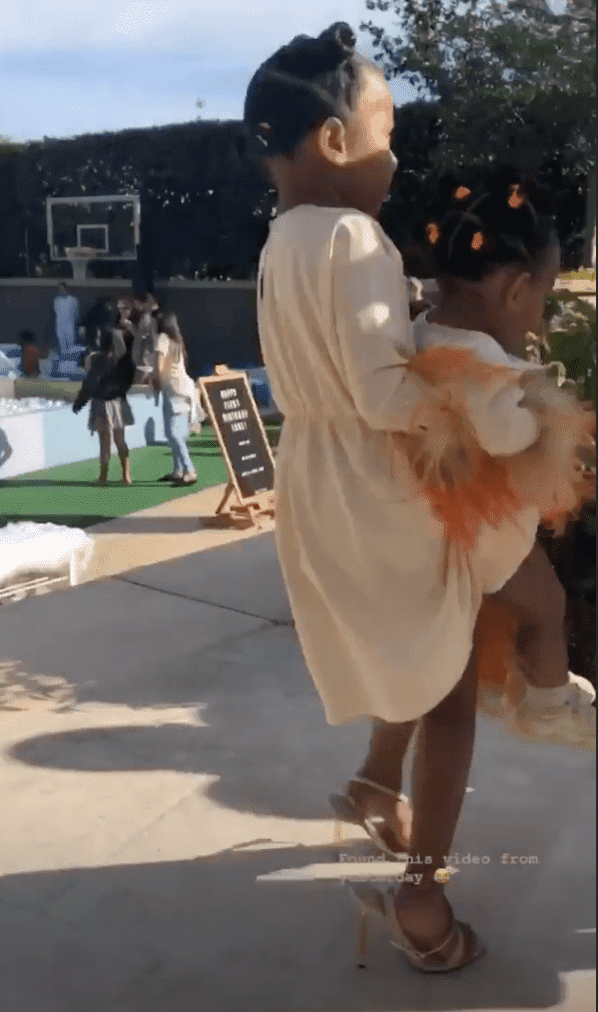 NORTH IS AN ADORING OLDER SISTER
In the video, North can be seen carrying her one-year-old sister Chicago as she totters along. Mom Kim obviously thought this was much too dangerous and extolled her daughter:
''Northy take those shoes off. Northy put on the other shoes we brought please."
The tiny Chicago was wearing a matching outfit, and had her hair up in orange ties - but she wore baby shows, not heels. 
THE KARDASHIAN COUSINS HAD A BALL
True's birthday party was the event of the season for tots, and the little guests were treated with cookies with the birthday girl's face on it, and doughnuts with her name.
For the more adventurous, there were even ponies, who matched the party's rainbow theme with their pink manes and pastel saddles.
Khloé will be hard put to outdo herself with a more lavish bash when True enters the terrible twos.
NORTH WEST IS HOOKED ON SHOES
Fans of the Kardashians were not surprised to see North West wearing her mother Kim Kardashian's shoes.
The 5-year-old North seems set to follow in her famous mom's footsteps, especially where a passion for fashion is concerned.
The tiny fashionista, who has been seen carrying designer handbags filched from mom's wardrobe, seems to have a yen for heels, and who can blame her?
Kim has shared several snaps of North in her shoes - and in one especially cute photo, she has absconded with mom's $1,100 flaming Pradas. 
North showed she has a daring sense of fashion fun and donned one orange shoe and a hot pink shoe of the same style. Will mom Kim follow her lead?.