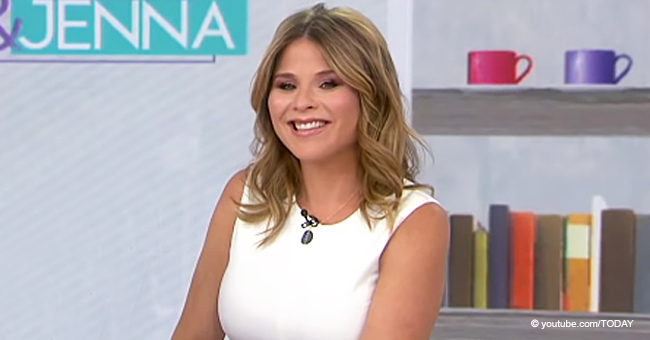 Jenna Bush Hager to 'Hold down the Fort' after Hoda Kotb Adopts a New Baby
Jenna Hager Bush is supporting Hoda Kotb by keeping their show running after the latter announced she adopted a new baby.
Hoda Kotb after adopting her first child, Haley Joy, made it known that she would love to give her a sister. She fulfilled that wish recently with a daughter, Hope Catherine, who joined the family through adoption.
Kotb made the news public on Tuesday by phoning in during the "Fourth Hour" of the "Today" show. The new mother co-hosts the segment with Jenna Hager Bush.
After the initial announcement, the television personality called back later to speak with Hager and Savannah Guthrie, who joined her on the segment.
The new mother spoke on life as a family of four, and being a mother to two girls. The mother-of-two revealed that it is amazing and although her partner, Joel Schiffman, and she didn't know how their 2-year-old would react, it turned out fine as Haley Joy took to her sister instantly.
The 54-year-old is very happy and grateful, and her advice to those hoping to become mothers is not to worry too much because it will happen if it's meant to be.
Towards the end of the long conversation, Hager said although their show together is new, she doesn't want her to worry. Guthrie joined in to say the show will always be there, and the former first daughter added that she would hold down the fort, and Kotb should enjoy every moment with her beautiful baby.
The two hosts then told their older colleague that they would drop by to visit, and she should let them know what to bring over. Hager ended the baby talk by saying most people in the audience are so touched by her co-host's story; they have tears in their eyes.
Outside the studio audience, a lot of people expressed their joy at the news. One comment accompanying the YouTube video put up by the show read:
"Congratulations Hoda mama, you have so much love to give. Those little girls are lucky to have you as their mommy, and you deserve all the happiness in the world."
Hoda is also giving her love to her young co-host. The two have been together for a week, and the older woman has only good things to say about her.
In an interview with "Entertainment Weekly," she said the 37-year-old is very kind and putting her heart into the show, adding that the mother-of-two is very honest and does not apologize for making mistakes on-air.
Hoda also misses her friend and former co-host, Kathie Lee Gifford, but she is happy with the first daughter and excited about life with her children.
Please fill in your e-mail so we can share with you our top stories!