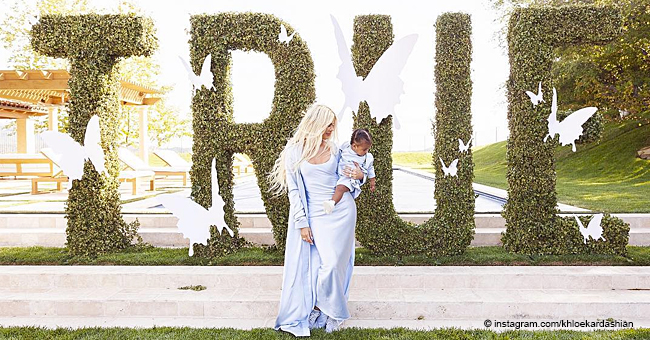 Khloé Kardashian Roasted for 'TRUE' Sign at Her Daughter's First Birthday Party
Khloé Kardashian spared no expense for her daughter True's first birthday party where one could find anything from ponies to Tristan Thompson to cotton candy, but keyboard warriors had much to say about the happy day.
The proud mother hired event planner Mindy Weiss to create a wonderland for True on her big day. With big pastel balloons and fun things for the little ones to keep themselves occupied with, it was smiles all around as some rode ponies while others walked around munching on custom cotton candy. Some even played around in the fog from an ethereal fog machine.
Other treats on offer included various cakes, Pacific Organic Pops, cookies, donuts, and cake pops from Dip'd N Drip'd.
Sisters Kim, Kourtney, and Kylie Jenner, along with Khadijah Haqq attended the fun day and no issues arose with Tristan also around. Khloé and Tristan kept interaction to a minimum and was the first time seeing each other since they broke up early this year.
The rest of the Kardashians seemed to have kept their distance as well, with no reported blow up's.
Since True's birthday on April 12, Khloé had systematically posted a variety of pictures of the big day. However, some fans thought it to be over the top and accused her of using her money to show her love for True.
"I don't believe love comes from possessions or things and this is an excessive disgusting waste," one Instagram user responded about the huge sign Khloé had made. The sign spelled out "TRUE" and got covered in greenery with butterflies scattered around.
"I celebrate the crap out of my birthday, and anyone's in my life. I just don't think this level of excess is necessary," another user agreed.
Many other fans did not agree as one user in particular pointed out, "It's her money. She waited so many years for this beautiful little girl, and she went through a lot to get to this point. I don't see why people just can't be happy for her instead of criticizing. Khloe is such a sweet soul."
Ahead of True's birthday, Khloé asked for donations in the form of gifts for the children at the Children's Hospital of Los Angeles, while every youngster that attended True's party went home with a pair of Art+Sound's Unicorn Wired Headphones with LED Lights currently retailing for $30.
Two days before True's birthday, Khloé explained that she felt anxious about time going by so quickly and that her little girl would soon be one year old. At the time the Kardashian reportedly wasn't sure about how to involve Tristan in the celebrations.
Kim had made no secret in her distaste in Tristan, so Khloé wanted to find a way to make it work out as she finds it important that True spends time with her father, as the day is about True after all.
But it all came together as Khloé pulled off a peaceful, balloon filled and happy first birthday celebration for her daughter. Happy birthday True!
The hawk-eyed internet critics also had much to say about a recent racy photo shoot Khloé did, and it was not for the revealing outfits that she got roasted but for something else entirely.
Please fill in your e-mail so we can share with you our top stories!