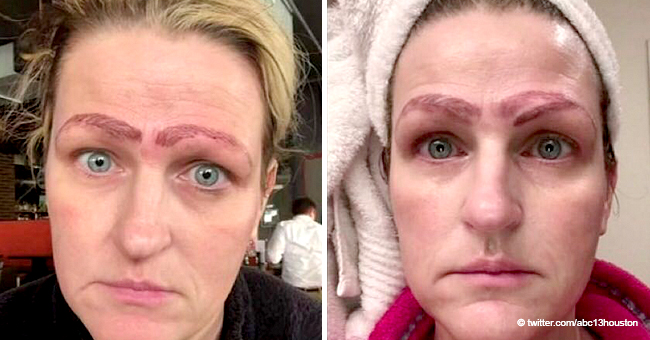 Mother-of-Three Dumped after Botched $250 Microblading Procedure for Her Eyebrows

Jami Ledbetter never thought a microblading procedure would lead to her getting dumped.
The 42-year-old mother from Kansas City regretted availing herself of the $250 procedure after the huge embarrassment it caused her, as reported by Fox4KC.
"I tried to have a good attitude, but it burned a lot. It kind of felt bruised."
"I would never wish this on my worst enemy," the mother of three said. "What it's done to my self-confidence, it's been hard."
Born without eyebrows, Ledbetter was excited when her daughters gifted her with a Groupon for a microblading procedure, which involves tattooing someone's eyebrows on with tiny needles or a small blade.
But the result of the procedure was a complete disaster. Ledbetter ended up with botched eyebrows.
END OF A BLOSSOMING ROMANCE
She said, "I was devastated. I was even dating a guy, and he stopped dating me at that point."
Ledbetter tried using makeup to cover her messed up brows to no avail. Embarrassed by how she looked, she didn't go out much, except to work and buy grocery.
Ledbetter underwent another procedure to "camouflage" her brows, but it made things worse.
"It was pretty painful," she said. "I tried to have a good attitude, but it burned a lot. It kind of felt bruised."
Eventually, Ledbetter met Kara Gutierrez, a licensed and insured tattoo artist. Gutierrez, who owns Spot On Beauty, was shocked when she first saw Ledbetter.
"It took everything in me to hold back tears because this is the worse I've ever seen," Gutierrez said.
PROMISING REMEDIAL PROCEDURE
Gutierrez, who has been in the beauty industry since 2011, is removing Ledbetter's botched eyebrows with a product called Li-ft, which is a pigment lightening solution that is tattooed into the bad ink.
"You want scabs so it will pull out that pigment," she said. "It's very unpredictable to how much you can remove, but it works."
In a related story, a mother revealed how she once waxed her 9-year-old daughter's eyebrows to help her win a beauty contest.
In a preview clip for an episode of "Toddlers & Tiaras," a reality television series that was canceled due to much controversy, the mother can be heard saying that her daughter will "take a little bit of pain all day long" if it means winning a superior beauty title.
Please fill in your e-mail so we can share with you our top stories!