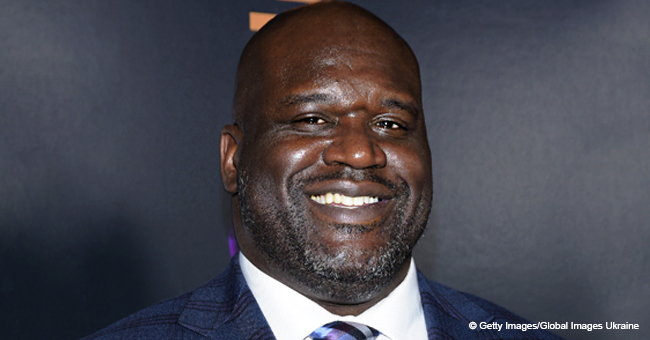 Shaquille O'Neal Just Crushed Blueface's 'Bust down' Dance
Shaquille O'Neal is always aware of the latest trends, and as the former NBA star took a break from his duties as a host on "NBA on TNT" he broke into an impromptu performance of Blueface's "Thotiana."
O'Neal always knows how to lift the mood wherever he goes thanks to his big personality.
So, as his team was on a commercial break, waiting for the second half of TNT's NBA breakdown on Monday, the former basketball superstar took center stage —at the office— to show off his best dance moves, as seen on an Instagram video.
Tricking his audience with the famous intro of Vanessa Carlton's "A Thousand Miles," Shaq added a bit of drama to the performance by looking down with a serious expression while he slowly assumed the position to make the famous "bust down" move.
As the song shifted from the piano melody to Blueface's viral song "Thotiana," O'Neal started to move his hips, even adding a short butterfly dance. However, when he got too ambitious and tried to take things too low, he had to stop before hurting himself. Age doesn't forgive.
"Bust down SHAQIANA," O'Neal captioned the hilarious post.
Fans of the All-Star took to the comment section to share their thoughts on his dance moves.
"Everyone save this clip' THIS IS LEGENDARY," wrote one user.
Another joked, "Look out dancing with the Stars."
"Don't hurt those knees..." a third one said.
It's been a couple of fun and busy months for the four-time NBA champion.
Just a few weeks ago, Shaq, who has released two music albums through his career, was one of the headliners at Miami Music Week — where he showed off his skills as DJ Diesel with his "Shaq's Fun House" show.
"Performing to me is my Game 7," O'Neal said in an interview with The Associated Press.
And continued:
"Game 7, down by one, the city needs you, everybody needs you, the crowd's going crazy. When you do these music festivals, the kids, they come to do two things — relieve stress and have a great time. Sports and music relieve stress, and I happen to dominate both."
At the Fun House, O'Neal introduces top DJs from around the world, celebrity guests and other surprises. This year, Diplo was one of the main attractions of the show.
"I am the biggest DJ on planet earth, but not the best yet!" he recently told EDM.com. "It's just about having fun for me and putting a smile on peoples faces that's honestly all I care about. Believe me, when I say, there's a lot more Diesel in your immediate future."
Please fill in your e-mail so we can share with you our top stories!