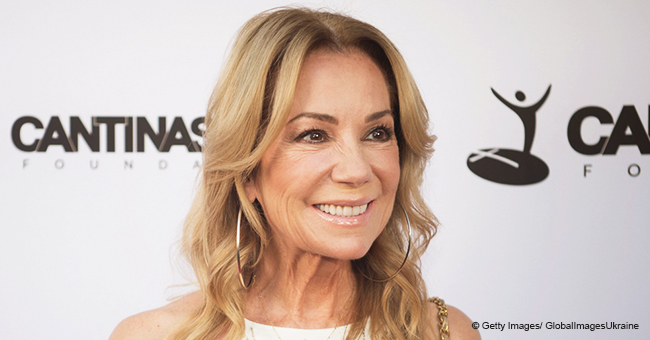 Kathie Lee Gifford Reacts to Hoda Kotb's Baby News
The former "Today" host made her first TV appearance since leaving the morning show early in April, and she used the opportunity to comment on her longtime friend's recent addition to her family.
65-year-old Kathie Lee Gifford is among the celebrities that have reacted to 54-year-old TV host Hoda Kobt's recent announcement of having adopted a second daughter, whom she named Hope Catherine Kotb.
Gifford appeared in a live broadcast of Fox News's "The Five" weeks after leaving "Today" following 11 years of co-hosting the show, and she addressed the news of her colleague welcoming a new baby girl into her life.
"Hoda's a momma again. I'm thrilled about that. I knew that was coming, I just didn't know when it was coming."
-Kathie Lee Gifford, Fox News, April 16, 2019.
Gifford left "Today" in good terms on April 5 and was replaced by Jenna Bush. After a great ride that brought her much satisfaction both in her personal and professional life, she said she was ready to move on to try other things.
"I'd given my notice two years before because I knew it was time. You know you run out of tick-tock in life and there are things I wanted to do and been dying to do and you just need to make time for certain things," Gifford said.
In the course of the decade Gifford spent alongside Kotb in the segment "Today with Hoda & Kathie," the two women formed a strong friendly bond, and Gifford will always be considered part of the "Today" family.
It was the show's co-host Savannah Guthrie who broke the news about Kotb's second daughter, taking even their colleagues by surprise when she gave the exclusive.
Kotb adopted her first daughter Haley Joy in February 2017, when she was fifty after being left unable to conceive due to having suffered breast cancer on two occasions.
It took her some time to come to terms with this fact, but fortunately, she made her mind up about adopting, with the support of her boyfriend Joel Schiffman.
"It's funny because I thought I had the most perfect life, and then I realized after her I didn't. I realized that this is infinitely better. Every single day is infinitely better than before she came," Kotb shared.
After such a beautiful and life-changing experience, it is no surprise that Kotb wants to expand her family further, giving Haley Joy a younger sister to grow up with.
Needlessly to say, Haley Joy is really excited about her new role as the older sister, as Kotb shared. "(Haley) was literally marching around saying, 'I'm a big sister,'" the mother-of-two recalled.
Kotb also said she made sure that Haley was ready to welcome her little sister, and she prepared her by constantly telling that baby Hope was coming.
The host also elaborated on the meaning behind her second baby's name. She revealed that she and Schiffman had already picked the name Hope before meeting the baby.
"The name came because there are a lot of women out there who are hoping that their day is coming too, and I know the feeling of it not happening for a long time," she told "Today" over the phone.
Prior to making the news about her new daughter public, Kotb teased the baby's name in an Instagram post with the words "choose hope" over a picture of a clear sky above dense clouds, but nobody could have guessed what it was about.
Please fill in your e-mail so we can share with you our top stories!