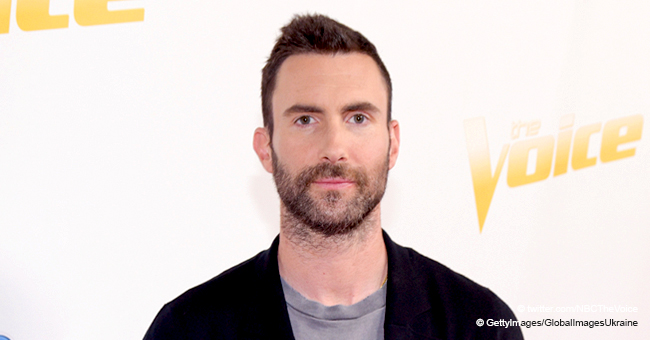 Adam Levine's New Mohawk Has Fans Thinking His Hair Is 'Crying out' for Love

The award-winning singer shocked his fans when he showed off an edgy new haircut at a recent episode of "The Voice." The most recent episodes of the famous singing competition series left fans debating on one significant thing, Adam Levine's hair!
The judge had his hair styled into a mohawk, and that didn't sit too well with many people. The hair cut gave Levine an edgy look which we suppose was his reason for going for the style. However, his bold move isn't exactly well received as fans have become divided over whether or not the cut is even befitting.
The "Daylight" singer is famously known for his soulful singing which seemed to go well with his simple and stylish self. He is rarely seen making "extra" moves like debuting a mohawk hairstyle, and that fact has left fans shook.
A large number of fans took to social media platforms to put down the father of two. A Twitter user, @philpappas68 made a big jab at Levine's Mohawk by saying it was crying out for attention. He wrote:
"@NBCTheVoice @adamlevine #AdamLevine P L E A S E Someone Give @NBCTheVoice Adam Levine Some Love His Hair Is Crying Out For It!..."
Another fan, @Marilyn Talbert thought the cut was rather shameful and said:
"#AdamLevine Whoa, what's with the hairdo? Mohawks are so over....if your daughters were older they would be mortified!! You look ridiculous!"
Many more like these litter the internet but it seems Levine couldn't care less as he sat through the next episode on Tuesday with the same haircut! This time it seemed to look even more unappealing as the entertainer went for a relaxed look sporting a denim shirt over a white-T and black slacks.
When compared to Monday's chic ensemble, the getup was even more alarming as the star was left looking shabby. Even he didn't look too pleased with his family choices. Who knows maybe that made him take it all out on Blake Shelton, his famous "Voice" rival judge.
Avid followers of the show were in for a new surprise when viewers were introduced to a new "Cross Battle" round on Monday. The round lets singers from different teams engage in a back and forth lyrical battle.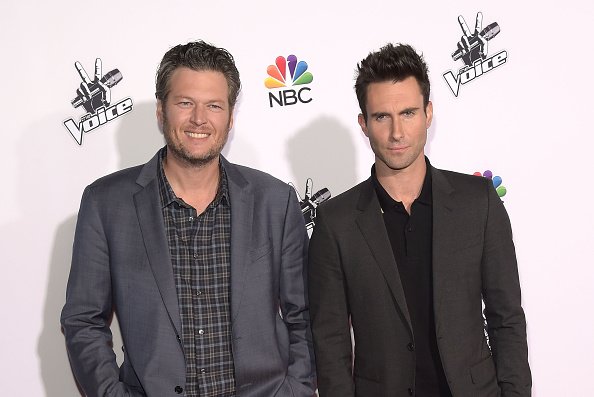 Blake Shelton and Adam Levine at NBC's 'The Voice' Season 7 Red Carpet Event in Universal City, California.| Photo: Getty Images.
At this time, the rivalry between Adam Levine and Blake Shelton seemed to get even more tense with the latter even poking fun at Levine's shaggy haircut. So far, the sterling country singer has had more wins on the show, and you'd agree that his fun exchange with Levine during the episodes has become one thing to look forward to during each watch.
Please fill in your e-mail so we can share with you our top stories!