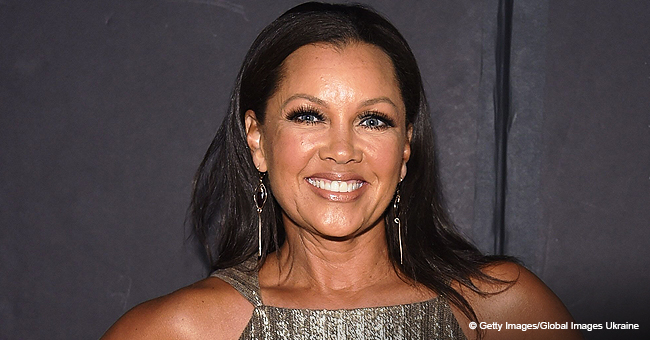 Vanessa Williams' Son Looks Just like His Dad in Birthday Photo
Vanessa Williams recently took to Instagram to celebrate her son Devin's birthday, and she did so by posting a lovely pic with him. The 26-year-old inherited the artistic kick from his parents, but he applies it differently.
At the height of Vanessa Williams' Miss America-Playboy scandal back in the eighties, she married Ramon Harvey II who later became the father of three of her children – Melanie, Jillian and her son Devin.
As Williams' popularity in the entertainment industry grew, her kids could be seen by her side in red carpet interviews and other events. Devin, who's the youngest of the three, was his mom's date on several occasions, and he seemed like a shy, sweet boy.
Now, he's all grown up, sporting a beard and showing off his toned abs on social media.
On April 14, Devin turned 26, and Williams couldn't let the occasion pass without publicly congratulating her only son.
The actress and singer took to Instagram to share a lovely selfie with Devin, in which they're both giving the camera matching big smiles.
"Happy Birthday my dearest son @devin_christian Love you and so proud of the man you are," Williams captioned the post.
Fans took over the comment section with birthday wishes for Devin and most pointed out just how handsome he is.
"Wow. Your children are growing so fast. Hopefully, you all enjoyed his day," wrote one user.
Another added, "Aww handsome young man with kind eyes, he gets it from his Momma."
"Oh my goodness you two are beautiful Vanessa, as always so gorgeous. He kinda looks like his dad," pointed out another fan.
Although Devin prefers living out of the spotlight, he inherited his mother's artistic vein and his father's kick for the music business.
Devin is a graphic designer, focused on designing sneakers, and he recently revealed through Instagram his first ever design come to reality in what he calls the Modulo, a black sneaker with white and red details that has been five years in the making.
Although Devin can't sell the shoe yet, he's been teasing his followers with it for the past months.
On top of his artwork, Devin is also a music producer. He has worked with Pharrell and has credits in several songs on his sister Jillian's Lionbabe albums.
​A gym enthusiast who inherited his mother's good looks, Devin is not shy of showing off his abs and toned body. Through his posts, it appears he also has a love for basketball as well as motorcycles.
Apart from Devin and his two siblings, Vanessa is also a mother to daughter Sasha whom she shares with second ex-husband, Rick Fox.
Years after divorcing the NBA player in 2004, she married businessman Jim Skrip.
Please fill in your e-mail so we can share with you our top stories!