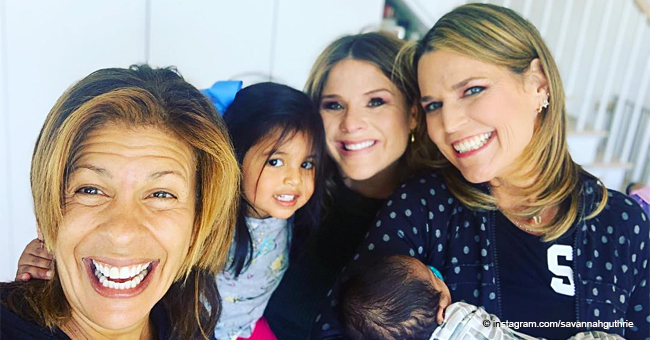 Jenna Bush Hager Meets Hoda Kotb's 'Adorable' New Baby

Jenna Bush Hager posted a photo on Instagram with Hoda Kotb's new baby, calling it the "best day ever." The "Today" show cast have been gushing over the adorable baby adopted by the show's co-anchor.
Hoda Kotb announced the arrival of her second child with her partner, Joel Schiffman. The two adopted baby Hope Catherine and received many congratulatory messages from fans, since the reveal last Tuesday.
The cast of the show, "Today," couldn't contain their excitement and eagerness to meet the baby. Savannah Guthrie and Jenna Bush Hager made their way to their colleagues home to visit the baby after the show.
Hager, co-host of "Today," quickly posted a photo of her trip to meet baby Hope in Kotb's home. The picture includes Guthrie, Kotb, Haley Joy, Hope's 2-year-old sister, and Hager carrying the newborn.
"Jenna and I went right over, right after the show. I don't even know if we were invited, but we went in and we saw the baby. She's adorable. Hoda is doing great and is just so happy and pleased. It's really wonderful," shared Guthrie last Wednesday.
The announcement was made through a phone interview during the show as Kotb tearfully shared the fantastic news which she herself couldn't believe. She also shared a moment her two daughters had at breakfast where Haley was trying to feed Hope raspberries, and she began to march around yelling "I'm a big sister."
Other TV personalities were quick to congratulate Kotb on the news, including Kathie Lee Gifford who dropped by "The Five" to extend her well wishes.
"Hoda's a momma again! I'm thrilled about that. I knew that was coming; I just didn't know when it was gonna happen," she said.
Gifford was a host on the show for over a decade, but left less than two weeks before she greeted Kotb. Despite her cutting ties from the show, she still maintains a healthy friendship with Kotb.
Please fill in your e-mail so we can share with you our top stories!