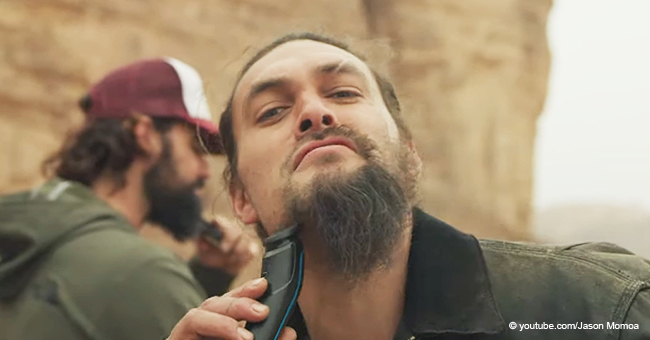 Jason Momoa Shaved off His Beard for the First Time since 2012
Jason Momoa published a video in which he removes his mustache and beard as a way to promote recycling and raise awareness among his followers about the importance of protecting the environment.
Jason Momoa is one of those actors whose physique is very important for the kind of roles he plays. His thick hair and beard have become a hallmark of identity not only for his role in Game of Thrones but also after having given life to Aquaman on the big screen.
Well, that has changed. The actor has decided to shave his beard, something he has not done since 2012, and you will hallucinate with his current appearance.
After more than seven years having the characteristic beard, Jason decided to take it off for a good cause, because he explained that he does it to raise awareness about the use of plastic that is destroying our planet.
"Goodbye Drogo, Aquaman, Declan, Baba! I'm removing this beast, it's time to make a change. A change for the better ... for my children, for your children, for the world," wrote Momoa, who says he has not shaved since 2012.
In the video, the actor appears walking through a seemingly desert landscape, in which there are remains of bottles and plastic bags. "I just want to do this to warn you that plastic is killing our planet and I think I have a solution, as long as it is recycled, and that is aluminum," he says.
According to the actor, "75% of all the aluminum that has been used is still in circulation today, and it is 100% recyclable. So: you use the container and in about ... 60 days? will be back Infinitely recyclable."
The most current data from the Environmental Protection Agency of 2015 showed that almost 55% of aluminum beer and soft drink cans were recycled compared to 30% of plastic bottles.
Momoa invites those who watch the video to make a positive change for the environment by contributing to the cleanliness of the oceans.
"Join me on this trip. Let's switch to infinitely recyclable aluminum. Water in cans, not plastic," concludes Jason Momoa.
The Hawaiian actor is a passionate advocate for marine life, one thing little people know about him is the fact that he studied marine biology in his youth, so he might know a thing or two about how to protect our oceans. So, please listen to Aquaman.
Momoa's parents split up when he was extremely young. His mom and he moved from Hawaii to Iowa to stay closer to the rest of their family.
However, the star remains close to his dad even after Joe divorced Coni, he almost lost touch with his son and was not around for most of his early upbringing. Jason's father is a painter and many people believe that he got his unusual good looks from him.
Please fill in your e-mail so we can share with you our top stories!