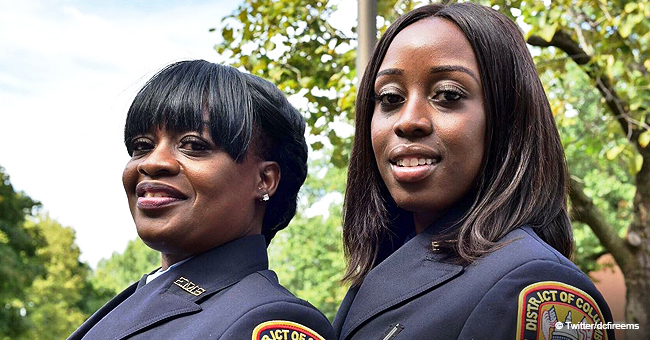 Mother Made Huge Transition and Followed Daughter's Footsteps to Become Firefighter
Jacqueline Pinnix surprised everybody when she followed in her daughter's footsteps and graduated as a firefighter only one year after her child did it.
The woman was 49 when she saw her daughter, Jalisa, become a firefighter. The younger member of the family pointed out that she found inspiration in Jacqueline to pursue her dreams and overcome the difficult fitness tests needed to graduate.
Soon later, Jacqueline was also inspired by her daughter. She spent the following six months training rigorously and, finally, aged 50, she graduated as a firefighter of class 384 in DC.
JACQUELINE'S THOUGHTS ON HER ACCOMPLISHMENT
"I knew that it was a difficult job, but I didn't walk in actual firefighter's shoes, so I couldn't experience what they actually experienced going into a fire. So, as I went through the process, it showed me, and I got to experience everything that it takes to do that job," Jacqueline told WJLA.
Such physical and mental challenges were, at times, very tough for Jacqueline. Thankfully, she used her daughter's experience and support as her source of strength.
SHE FOUND INSPIRATION IN HER DAUGHTER
The proud mother, who had been working in the department as an EMT most of her life, said that watching her daughter, who is a "petite" woman, made her understand that she could conquer anything during the training. "If my baby can do it, I can do it too."
Now that Jacqueline is officially a firefighter, she and Jalisa are the only mother-daughter team within the DC Fire Department.
JALISA'S THOUGHTS
Jalisa, who admitted that one of her motivations was knowing that she could "get to the top," admitted to being proud of her mother because she could keep up with the younger people who were in her class.
"She didn't give up even though she was scared she still took on whatever challenges they gave her. I'm just really proud," Jalisa said about her mother, who received the Overall Improvement Award out of her recruit class.
CLAUDIO MELO'S INSPIRATIONAL STORY
Even though Jacqueline's story is inspiring, she is not the only person who has fulfilled her dreams when people thought they couldn't. Claudio Melo, a man from Bogota, Colombia, got his high-school diploma aged 90.
The man only finished the first four grades when he was a boy, but then dropped out of school to start working. A while later, he got married and had seven children, so going back to school and stop making money was not an option.
"She didn't give up even though she was scared."
HE FULFILLED HIS DREAM
Despite all the time and things he sacrificed throughout his life, Melo's children abandoned him. He revealed that his wife fell ill with a terminal disease that left him almost broke as he had to pay for the entire treatment without getting any help from his family.
No matter how lonely he felt, Melo considered that it was about time to complete primary school. He described himself as a "low-profile" student who managed to graduate and fulfill one of his dreams.
Please fill in your e-mail so we can share with you our top stories!