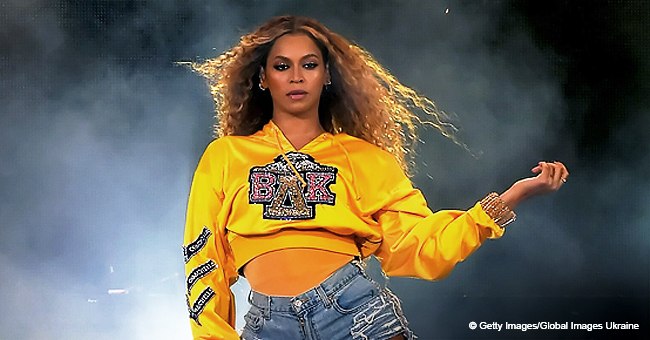 Man Freaks Out & Pretends to Faint After Catching Beyoncé's Sweat Towel in Netflix Documentary Shows

Beyoncé's Netflix documentary was released on Wednesday and some of the best parts are the relatable reactions from her fans during her concert performance.
The Queen Bee herself played a major role in the direction and production of "Homecoming," a film that documented Beyoncé's preparation for and appearance at Coachella last year.
There's still a lot to be dissected, but viewers who have already watched the film were quick to share the reaction by one man in particular who pretended to faint when he got a sweaty towel thrown at him.
Chanelle Diorr was right at the front of the crowd on the fateful night which has now sent him into viral stardom. His full attention was on his idol, 37-year-old Beyoncé.
So Diorr didn't miss a beat when the singer decided to throw a towel into the audience right after using it to wipe off sweat on her face. Diorr outreached everyone else and grabbed for the cloth.
He was triumphant and when he realized it he screamed and jumped all over, or as much as he could in such a packed crowd. He even pretended to faint for lack of knowing what to do.
Beyoncé fans, known as the Beyhive, were in full support of Diorr's reaction. On Thursday, word of the Texas-based drag queen led him to respond and confirm himself as the crazy fan they saw in the film.
He posted a picture of himself with the towel and a caption that read:
"Yes I'm the guy that caught the Beyoncé sweat towel and went CRAZY."
The black towel could be seen with the words reading Beychella 2018. Diorr promotes himself as an Instagram drag queen-for-hire, but he's also been dubbed a hero for allowing the Beyhive to live through him with the famous reaction.
Another fan whose reaction blew up after the film came out was Sydney Hardeman. On Twitter, Strong Black Lead shared a screenshot of Hardeman's face as she gazed in awe at Beyoncé.
The shot featured Hardeman, wearing a cap with her hair styled in two braids, looking up with her mouth agape and her hand on her chest. In clear disbelief, Hardeman's eyes reflected the feeling of many fans.
The 19-year-old spoke to Buzzfeed about her now-viral appearance in the film, revealing that it was not an unexpected cameo.
She said:
"I was expecting to see myself because I remember the cameraman being in my face the whole time. But I was so happy to be shown because it means Beyoncé knows my face exists."
She added:
"I'm surprised that it blew up, but I knew once Netflix accounts retweeted it, it would catch attention quickly."
One person said it was an "accurate representation when you're in the presence of Beyoncé. Others reflected a similar feeling, with many simple saying that Hardeman was them.
The Beyoncé film covered a lot of other material apart from the concert. It reportedly touched on the eight months leading up to the big event. A conversation with the star also revealed significant happenings in her life.
The star spoke about dealing with the post-pregnancy health issues that led her to cancel her performance at Coachella in 2017. The film also has a live album and fans so far are loving it.
None other than former first lady Michelle Obama is also a fan of "Homecoming." A day after she herself was praised by Beyoncé for making Time magazine's "100 Most Influential People in the World," Obama sent out a video message to the singer.
"So proud of my girl! The Queen has done it again. @Beyonce, thank you for always living your truth," she captioned the post. In the 52-second video itself, she said:
"Hey, Queen! Girl, you have done it again. Constantly raising the bar for us all and doing it flawlessly. I'd say I'm surprised, but I know who you are. I've seen it up close and personal. Girl, you make me so proud, and I love you."
Obama praised the film for involving "black leaders, thinkers, and poets who've paved the way for folks like us." It was beautiful to see both women show such loving support for each other.
Please fill in your e-mail so we can share with you our top stories!