Chris Watts' Prison Responds to Petition to Forbid Him from Displaying Family Photos in His Cell
Following a recent interview with Chris Watts, new details gave rise to a petition calling for the removal of his late family's pictures while prison officials said they have "no legal basis" to comply.
The 33-year-old got sentenced to multiple life terms in November after he pled guilty to the murder of his pregnant wife, 34-year-old Shanann and their two daughters on August 13, 2018.
The Wisconsin Department of Corrections told PEOPLE that they have "no legal basis for removing the photographs from Christopher Watts," and added in a statement:
"Incarcerated inmates are permitted to possess certain identified items of property, including photographs. Some photographs are not allowed, such as those depicting gang signs, colors, or insignias or photographs that include nudity."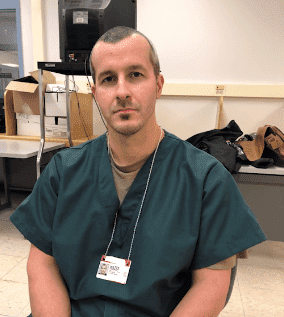 Chris got transferred from the prison in Colorado to Wisconsin late in 2018 due to security concerns and is also where the recent interview took place on February 18.
From inside the prison, Chris spoke with authorities from the Colorado Bureau of Investigation and gave bone-chilling details of the tragic night.
He recalled how is wife Shanann "may have been" praying for her life while their daughter, 4-year-old Bella saw him on top of her, strangling her.
Bella's last words to Chris was, "Daddy, no!" after he smothered her 3-year-old sister Cece next to her in his truck, and it was her turn to die.
Because of the horrendous act, details released after the interview that he reads a book to his daughters every night and speaks to photo's he has of the family he murdered, sparked outrage.
The petition got started by the Seek the Truth and Armchair Detective Group and are of the opinion that "while Chris Watts enjoys his stay in WI DOC/DCI" at taxpayers expense, that he should not be allowed to "keep a trophy of his victims" in his cell.
The petition further read that by allowing Chris to keep the pictures, it goes against the mission statement and purpose of the Wisconsin Department of Corrections.
While the department's statement puts emphasis on victim advocacy and public safety, the petition further stated:
"Wisconsin inmate Chris Watts DOC# 674796 should not be allowed a photograph of his murder victims, in accordance with DOC purpose and mission statement. We, the public and taxpayers, demand that any pictures of Watts' murder victims are confiscated and that he does not receive favorable treatment due to the publicity of his criminal case."
When Chris changed his plea to guilty, he did so to avoid the death penalty after new evidence came to light which destroyed his alibi. The evidence first got revealed in December and got supplied by none other than a neighbor which ensured that he will live out the rest of his years in prison without the opportunity of parole.