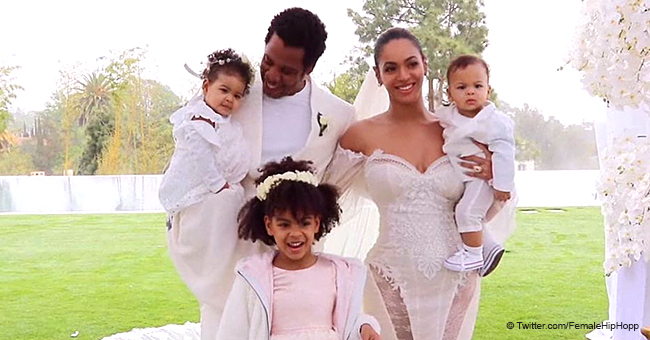 Beyonce, Jay-Z & Their 3 Children Wore Matching Outfits At the Couple's Vow Renewal Ceremony
Beyoncé gave fans a peek at the extravagant wedding dress she wore as she and Jay-Z ceremoniously renewed their vows for their anniversary.
The power couple celebrated 11 years of marriage earlier this month and so in tribute to the queen and king, we're looking again at the luxurious photos we glanced of their wedding anniversary celebration. The photos are found below.
According to the Daily Mail, Beyoncé celebrated publicly in September 2018 by sharing a video montage with lots of throwback images. The shots went by quickly, but fans eventually spotted the grand event.
Among scenes of a concert, home movies featuring the couple's three children, and fabulous outfits worn by the queen herself, the Beyhive (as Beyoncé fans are called) captured the ceremony and a family photo.
Everyone, including twins Sir and Rumi, wore white for the special occasion in which Beyoncé is seen in a low-cut gown. The magazine identified the body-fitting piece as Galia Lahav's "Thelma" dress from the Victorian Affinity collection.
It features long sheer sleeves, lace panels and is adorned with Swarovski crystals and pearl embellishments. The singer's hair was slicked back to fit her long sheer veil which matched the extremely long train of her gown.
Meanwhile, Jay-Z, whose real name is Shaun Carter, was decked out in a white tuxedo and matching undershirt. The gorgeous family photo showed Blue with a white dress and jacket. Her siblings, held up by their parents, also wore white ensembles.
The one-year-olds are not shown in public as much as their older sister Blue, who is already seven. The bold little girl is growing quickly. Her mother once acknowledged how time flies when she posted a comparison picture of herself and Blue at the same age.
Prior to Blue's birth, Beyoncé went through a miscarriage which she called "the saddest thing I've ever been through" in her 2013 documentary "Life is But a Dream."
Her latest film which premiered on Netflix on Thursday, April 17, also gave insight into her struggle with the birth of her twins. In "Homecoming," the singer got surprisingly candid about her experience.
"I was supposed to do Coachella the year prior but, I got pregnant unexpectedly. And it ended up being twins which was even more of a surprise to me."
The 37-year-old revealed that she went through "an extremely difficult pregnancy, [and had] high blood pressure." She weighed 218 pounds on the day of delivery.
"I developed toxemia, preeclampsia, and in the room, one of my baby's heartbeats paused a few times so I had to get an emergency c-section."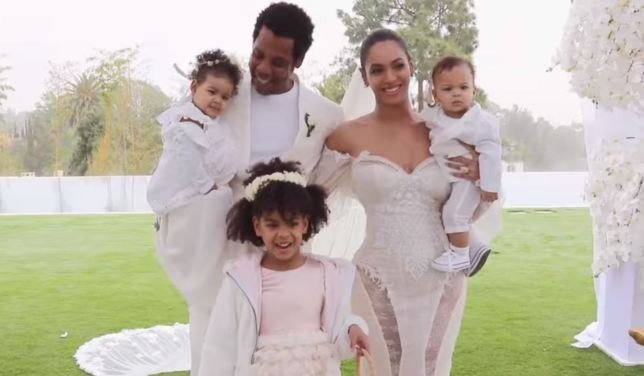 Beyonce, Jay-Z and their three children at a wedding renewal ceremony in April 2018 | Photo: Netflix/Homecoming
Of course, everyone made it out alive and Beyoncé and Jay-Z's family expanded beyond their expectations. They got through it just like they got through Jay-Z's infidelity years ago.
In her 2016 album "Lemonade," Beyoncé cleverly referenced her husband's misgivings. The next year, Jay-Z himself addressed it in his "4:44" album. He apologized and they've since moved on.
Back in December 2018, another memorable photo was put online showing the Carter family enjoying Christmas in a quiet park. Beyoncé's grandmother, Hattie White, was also along for the walk to Brooklyn's Prospect Park.
In fact, the family-oriented singer dedicated a bench to White and wanted to show her the inscription which read, "Someone is sitting in the shade today because someone planted a tree a long time ago. With love and admiration to our root, Hattie White."
Adorned in a much more relaxed look than their renewal pictures, Beyoncé had her hair in pigtails and wore a white winter jacket and matching pants for the sweet occasion. Jay-Z was donned in a long black coat and wore a cap on his head.
Please fill in your e-mail so we can share with you our top stories!